Positives and negatives: Fulham 0-1 Sheffield United
Written by Cameron Ramsey on 21st December 2021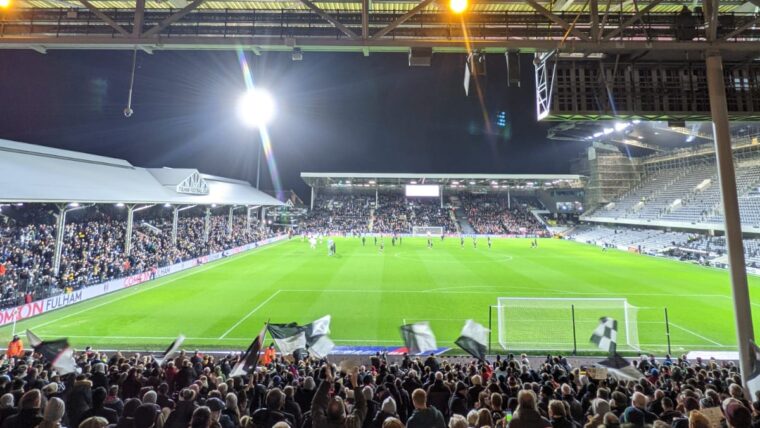 You won't find very much Christmas cheer here. Cam explores where Fulham went horribly wrong on Monday evening.
Deck the halls with boughs of holy moly; that was Sheffield United's first league victory in SW6 since 1985, a 1-0 result that subsequently put an end to our unbeaten streak of 11 games. That might sound fine (but disappointing) on the surface; all good things have to come to an end sooner or later, but frankly the past month has been nothing but short of dreadful.
Paul Heckingbottom's men had momentum. They'd won three games consecutively and Marco Silva boys were stricken of confidence. This loss is just another blow below the belt, and we'd lined ourselves up for it. Optimism has reached a relatively alarming low; the Whites' goals have dried up and old habits are gradually creeping back into picture. Birmingham City travel to the banks of the Thames next for a Boxing Day bust-up, and the only hangover I want is the Punk IPA-induced one twatting my frontal lobe with a toffee hammer. On-field stupefactions will not be tolerated.
Positives
Embed from Getty Images
Christmas tree toppers
I couldn't think of any credible positives, at all, other than the loosely comforting realisation that even after five winless outings with bugger all to shout about, we are still top of the tree heading into Christmas. Combined, Fulham and AFC Bournemouth have not tasted victory in 11 outings, the circling pack is closing in on the automatic spots at breakneck speed and yet, somehow, the Whites are still two points ahead with a superior goal difference. United were organised, drilled to antagonise, and they encountered a Silva side that had already checked out for the holidays in mid-November. A defeat was surely inevitable.

Saying that, I'm not going to dress this loss up like it's not a big deal, as if three extra points wouldn't have mattered in the slightest, but the overriding fact is simple: we are in the driver's seat, albeit clinging on by a clenched right buttock, and the splendour of gloating with a feather-ruffling dollop of sarcasm will make the cheese and port on the 25th sweeter on the pallet than disgruntled Northern tears. Ladies and gentleman, this isn't a time for dejection and anguish, 'tis the season for enjoyment, no matter how one gratifies themselves. So, if we're to take anything remotely positive away from our latest debacle, it's that until Boxing Day at the very least we, the league leaders, are entitled to be merrily obnoxious, and may all your Christmases be gloriously White.
Negatives
Silva's strategic virus
As ploddingly predictable as Parkerball, Silva's once fluent, ruthless style's reduced to torpid, flank-to-flank crabbing. Movement isn't detectable, there's no semblance of urgency and it's a slump we've toiled for five meetings on the bounce. What the fuck is going on? We protested for swift action, to oust a listless streak deprived of impulse and what we got in return is the pedestrianisation of SW6. We're seeing Harry Wilson piss his pants at the prospect of foot races, Fabio Carvalho dwindle with acres to menace within and so-called Rolls Royce veterans retreat from confrontation. This isn't a blip, not anymore, it's an assortment of defects that have regressed into a unshakable rut.
It is very much a collective nosedive. Some participants have plummeted harder than others although the entire squad, from back to front, was diabolically inept. Run ragged defensively, ambushed in the middle of the park, mono-dimensional within the doldrums between the Blades' 18-yard and the centre spot, every aspect and element was completely subordinate. Silva can't have run dry of ideas, not with the squad at his disposal. There's ingenuity, leadership, potency, it's just a matter of unearthing those credentials that ultimately enabled us to decimate Blackburn Rovers 7-0. Our reluctance to hit the byline, to shoot on site, to convert possession productively, that's the real virus here, and we have to formulate a vaccine with a double dose of vindication.
Full-backs *sigh*
We have to stop trying to rationalise our full-backs' counterintuitive outings for the sake of sparing their already bruised reputations. Our left side's lambasted so frequently I've notes prepared in advance, ready to be copied and pasted but also on the right on Monday evening, Kenny Tete was a quivering shadow of his usually combative self. Antonee Robinson curled out another nauseating performance, yet again, and some will still back him. The guy passes like he's trapped a nerve, I think I counted at least three squandered simple balls within the opening five minutes, and he supervises possession as if he were treading hot coals. Sure, he can run fast, but that's literally the only string to his bow. He can't find a teammate practically, he can't swing in a decent cross and he can't resist entangling himself in his own boot laces.
Embed from Getty Images
Contrastingly, it wasn't so disastrous for Tete, but it was just as disturbing. He did intercept two dangerous scenarios milliseconds before the trigger was pulled in both halves, so credit where credit's due, however he was petrified to break beyond his man in the final third, it reeked of Cyrus Christie at Selhurst Park a few years back, and for a solid outlet and distributor to basically refuse to engage offensively, we toiled even further along the channels. The Dutchman needs a rocket up the arse, he rarely broke a sweat in his tranquillised state and as it stands, there's not much choosing between him and Denis Odoi, who actually pledges 100% every single time he's named on the team sheet.
Midfield role reversal
The centre of the park was a disjointed shitshower because we fielded a composition starved of chemistry, and that's even with the correct personnel in the starting XI. Jean Michael Seri and Harrison Reed operated ineffectively, as their roles were reversed. Either play them as a double pivot behind a roaming number 10, or watch us fall apart unceremoniously. Reed, in an untethered role, left Seri exposed, it's contrapuntal to their individual functions, of which they're renowned. Reed typically guards, Seri naturally constructs, but their duties were swapped and it seriously upset our balance. Reed was drowned out by Ollie Norwood, who tracked him tirelessly, and in advanced areas, the trusty anchor was out of his depth.
Tasked with shoring up our spine singularly, Seri was bypassed by the Blades' instantaneous counter attacks as play turned over. He can't cover ground like Harrison, the Ivorian's designed for architecture, not disruption, and the visitors took full advantage of his preservative weaknesses. If Reed had been tailing Iliman Ndiaye as the young Frenchman surged goal-bound undeterred, he'd have scythed his ankles into an early retirement, cynically but essentially. Seri was concentrating on getting goal-side, rather than stunting the phase altogether, and that's precisely how our stability was compromised. The right people were stationed in the wrong capacity and that, given how accomplished both men are in their respective occupations, is inexcusable.
Mitro's isolation
Aleksandar Mitrovic was stranded. He really needs someone playing off of him, within a 10-yard radius, and it's a formation we have to begin matches with. He gets constrained by every defensive line he faces nowadays, and even when he drops deep to retrieve possession, nobody bolts in behind to plug the gap. He was marked by three centre-halves that didn't give him an inch to express himself, they hurried first touches, offset his self-control aerially and severely limited his goal-mouth activity.
Embed from Getty Images
Mitro cut a forlorn figure in the final third. Service failed to materialise and when opportunity beckoned, the Serb snatched at bread and butter instances, lukewarm to the occasion because he'd been left out in the cold for too long. It's far from a crisis situation, but Silva has to revise his offensive blueprints to enliven Mitro's enthusiasm, because we can't allow the league's top scorer to become a bystander, bedevilled by a tedious approach that negates his purpose. Fulham have not won a game this season where Mitro hasn't netted, and though we've bagged 28 goals elsewhere within the squad, that particular curse is yet to be broken.
Subs did nothing
Two substitutes, in Bobby Decordova-Reid and Rodrigo Muniz, remedied absolutely nothing. Enrolled to make an impact, BDR participated, alone, in a round of hide and seek on the right and Muniz vanished in a congested final third. Diluted invention emerged via a third sub, Tom Cairney, but to no avail as there wasn't any convincing movement from his offensive counterparts. BDR's become a rotational member, similar to how Neeskens Kebano was two seasons ago, and while he's a multifaceted attacker, which is also capable to chipping in defensively, the Jamaican's shoehorned into positions without a cause.
Muniz, for me, is an idealistic partner for Mitro if we're to deploy two up top, although he's got to refine himself, he has to get fitter, and he has to understand his responsibilities. Currently, the 20-year-old is manipulated into needless incursions, he's shy in front of the target, and he's intended to be the man to look to if Mitro misfires. He's had long enough to integrate, to sample the flavour of his newish surroundings, and I won't let a brace at Ewood Park fool me into believing he's really ready. I say he's an idealistic partner, but that doesn't always mean it's immediately utopian. He's raw, there's a competent finisher within the youngster, although his imperfect naivety's a major stumbling block.