Positives and negatives : Luton Town 1-1 Fulham
Written by Cameron Ramsey on 11th December 2021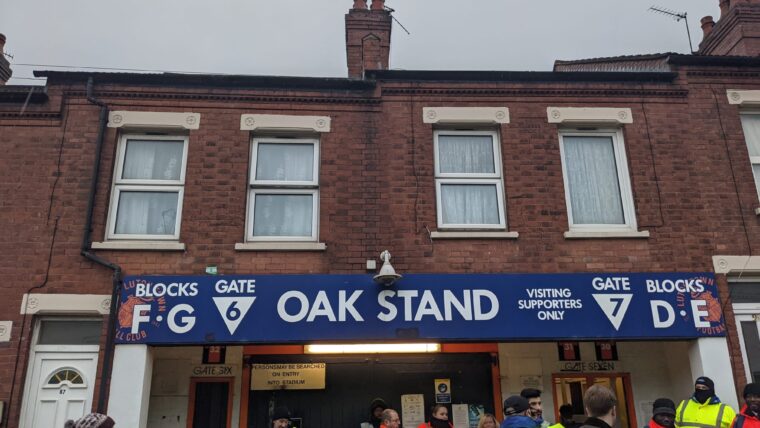 Another blasted 1-1 draw on the road against Luton Town, another summary from Cam. Some things never change, begrudgingly.
Those that embarked on the short journey up the M1 to witness what was another humdrum draw in the pissing rain must be suitably exhausted. I can't imagine journeying to Luton, which is basically a massive HGV yard, to watch Marco Silva's men disappear after the 20th minute, although I would've certainly made good use of that depressing little trampoline on the way into the away terrace, because that would've definitely got the blood pumping at a rate greater than 5 dribbled shots on target ever could.
Somehow, though, the shaggin' Whites are still top of the table heading into next Monday's home clash with Sheffield United, and as it's Saturday evening as I tap this up, I'll drink to that, moosh. Nathan Jones had his team riled up, Silva's collective had no credible answer, the Championship is still a division that compels and repulses simultaneously. For game day 22, it's as you bloody well were.
Positives
Embed from Getty Images
Mitro's tally grows
After a barren run of 3 games (which really isn't that disturbing) without adding to his weighty goal tally, Aleksandar Mitrovic got back to what he does best in the 20th minute with a poacher's prod in the 6-yard box, registering his 22nd of the campaign to date. As long as he's finding the back of the net, no matter how, we'll always seek to extract the positives from his performance, however I think we can all unanimously agree that the Serbian's afternoon in Sonny Bradley's bullish company was fairly non-descript.
Mitro wasn't enabled, Bradley engaged and the prepared centre-back's wardenship was reinforced by Kal Naismith and Reece Burke. The Championship's leading bagsman was isolated, and that isn't down to inactivity or passivity, the hosts simply implemented their defensive strategy impeccably, if they could muzzle Mitro', they'd detach the division's deadliest focal point and that was critical. Mitro dropped deep to impart his impression, he felt the strain under quarantine in the final third but crucially, with barely a sniff throughout, he still managed to divert.
Tosin Adarabioyo
Providing the knock down for Mitro's goal, Tosin Adarabioyo played a pivotal part in Luton's penalty area and most importantly, his own, as the hosts pressed for a breakthrough both before and after their equaliser. Low, driven crosses ripped across our 18-yard box, the slightest of deviations could've been devastating although Tosin quelled danger promptly, anticipating pull backs and hoisted crosses devoutly.
Our back four were forced to retreat on the back foot as Luton surged, Admiral Muskwe, in particular, was menacing on the charge but Tosin kept a hawkish eye fixed on the ball at all times and wasn't fooled by the Zimbabwean's movement. Timely interceptions, towering clearances and obedient positioning reduced the likelihood of the hosts stealing more than a solitary point and for that, the 23-year-old has to be commended.
Better from Bryan
Embed from Getty Images
Against AFC Bournemouth, I was less than enthused with Joe Bryan's outing. He was defective offensively and overpowered at the back but at Kenilworth Road, the sporadic left-back contributed suitably to our offensive phases and he tracked and traced a lively Jordan Clark meticulously, equalling his opponent stride for stride when it mattered. Bryan doubled up with Neeskens Kebano, vying to overload the flanks and his presence in advanced areas was profound, as he was felled in the previous phase before our opener.
Drawing the free-kick that promised reward, the 28-year-old can be credited, somewhat, with his exploits along the left. He was much more of a prominent outlet this week, and he covered space urgently to constrict Luton's successes out wide. Consistency is something we see very little of where Bryan's concerned but hopefully, as his personal performance was satisfactory, he'll build upon it during a taxing Christmas period where mental and physical fatigue is stifling.
Jean Michael Seri
Constantly probing to unlock Luton's stubborn defensive line, Jean Michael Seri was one of the few players representing the Whites that actively scoured for an alternative approach in order to curb the Hatters' enthusiasm. Careful in possession, Seri maintained a sensibility whilst constructing sequences, tempering our spells on the ball to relinquish the hosts' incessant press. He makes simplicity an art form and alongside Tom Cairney, with Harrison Reed out of contention, the Ivorian also relished confrontation.
Snapping back to retrieve possession, JMS went shoulder-to-shoulder, he lured Luton's ball carriers into blind alleys and in testing conditions within a congested central department, the 30-year-old's creative acumen was bolstered by a determination to safeguard. The grittiness in his game is often eclipsed by his silky-smoothness and in the downpour, Seri paraded a boldness that ameliorated both facets of his makeup.
Negatives
Embed from Getty Images
More points dropped
Dress it up however you will, 4 points from 4 consecutive outings is a woeful return for a club that should be smoking these desolate little townships without remorse. Luton reacted excellently after our opener, they upped the ante to severely disrupt the narrative but if we're honest, Fulham didn't stamp their dominance, a second goal was never in the offing, and that allowed the hosts to re-establish themselves buoyantly. Failing to turn the screw, regardless of the opposition's broken or bright mentality, has lost us 4 points recently, 2 at Deepdale and 2 at some bloke's garden shed.
Graciously, the Cherries slipped to a 2-0 loss against Blackburn Rovers but that's peripheral, what we're focused on is our own performances and of late, we've been abject and disconnected. I've no doubt that we'll suddenly flick the switch and decimate in matchdays to come but in Bedfordshire, our reluctance to punish sentenced us to a wary, uncomfortable 70+ minutes. We have to enliven our formula, teams such as Luton will invest everything until the very last second and it's up to us to emulate their endeavour.
Soft goal surrendered
Luton regained territory and wielded words warning, ominous threats rather than idle, and just after the hour mark, courtesy of the Whites' flat-footed offside trap, Jones' set-up restored parity, a leveller that was fully merited. Conceding a set-piece in a sector of the park that didn't immediately scream peril, Fulham perched themselves on the parameter of their penalty area and were briskly unhinged by James Bree's super dead-ball.
Oblivious to Elijah Adebayo's readiness to pounce, Fulham's cordon sanitaire stood rooted as the former Fulham graduate smuggled himself goal-side and unopposed, the 23-year-old glanced past Marek Rodak, who was exposed and powerless. An equaliser was imminent, but to surrender from such a routine situation is derisory, especially when you've aerially astute members in Tim Ream and Tosin in tow, amongst others. I'd rather have been ripped apart, because it's a circumstance that should've been banished as standard.
Josh Onomah
I feel for substitutes that are hurled into difficult environments in the closing stages, I really do, however I didn't necessarily understand what Josh Onomah's purpose was as he replaced TC in the 76th minute, and I'm not entirely convinced the 24-year-old entirely recognised why he was even fielded, too. Onomah's a mildly perplexing individual. He's a midfielder lost in translation, is he a playmaker or an anchor? A physical enforcer or a intricate operator? Nobody knows, and it showed in the 18 minutes-or-so that he was involved. He galloped into traffic and flailed stray legs, method was not in the madness and ultimately, I'm sat here in the aftermath feeling stumped, confused and curious.
There's a torpidity to his disposition, which isn't intentional, I would argue, but simple scenarios appeared onerous whenever he drifted into frame. He couldn't adapt to the pace of proceedings and thusly, he was a sitting duck in a midfield third laden with industrious, functional components. He's a man that doesn't have a primary objective, he just floats without a cause, a jellyfish without stingers, a square peg in a round hole.