Positives and negatives: Fulham 1-1 AFC Bournemouth
Written by Cameron Ramsey on 4th December 2021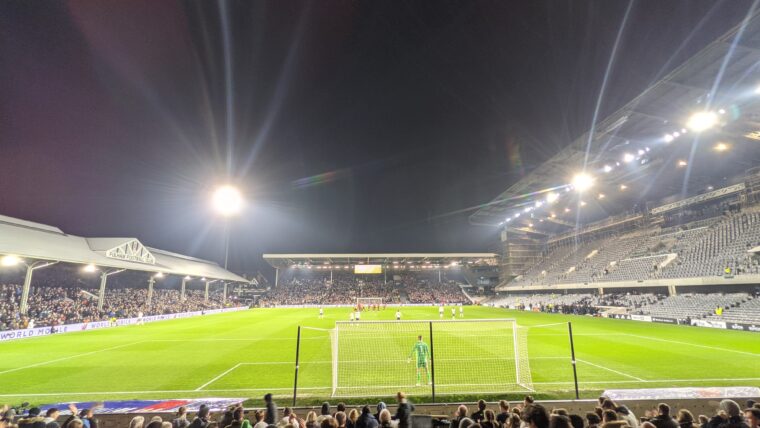 Cam looks back at the Friday night fight that saw us stay ahead of Parker's Bournemouth in the race for the Prem.
Waking up on Saturday morning without a hangover, cradled in the comforting realisation that we are still top of the tree heading into a busy Christmas schedule, was blissful. The biggest game of the campaign to date, navigated without casualties and embarrassment upon Scott Parker's highly-anticipated return to the banks of the Thames.
Marco Silva believed we deserved more than just a point and I couldn't agree more. Fulham dominated in every aspect, the 1-1 result doesn't do our performance justice but psychologically, in the aftermath of Friday night's showdown of the summit, the Whites will be satisfied with the outcome and that will pay dividends. In a meeting riddled with emotion, boos and cheers aplenty, the last laugh remained in SW6 and we've the rest of the weekend to chuckle through yet. Have yourself a delicious Chinese takeaway, folks, it's what Scotty would want if his team didn't choke after the first bite.
Positives
Embed from Getty Images
Parkerball, snookered
There's no greater pleasure in life, now he's not affiliated with our club, than watching Parker snooker himself with his own frigid tactics. We know, first-hand, of his conservative inclination in winning positions, an offensive reluctance that provokes a tetchiness within his squad and in the 84th minute, as if it was scripted, the Cherries were pegged back by a Fulham side that were in the ascendency, even at 1-0 down. The visitors sat on a slender lead, as they would do under Parker's supervision, and were on the receiving end of a second-half pummelling from Silva's men, who could sense an equaliser was coming.
Bournemouth were ambushed, apprehended by their own false sense of security and the Whites set siege. Steve Cook hurled his pigeon chest into the firing line, Gary Cahill blockaded, Mark Travers thwarted but there simply wasn't enough substance from the Cherries moving forward to warrant claiming the spoils. Bournemouth's following will have to grin and bear it, they're going to surrender dubs for draws and it will be of their own creation. Fulham, however, are still 10 games unbeaten, the division's top-scorers with a return of 50, pre-Christmas, and we're resurgent after a tame period blighted by illness.

Tosin opens account
Glancing a first goal for Fulham when our mounting pressure needed to be compounded, Tosin Adarabioyo finally used his frame to devastating effect and it's a moment worth savouring for more than one reason alone. Fulham pinned Bournemouth back, panic stations in the closing stages and parity was rightfully restored. Two headed chances from Aleksandar Mitrovic went amiss beforehand but our lanky centre-half, lurking with intent, diverted deftly to lift the roof.
Tosin opening his Fulham account to secure a point is no trinket, the value's priceless and his celebration had piss reaching boiling point. Dominic Solanke's bow and arrow gesture was hijacked, comically, by the 23-year-old quipster and the Cherries' Chelsea reject was less than impressed. He'd levelled the game adeptly, revelling in his success and the beauty is, it was all preceded. Tosin shared a Whatsapp screenshot where he'd promised a friend he'd bag against Bournemouth and 'shoot an arrow', to presumably shit all over Solanke's distinction. That, in itself, is top-tier shithousery and I am only alive to sample such legendary content.

Tom Cairney
With 20 minutes of normal game time left, the sculptor arrived. Tom Cairney's sumptuous assist underpins Silva's decision to hook Jean Michael Seri, because TC can influence proceedings just as uniquely as the Ivorian playmaker and his impact was profound. Our substitutes changed the narrative, an urgency materialised through Bobby Decordova-Reid although Cairney, deployed to construct, demonstrated poise and balance, an aptitude that's extraordinarily irreplaceable.
Tom retrieved possession and instigated attractive patterns, which compressed the visitors deeper into their defensive third. Devising a cadence that yielded intensity, he dispatched play from right to left from a central vantage point systematically and on the fringes of Bournemouth's 18-yard box, aware of our aerial presence, the 30-year-old unfastened the visitors' defensive line with a left-footed stroke of precision. Cairney hasn't featured regularly in our starting XI, illnesses and injury setbacks have limited his playing time under Silva but when he has participated, more often from the bench, his prestige takes precedence. A craftsman of his calibre should be the first name on the team sheet, although in this set-up, as a ridiculously resourceful option, game-defining cameos are working wonders.

Denis Odoi
Embed from Getty Images
Reasons to be cheerful, part four. He wasn't solely at fault for Bournemouth's quick-fire strike at the beginning of the second-half, I'd hasten to point the finger of blame at our inattentive centre-halves for straying into redundancy and I won't allow the flat footedness of our entire compliment to tarnish his evening respectively. The 33-year-old, entrusted ahead of Kenny Tete, again, treated us to another superb fullback tutorial along the right and we're truly seeing the very best from a dependable member that genuinely leaves everything on the turf in Fulham colours.
He chased back briskly to counteract the Cherries' impetus, he supported with ambition in a progressive sense, winning free-kicks and contributing to passing patterns and while he may not be as accomplished as Tete offensively, the Belgian never rests until his department is safe and secure and that's all we'll ever ask of him. We've excellent cover where our right-backs are concerned, a man in Kenny that's a tireless competitor and a veteran in Denis that's turning back the years, at an alarming rate, to endorse his reliability.
Neeskens claims crown
Silva's secret weapon, a run-of-the-mill winger modified into a surging live wire, Neeskens Kebano gives opposing fullbacks a torrid time every single week and it was no different for Jack Stacey. Stacey jockeyed and tracked as best as he possibly could, although his efforts were swiftly happy-slapped by the shoulder-dipping menace from DR Congo.
Crowned Man of the Match, Kebano wrenched his way through Stacey's lame attempts to subdue, to stem the flow along the left, and the harder the outwitted fullback tried to suppress, the greater Neeskens' flare became. We frequently laud the 29-year-old's exploits, he's resurrected his broken career in SW6 this season and against a particularly tough opponent to break down, the reinvigorated sauce salesman dismantled in a typically extravagant fashion. Never mind his fluffed sitter, Kebano's switched it on and we have Marco and Luis Boa Morte to thank for his revised enterprise.
Negatives
Embed from Getty Images
Route one undoing

Enough said about their goal, the better, but it has to be explored to a certain degree, simply because it was a training ground routine that really should've been detected. We've touched on this briefly already, it wasn't necessarily an individual error that brought the opener, it was a collective miscalculation across our back four, an inactivity Solanke preyed upon with ruthless conviction.
Both Tim Ream and Tosin were bypassed by a lofted punt through the spine of our shape, the central pairing intended to lessen the space Bournemouth had to inhabit and in doing so, they left a gap for the visitors to hit and they did so, instantaneously. Of course, Denis may have been deeper than his teammates but he was hung and dried by miscommunication, rather than idleness on his part. We were slow to react as Odoi scurried in retreat of the Cherries' route-one plan of attack, we were caught with our slacks down, mid-slumber, and it was telegraphed. An undivided dereliction of duty, exacerbated by route one simplicity.

Joe Bryan
It's a bone of contention. Both our left-backs, Antonee Robinson and Joe Bryan, are pretty shit at doing what they're actually employed to do, when thrust into Silva's demanding system, that is, and the latter didn't drape himself in glory on his rare start for the Whites. Bryan was off the pace from the start, he barely ventured into Bournemouth's half and when he did, he was strangely uneconomical in possession. Jaidon Anthony toyed with Joe's protective vulnerabilities, the nimble 22-year-old won his battle with our stand-in left-back and still, I don't know who I'd prefer to play consistently, they both differ in weaknesses that are impotent in equal measure.
In a few weeks, you'll peel open your tub of Celebrations and all that'll be left are the crappy flavours. Bounty or Snickers? You'll deliberate, and it's exactly the same when choosing between Robinson and Bryan. The American's energy compliments our system but he's a technically terrible footballer, and though the Bristol-born bookworm's final product's seen to be more proficient, he can't hold his ground or even engage with the pace of our counter charges on a relentless basis which is a prerequisite of Silva's stratagem. One tackles himself, the other lost in the mechanics, both can't defend convincingly. Something we can definitely say, however is that one of the duo's better equipped for our lively approach.

Refs berated, again
Here we are again, berating Championship officials because they're simply incompetent. Groundhog Day, deja vu, the refereeing in England's second division is recurrently feckless and there isn't an immediate solution in sight. A penalty overlooked, a dodgy ball-to-arm instance, ignored, studs-up altercations waved on, what the fuck is wrong with officials when it comes to doing their actual jobs correctly?
If VAR was utilised in the Championship, which it bloody well should be, Fulham would've had a penalty in the first half when Harry Wilson was upended by a trailing leg, a ball that hopped onto Cahill's forearm may have been examined and Lewis Cook would've walked for an early shower for his reckless shin-snapping lunge on Kebano. The inconsistencies are rife, substandard referees such as Tim Robinson are severely underqualified, they don't have the bollocks to take control and in an environment where so much rides on each decision, why is the Championship still in the dark ages? VAR's pros and cons are well documented but when judgements from officials are unjust and overtly incorrect, I see no harm in technology calling the shots.