Positives and negatives: Preston North End 1-1 Fulham
Written by Cameron Ramsey on 27th November 2021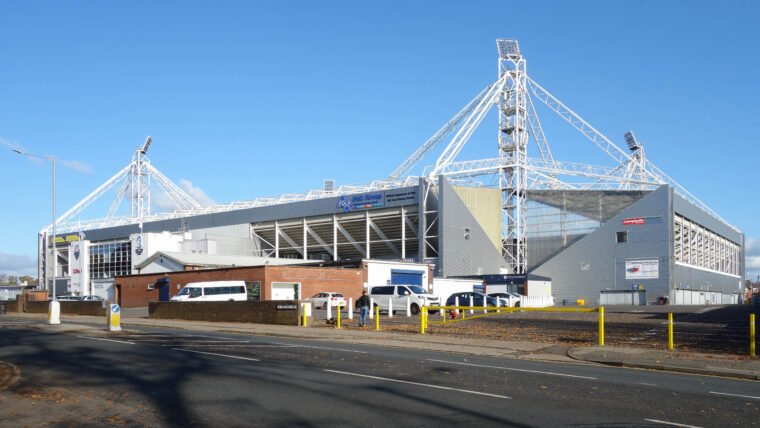 A controversial goal from a controversial player gave Preston a point against a virus-ravaged Whites on Sat – as Cam reviews.
If we could scratch this 1-1 draw from history, we would. To those that made the disrupted journey up to North West, commendations and commiserations, watching the game from home was painful but in the flesh, I can't imagine how mind-numbingly grisly it must have been in the late November chill.
Far from a vintage 7-0 pasting on the road, Franky McAvoy's men were unquestionably deserved of a point at the very least, and Marco Silva's camp simply didn't warm to the occasion. This, however, lines us up perfectly for matchday 21, 9 games unbeaten, against a side that will seek to snatch supremacy. Two runaway title contenders, head-to-head, I've forgotten about Saturday's result already.
Positives
Embed from Getty Images
Cherries choke too
At full-time, Fulham Twitter descended into a minor meltdown. A second straight draw, Fulham hadn't widened the gap between AFC Bournemouth and with the Cherries 2 goals to the good, at home, against Coventry City, it seemed as though top spot would reside on the south coast, after a brief vacation in the capital. The Whites were aggrieved, they'd been pegged back by a real-life scumbag and the probability of being leapfrogged griped all that had to witness the steaming shitshow at 12:30pm.
Bournemouth's pathway to the summit was clear, undeterred, but with 10 minutes of normal time left to cruise through, Scott Parker's boys crapped the bed and imploded. Jefferson Lerma was ejected from proceedings and the seasiders fell apart, you just love to see it. Now, this doesn't excuse our own performance, which was atrocious, and this isn't directly linked to our meeting with Preston in any way at all, but with positives on the slim side of anaemically thin, we have to laugh at our fellow chokers, maniacally, because they can't capitalise, and neither can we. We may have begrudgingly shared the points with Preston but this, Parker doing a Parker, is the victory we craved all along.
Captain's collector's item
When Aleksandar Mitrovic doesn't bag, others have to take responsibility. Alternative scorers normally arise in the shape of Neeskens Kebano or Fabio Carvalho but at Deepdale, courtesy of Jean Michael Seri's sublime set-piece, a certain 34-year-old of ours, usually tethered to the edge of Marek Rodak's 18-yard box, picked up a collector's item that's extremely hard to come by. Tim Ream strode across the 6-yard box and to prod home instinctively, his first goal since December 2017, a pièce de résistance that salutes his recent form.
Tim's performance wasn't squeaky clean in Lancashire, but it was soothing to the soul to see Captain America wheel off in celebration, breaking the back of his long-standing duck with a proper striker's finish. These collectibles are few and far between, it could very well be his last goal of his career, never mind in a Fulham shirt, so we'll treasure the 15th minute of the Whites' trip to Preston, November 27th, 2021, as a significant landmark.
Denis Odoi
Reinstalled into the starting line-up ahead of Kenny Tete, Denis Odoi's application at Deepale was observant, functional and pronounced. Winning the free-kick that brought the opener, Odoi supported Harry Wilson in the further reaches of the park and at the back, where he really earns his corn, he constantly found himself on the right side of the Lilywhites' advancements.
Preston, notably towards the back end of the first half, flashed crosses into the danger area and the Belgian predicted peril perfectly. Intercepting and ridding, the 33-year-old executed his duties pertinently, he was aerially sound and sensible with the ball under his supervision. Aware of his positioning, Denis' involvement was constructive as well as protective, an exemplar to equanimity in taxing conditions.
Negatives
Embed from Getty Images
Classic Championship controversy
Sausages such as Don Goodman shouldn't be allowed anywhere near a microphone. How he tried to justify Preston's equaliser, an ordeal that comprised multiple infringements, is beyond us all. Human judgement and error was thrust into the spotlight, with Sky Sports' commentary frauds claiming the referee, Chris Kavanagh, couldn't be blamed for allowing the hosts' illegal leveller to stand and to that, unanimously, we say get fucked, you massive morons. Two blatant handballs, a block on Marek Rodak with a flailing elbow, a crowded penalty area doesn't warrant the benefit of the doubt, it's a goal that simply shouldn't have been awarded, empty excuses and explanations are as crooked as Kavanagh's yellow teeth.
Not even his assistants spotted the flagrant contraventions, which is just as deplorable as it proves just how shallow the level of officiating is in the Championship. It wasn't just the goal which was adjudicated upon incorrectly, soft challenges from both camps were flagged and penalised throughout, inconsistencies in the officials' injunctions were rife. The Championship isn't just England's second division, it's one of Europe's most prestigious divisions and it still doesn't have the resources it demands. VAR is widely used within the professional game, and justice can't be served until it's deployed in the Sky Bet.
Aleksandar Mitrovic
We want to see Mitrovic start every single league meeting but the Serb really shouldn't have featured in the matchday XI. He evidently wasn't prepared, shaking off an illness requires patience and he looked like a sweaty mess. Liam Lindsay pocketed Mitro, reducing the league's top scorer to petulant outbursts. His frustration was unconcealed. Isolated, inactive, the 27-year-old shrunk into redundancy and extraordinarily, he didn't even register a single shot on target, or an effort of any description whatsoever.
Mitrovic's sickly outing should've been cut short, he dropped the worst personal performance of the season because he was stricken by a widespread lurgie. Rodrigo Muniz could've injected a freshened enthusiasm, and the Brazilian would've been eager to unsettle Preston's unruffled defensive line after a passable performance against Derby County, but Silva didn't act accordingly. Whichever bug that had infected Mitro midweek still loitered as the trigger-happy hitman, the continent's mortal punisher, was dead on his feet.
Shaky defending
Preston found joy with detectable through balls, which should've been prevented, and we invited jeopardy through our hesitancy in possession, particularly from our central defensive duo. I identified Tosin Adarabioyo's questionable distribution following our draw against the Rams and the 23-year-old, indolent in custody of the ball, goaded the hosts into heightening their press. Tosin dawdled, Emil Riis Jakobsen harassed, and possession was immediately pickpocketed. Ream was bypassed periodically, too. Engaged in foot races with Tom Barkhuizen, Tim was sidestepped by the wingback's nimble movement out wide and the defender was surplus and powerless, damaged comprehensively by the hosts' animation on the break
Antonee Robinson over-committed in harmless situations and his untimeliness soon got him booked. The insecure left-back was prayed upon by Barkhuizen, he frequently evaded the American's awkward lunges and with them both hammering towards the byline, Jedi scythed his assailant, a sudden rush of blood which could've been a whole lot worse than it was. Our defending was nervous, fazed, a disturbing blend of carelessness and caginess, and we walked a self-induced tightrope.
Embed from Getty Images
Everything was dreadful
From top to bottom, not just defensively, we were absolutely dreadful. In possession, Fulham were unmethodical, disjointed on the counter and negligent in the final third. Deprived of urgency, the Whites meandered idly as they dabbed endless passes without invention and after the break, we were outplayed extensively. Preston held territory, they hijacked momentum and Fulham scarcely ventured over the halfway line. Held hostage, Fulham's midfield department was drowned out, our wingers were commandeered meticulously and we didn't retaliate.
Even after conceding, Fulham languished as the lively Lilywhites responded, nobody had bollocks big enough to up the ante, to stunt affliction, and with AFC Bournemouth up next, we have to rise to the bait collectively. Carvalho was abortive, Harry Wilson was vastly unproductive, and that's just to name a few. Our substitutes didn't remedy our slackened temperament, they couldn't be arsed to make a telling impact and this slight lull in our endeavour has to vanish by Friday evening, before it becomes a serious gremlin.