Positives and negatives: Fulham 0-0 Derby County
Written by Cameron Ramsey on 25th November 2021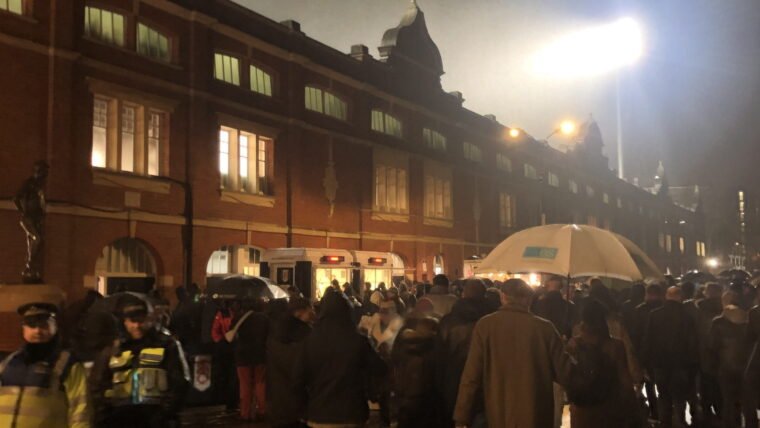 Cam takes stock of Wednesday's draw as our winning run was halted at a cold Craven Cottage.
Wayne Rooney's Derby County didn't give a single shit about league positions, clearly. If they're to plummet to League One, they'll do so kicking and screaming, especially if your name's Phil Jagielka, and if I'm honest, I'm glad that particular fixture's done and dusted.
A draw, or a narrow 1-0 victory, was all I could envision before kick-off, it was never going to be a walkover and I don't know how anybody could argue otherwise. No corner flag punching for Wazza on this trip to SW6, and with our promotion push still very much intact, we briskly move onto Deepdale. Let's get it.
Positives
Embed from Getty Images
Unbeaten streak continues
Let's cut straight to the chase: this isn't a bad result. If you discount Derby's hefty point deduction, they're a collective that would certainly be within the top 10 of this division and given their current predicament, they are going to treat every game like a knock-out encounter. The Rams are better than what their league position suggests. They beat the former league leaders, AFC Bournemouth, in their previous outing and they were determined to spoil our Wednesday night. They didn't. Of course, we snatched at clear-cut chances and yes, we spoiled possession, but this was a spanner, a banana skin drenched in Johnson and Johnson's baby oil, and in the aftermath, clarity and perspective is all-important.
We are 8 games unbeaten, 7 wins and a draw, we are top of the league, albeit by a solitary point, and we're still a side that frequently decimates. We've a goal difference of +33, 13 more than the Cherries, and at this stage of the campaign, that's staggering. If this proves to be another well-needed jolt to the system, with key faces missing through injury and illness, Fulham will recover and we will admit that we have to improve. There is always room to grow, and this superb streak of ours continues.
Tim restores order
This is a man that understood the assignment. Tim Ream was solid. I mean, outrageously dominant. Opportunities weren't falling our way in the final third and at the back, as Derby pressed, somebody had to take control and the American was first on the scene to restore order. Leading by example, again. His partner was less assured, as we'll explore shortly, although I'm constantly bowled over by Ream's composure under duress, how he defuses baleful scenarios, and as a fellow veteran of the defenders' guild alongside Derby's Jagielka and Curtis Davies, our versed centre-half upheld a tremendous standard.
Cherry picking lofted balls out of orbit, towering tallest to rid aerial hazards, driving pinpoint switches to a teammate's soleplate, Tim consummately patrolled his department and inspired offensive sequences, even if our attacking instances eventually came to no avail. Long may his form and confidence continue.

Gazza's Clean sheet
Without Marek Rodak guarding the 18-yard box, Paulo Gazzaniga made an impromptu return to action and he conducted himself fantastically, earning a clean sheet and our praise in the process. Derby brandished the cutlass on the break, carving through our defensive line and when they attempted to draw blood, the Argentine parried danger with split-second reflexology.
Even more significantly, he actually emerged to claim crosses hoisted into the mixer by Derby, an element of his game that needed refining. Coventry away was a disastrously low point for Gazza, he'd lost our trust, however the 29-year-old has redeemed himself, to some degree, with an outing where his awareness helped greatly to preserve a point.

Fabio Carvalho
One of the only catalysts that took it upon themselves to drag Derby out of sync, Fabio Carvalho, in his second consecutive start, exercised why his signature is so sought after across the continent. Effective in tight spaces, the 19-year-old withheld pressure to manufacture snap shots that tested a brilliant Kelle Roos and rattled uprights, he fought in retreat to scramble the visitors' grip in the middle of the park and he contributed to patterns of play across the final third, roaming tirelessly to wedge the doorway ajar.
The teenager was a constant nuisance, characteristically ballsy in possession and feisty in confrontation. A bore draw, it was not, and that is largely down to his compelling urge to produce, at full-tilt, for as long as he's involved. That No.10 berth is his to do what he likes with, until January at least, eh?

Embed from Getty Images
Rodrigo Muniz
Plugging the gap up top in Aleksandar Mitrovic's absence comes with its complications, and in the early stages, Rodrigo Muniz was thoroughly ineffective. Shrugged off, subservient, Derby's central pairing manipulated the Brazilian, constricting his movement and scuppering his escape routes.
Initially, he was cancelled out, however as the game progressed, the 20-year-old gradually warmed to the occasion, and was a whisker from diverting a winner, if it wasn't for Davies' goal-line clearance. Accustomed to acrobatic antics, Muniz unleashed an audacious bicycle kick that, momentarily, had jaws on the floor. Spectacularly agonising which, after a subdued start, is how we'll summarise his first start for the club.
Pushun was brief
He's been out of the picture for so long, I almost forgot how to spell his name. Anthony Knockaert, given our unscripted reshuffle before kick-off, found himself on the team sheet and in the 78th minute, he returned to league action to restore le pashun.
He didn't blast a rogue 40-yarder into a child's face, he didn't really do anything substantial, but he did chuck out a few step-overs for no apparent reason whatsoever, so I see that as a successful cameo and a worthwhile replacement. I never thought I'd see another day where Knockers punches the air after completing a simple pass but on Wednesday evening, we lived it.
Negatives
Embed from Getty Images
Mitro's severely missed
Muniz's inclusion, though, did highlight just how devoid we are moving forward without a proven target man in Mitrovic. Out of contention with a suspected stomach bug (so I was told personally by Fabricio Augosto on the District Line), Mitro was unable to broaden his 21-goal return for the season and as we didn't field a suitable alternative to compliment the Serb's rugged presence, simply as we don't have a similarly attributed striker, our patterns were pedestrianized and ploddingly predictable. We rarely pierced the Rams' ageing back four, play was administered at a lessened rate to what we've become familiar, and it's only then you realise and appreciate Mitro's application.
Bewilderingly, we managed to clock up 21 shots with 5 on target, but it wasn't just me or the bloke sitting behind, who else was seething with our frigidness in front of the target? Harry Wilson quivered on the trigger, Neeskens Kebano couldn't let fly, it was a virgin's first time, panicked and diffident, and that's precisely why we need our top shagger back, pronto. Sod the foreplay, stick it in the fucking thing!

Fullbacks run ragged
Antonee Robinson's a fucking terrible football player that's better at tackling himself than his opponent and Kenny Tete needs to beat his man before he's hooked for Denis Odoi. No mincing. Robinson is Fulham's rendition of Djimi Traore, he simply can't control his feet, and Tete has an infatuation with slinging crosses into his markers' midriff. Where fullbacks are concerned, Fulham were taken for an uncomfortable ride.
Botched simple passes from the left, one-dimensional nonsense from the right, our usually dependable outlets were counteracted systematically by Derby's wide men and both deserve a slap. A frighteningly speedy Festy Ebosele engaged, an observant Craig Forsyth hounded, the visitors made light work of their duties along the chalk.
Embed from Getty Images

Tosin Adarabioyo
Back in the squad after a lengthy ban for a reckless challenge against West Bromwich Albion, Tosin had to reassert himself upon Silva's plans once more, in order to hush potential noises of Michael Hector maintaining his spot alongside Ream. For a central defender that's prides himself on distribution, the 23-year-old was conspicuously blasé with the ball at his feet, particularly in the closing stages, when the Whites opted to dispatch aimless long balls into the terraces.
As if he was wearing steal toecaps, Tosin sledged wayward diagonals into the Riverside Stand, stunting our momentum immediately. On the deck, he'd slacken the tempo and allowed Derby to regroup, which is atypical of his regular habits in possession. Our rhythm's generated at the back, ordinarily via Tosin's governance, so it was mildly disconcerting to witness the able defender malfunction lackadaisically.
Seri's Shattered

Another nailed-on weekly orchestrator dropped a stinker, by his esteemed yardstick, and it's a player that looked visibly exhausted as he laboured after the run of play. Other than fizzing a thunder bastard off the woodwork in the first half, Jean Michael Seri faded into the shadows, suppressed, and he couldn't manipulate his department as he has done practically every matchday thus far so freely. Worrying? Well, maybe just a tad.
The Ivorian was regularly robbed of possession, sweeping patterns dispersed as he hacked into touch and his defence-splitting vision refused to materialise. He's shattered, physically spent, so perhaps the Championship's relentless schedule's steadily taking its toll. If he burns out, with the festive period looming, we're buggered.