Mitrović: A true redemption story
Written by Sammy James on 15th November 2021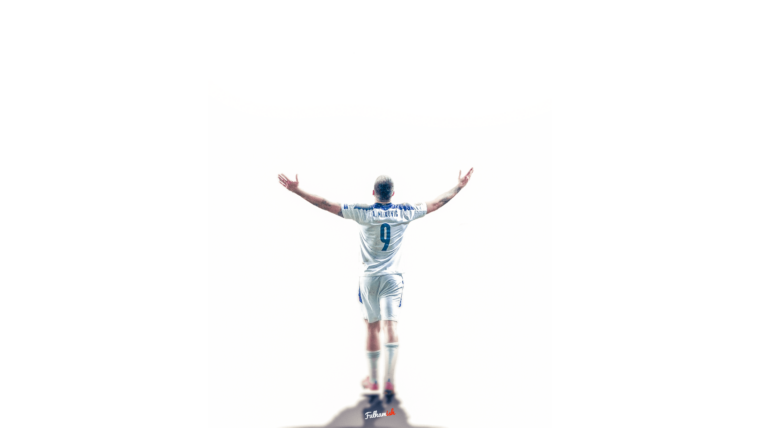 After his dramatic goal that sent his nation to the World Cup on Sunday night, Sammy takes a look at the redemption arc of Aleksandar Mitrović.
The 12th November 2020 was a momentous evening for Scotland and their national football team, who qualified a major tournament for the first time in 25 years. However, for Fulham's talisman Aleksandar Mitrović, it was potentially the darkest night of his career.
As he stepped up to take a crucial sudden death penalty against David Marshall, he looked like he had the weight of the world on his shoulders. Something was not right, and what followed seemed inevitable.
An average penalty, saved brilliantly by the Scotland keeper, denied his country a place at Euro 2020, a tournament that a country of Serbia's footballing pedigree should breeze to.
Embed from Getty Images
In fairness, Mitrović was only as culpable as the rest of his teammates, who played poorly against an improved, spirited, but quite limited Scotland side. They needed a late Luka Jovic header to even salvage the chance of spot-kicks.
While I'm confident that Mitro would have been reassured it wasn't all on him, such a blow is barely possible to comprehend. Not only that, but things had been less than rosy at home – only weeks earlier Aleksandar had missed a crucial penalty against Sheffield United, and despite two goals in Fulham's second game against Leeds United, his early-season form had been mediocre at best.
Out of form, on the bench
Sadly for Mitrović, worse was to come shortly after. Just 16 days after that penalty miss, Fulham travelled to the King Power Stadium for a difficult test against an in-form Leicester City. Scott Parker, struggling to get a tune out of his new team, switched to an audacious five-at-the-back system, with Bobby De Cordova-Reid as a right wing-back and Ivan Cavaleiro up-front on his own.
Remarkably, it worked – and a dynamic Ivan Cavaleiro even looked like he might actually be the answer. Fulham won 2-1, and for Parker, this style was his blueprint to survival.
Embed from Getty Images
Sadly, there was no space in this system for Mitrović. Parker thought Cavaleiro's work-rate and pressing abilities suited the game-plan much better than Mitro possibly could. While these are undoubtedly qualities that Cav possesses, being able to put the ball in between the white sticks is also reasonably important for a striker.
Parker said that Mitrović needed some "air and oxygen" after his bad run of form. This was true, but does putting a player semi-permanently on the sidelines achieve this?
Off the pitch, Mitrović found himself in trouble allegedly breaking UK lockdown restrictions celebrating New Year's Eve with fellow Serbian Luka Milivojević. The Palace captain had to apologise to his fans who he said he'd let down, Mitrović's time out the limelight probably saved him from a PR point of view.
On the pitch, false dawns came and went. A scoring spree for Serbia in the March international break meant that Mitrović won his place back for a crucial match away at Aston Villa. He responded with a brilliant goal, pouncing on a poor Tyrone Mings back pass to give the Whites a vital lead. Sadly, through no real fault of his own, a collapse of all collapses followed, three goals in 10 minutes by Villa sent Fulham into a championship-bound tail spin.
Embed from Getty Images
The face-off
By the end of the season, Mitrović looked forlorn. Had his spark been fully extinguished? Had he somehow peaked at the age of just 25?
Maybe it was the lack of fans, Parker's paint-drying tactics or the series of painful footballing moments; whatever was the cause, Aleksandar looked like somebody for whom all the joy of football had been sucked out.
Which brings us to this summer's stand off; Parker v Aleksandar. This club wasn't big enough for the both of them.
Parker was a popular (in the broader sense) manager who had two seasons ago masterminded a play-off win over the noisy neighbours, and made a semi-decent fist of keeping a ragtag loan team in the top flight.
Mitrović was president of the second tier, who feasted weekly on the likes of Luton Town with a side of Swansea City, and unlimited refills of QPR.
The fans debated, but in truth there was only one winner. Parker pottered down to Bournemouth, and Marco Silva swooped in. Job one was simple: get the black card out and show Mitro some love.
Remarkably, it worked – so well, in fact, that Mitrović signed a new contract. To say that Marco poured instant life into our number nine would be to twist the truth. He started slowly, fortunately grabbing a goal via his armpit in our second game of the campaign away at Huddersfield.
Embed from Getty Images
Flame rekindled
But of course, a 'slow start' at this level for Mitrović is three goals in four games. It was however, like kindling catching a light; the roaring open fire was yet to come.
Enter October. Eight goals in four games, as QPR, Cardiff, Forest and West Brom mostly just helped Mitrović to put the ball in the net. When your opponents glean as many assists as your teammates, something is going right.
"But it's just the second tier" and "he failed in the Premier League" I hear in the distance (skipping over the fact he scored 11 goals in an awful, fragmented Fulham team in 18/19). Those are fair points; he hasn't entirely proved himself, but you know when you just know? Yeah, I think we all know.
This is a different Mitro, this is a Mitro that no longer just looks to score goals himself, this is a Mitro who can drop deep, who can create, who can gift space to others simply through his very presence. When his tail is up, like it is now, it honestly feels like he can score in every single game.
The hollywood moment
Embed from Getty Images
So anyway, the biggest stage. How about a winner takes all, World Cup qualification match against Cristiano Ronaldo's Portugal at a packed Estadio de Luz? Big enough?
Step forward the master, or should that be step sideways? Step away from the ball-watching, Portuguese defence.
90th minute, back-post, target sighted. These are Mitrović's moments. You can't teach it, it's just instinct at this point. You can analyse his game with a whiteboard and a marker pen until you're blue in the face – but only a select few individuals thrive in that moment, feast upon its drama and actually deliver the required blow.
That's what Mitrović is about. It had to be him. He lives in those split seconds.
Who knows how longer he stays in SW6, hopefully forever, but let's never let anyone extinguish this man again.