Positives and Negatives: Peterborough 0-1 Fulham
Written by Cameron Ramsey on 7th November 2021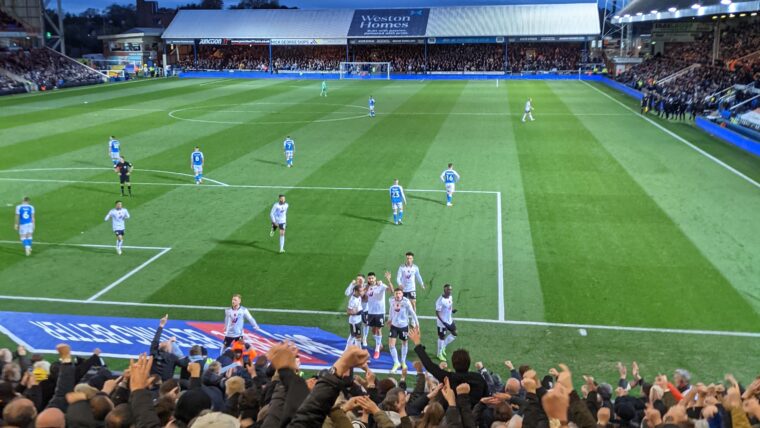 Cam reviews the good and the bad from our important win at Peterborough.
That 1-0 result against Peterborough United was our sixth dub on the spin and Marco Silva's squad were made to work for it. We've enjoyed one-sided whippings in weeks gone by; we'd piped Blackburn Rovers 7-0 in our previous outing and heading into Saturday's meeting at the Weston Homes Stadium, we were licking our lips at the prospect of another unassailable slug fest.
It didn't quite work out that way, of course, however a hard-fought, somewhat ugly win on the road is all part of the process. We didn't hit all the right notes, but the important thing is that we still outclassed our opponents. Usually, we tend to take the positives from each game to the next, however in the name of wholesome debate and reasoning, we're examining both sides of the coin, because constructiveness has never hurt a single soul.
Positives
Embed from Getty Images
Our away support
Our away following's regularly lambasted by touchy Northerners for being sparse and inoffensively muted, however the 2,700-or-so that made the relatively short trip Cambridgeshire made sure that the unjust misconception of quiet, dispassionate Fulham fans was rubbished. As a collective, we were incredible.
Even before kick-off, at Charters or elsewhere, those in black and white lifted the City's atmosphere, making themselves known to the locals with good-heartedness, and the occasional chant centred solely around Jean Michael Seri. Cheeseboards and cardboard cut-outs of Hasbulla at the ready, it felt like a proper daytrip with all of your best mates by your side.
Packed into an entire terrace, and a bit more, our following comprehensively drowned out Posh's home support, from the first whistle to the last, and I'd say our presence was more than adequate enough to appease those that are foaming at the mouth to dig our supporters out. We made the noise, we brought the party, we eclipsed a reputation that's basically a trump card for disgruntled opposing fans to pull when their team's tanked by a group of southern shaggers.
Marek Rodak
I can't begin to tell you just how influential this man's been for us between the sticks. I'll give it a good shot, but then again, he'll probably save that as well. Since ousting Paulo Gazzaniga from Silva's matchday XI, Rodak's safeguarded his target with an undying commitment to the cause, and while he may not have been tested very often in the six consecutive games he's started, he was alert in our meeting at London Road to deny Jonson Clarke-Harris at the death, with a slight flick of the index finger. Diverting the striker's effort onto the post, Rody ensured the dub remained in our corner and for that, we're eternally grateful, as ever.
Embed from Getty Images
A clean sheet, his fifth shut-out on the bounce, the Slovakian commanded, he composed our defensive shape from his 18-yard box and when it really mattered, he vindicated his inclusion, yet again, with a stop plucked from the highest echelons of goalkeeping excellence. That alone earned him privilege of being crowned the Man of the Match, and with every minute Marek's clocking up as our favoured No.1, Fulham are ultimately prospering.
Mitro (obviously)
Putting Aleksandar Mitrovic's sublime superiority into words is a pleasure. Slapping 20 goals in 17 outings, Mitro's Europe's deadliest in front of the target and in his natural domain, being the penalty area, the prolific Serb secured the three points with a typically dramatic header across the 6-yard box.
Mitro only requires one key opportunity to stamp his dominance and to Peterborough's credit, they muzzled the 27-year-old for 74 minutes, limiting his effect upon proceedings. Closely marshalled by Frankie Kent and Mark Beevers for the most part, Mitro couldn't successfully manufacture clear-cut chances to strike the target, but all great attackers persist, they adapt to their surroundings and within the bodies as crosses float ominously into the danger area, there isn't a hitman more clinical than the man himself.
Kebano
Spellbound by Silva's intense tactics, Neeskens Kebano continued to roll fullbacks into spliffs along the left, and the unlucky recipient of said smoking was Joe Ward. Upping the tempo instantaneously, Kebano menaced with Ward's self-control, enticing the left-back to jockey and lunge, and with the faintest of shimmies, he jumped the defender's mistimed efforts to dispossess.
Embed from Getty Images
Snake hips gyrating, the 29-year-old grooved into a rhythm only he can replicate so freely, and once he'd stolen a yard, he choreographed game-changing scenarios. Sculpting Mitro's winner, Neeskens' contributions were invaluable and in our current set-up, in this form, he's a baller in a category of his own. He was direct, purposeful, and with the ball under his supervision, our nimble No.7 was the difference between a victory and a draw.
Sensible subs
Silva made the correct substitutions at the right times. We'll shine a more negative light on the players that made way shortly, although I'd like to focus on two reinforcements in particular, Tom Cairney and Kenny Tete. Cairney restored order in a treacherous midfield zone, bobbing and weaving through traffic to construct meaningful patterns on the break, and Tete's determination to counteract Siriki Dembele was essential to restricting the hosts' joy in the final third.
It was clear that we needed to reinvigorate our midfield. Jack Taylor and Ollie Norburn combined to strangulate our progression centrally, although once Cairney entered proceedings, the narrative switched to the Whites' benefit, as we were able to regain control through the revitalised skipper's rule. Dembele caused multiple problems out wide and was Peterborough's spark of inspiration. Tete's unforgiving, he's versed to the challenges a tricky winger like Dembele would pledge, and with a sharpened expedience, the Dutchman nullified the Ivorian in a period of the game where the Posh were growing in confidenc
Negatives
Sleepy centre-backs
One drawback from our meeting with Peterborough was the noticeable fatigue of both Tim Ream and Michael Hector. Ream coped well with Clarke-Harris and Sammie Szmodics in the early stages but as the game progressed, the American's age seemingly caught up with him, as the hosts' offensive duo virtually reserved the 34-year-old a room in a Sunrise retirement home. Outpaced, outmanoeuvred, Tim was visibly exhausted.
A lack of game time could obviously be to blame where Hector's concerned, although the Jamaican's stability both on and off the ball was less than desirable. He'd miscue simple passes, charge into innocuous instances which then compromised our shape, and though the Posh didn't necessarily pepper our target, a sense of defensive uncertainty lingered. We didn't concede, so this may be resoundingly harsh, however from a purely observational standpoint, I felt as though our back line could've been sprung, if Darren Ferguson's men waged an onslaught.
Seri suffocated
Off days are permissible, we are in no way expectant of key members to perform at 100% without a lapse every so often, and Seri is no exception. The dynamic 30-year-old has been a terrific outlet in recent weeks, he's regularly two steps ahead of his peers, however the Ivory Coast international was ruthlessly ambushed and he couldn't dictate play without being harassed.
Embed from Getty Images
He made way for TC, a decision that was essential to the steadiness of our performance, and for the first, maybe second time this season, Seri was outfoxed. He wasn't abysmal, however his donations to the encounter were uncharacteristically non-descript, and when we rely on his industry to unlock opposing formations, you could say his outing was flagrantly disappointing. Still won't stop us from belting out his song every five minutes, mind.

Dangerous Denis
Denis Odoi was a dismissal waiting to happen. Again, Tete's emergence was significant because the workmanlike Belgian was blown out by Dembele's incessant energy. Odoi couldn't constrain his man and in a sudden flash of frustration, he'd been booked. A sitting duck from the 32nd minute onward, Denis' rationality balanced on a blade edge and the hosts were targeting him as a loose link.
The 33-year-old was recently drafted into the Championship Team of the Season to date, he's been the division's best functioning right-back, apparently, although he was secondary in one-on-one duels and erratic with his decisions, and with Tete coming back into full fitness, you'd predict a change in personnel after the pending international break.