The Fulham Review: October
Written by Cameron Ramsey on 2nd November 2021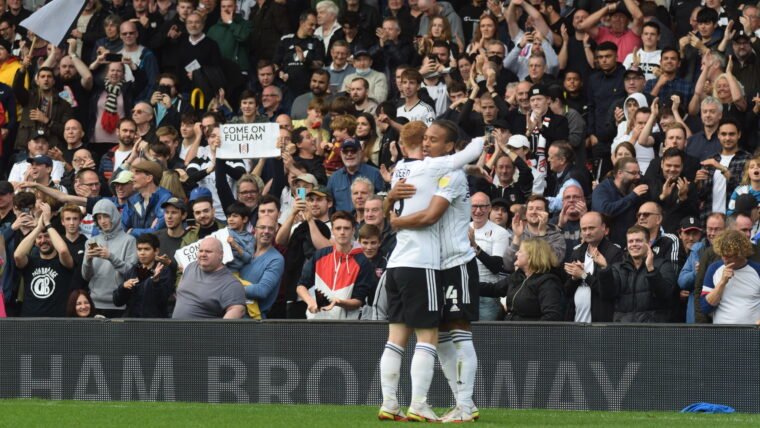 Cam takes a look back at the month that was October, as the Whites recovered to finish strong.
It's only spooky szn if you're facing Fulham at 12:30pm on a Saturday. AFC Bournemouth are top, unbeaten, but he Championship isn't ready for what Marco Silva's cooking. It's potent, infectious, and as our momentum picks up the pace, we're surely on course to pop Scott Parker's Cherries.
We're one of the two clear favourites for automatic promotion and at this stage of the campaign, chasing is ideal. Gradually chipping away at the gap between us and top spot, the Whites have nothing to fear if they assert themselves further. November's schedule's treacherous, no game in the Championship's predictable, although there is a stark gulf in quality and it is widening. October straightened itself out after an abysmal start, learning curves navigated, and now we're cruising in the fast lane, we can't afford to turn back.
That winning feeling
Embed from Getty Images
The beginning of the month was pony beyond comprehension. Although after the international break, we were reintroduced to that sensational winning feeling and to our delight, it stuck around for the remainder. Heading into November, the outlook's rosy.
Having been thumped so ridiculously in a drizzly Midlands hovel, Silva had to swallow an unholy slice of humble pie and he had to get his men back on the wagon, fast. Wallowing, spiralling out of control, Fulham teetered on the brink of becoming wildly inconsistent but with four consecutive victories since, the Whites have been the division's outright entertainers.
In those scintillating triumphs, Fulham slammed home 13 goals, holding their opponents at ransom and with just one solitary goal conceded, coming at the Cottage as we wiped Queens Park Rangers 4-1, our dominance and superiority's simply too hot to handle.
We now boast a goal difference of +22, the Championship's best, and we're showing no signs of relenting. Our defence – barring Tosin Adarabioyo's reckless dismissal against West Bromwich Albion – has tightened up significantly, our midfield department's working like clockwork, and offensively our appetite for decimation's been insatiable.
We build systematically, functionally, we're a nitro-charged V8, capable of shifting into a tempo that's unrivalled, death-dealing, and those lingering hindrances in the opening weeks that stunted our progression's no longer prevalent. Silva's vision of slick, fastidious football's taking shape, rapidly, and with a collective that fell desperately short last season, he's excelling expectation.
Mitro's shuddering record
Embed from Getty Images
Silava seemingly has the entire squad on board with his plan, however there's a feather in his cap that's larger than the rest. Forging Aleksandar Mitrovic's reintroduction was almost an ultimatum for Silva, he had to capture the Serb's trust, reassure him of his standing as a prolific club talisman and to Marco's glowing credit, he's succeeded.
18 goals in 15 appearances. Must I repeat? Two hat-tricks, instant finishing, three assists – Mitro's taking the piss and boiling it. Opposing supporters nationwide are crying; our indomitable bully boy's back with a stinking vengeance – and the salty tears excreting from Yer Da's obese eyelids could be used to season Nusr-Et's extortionate tomahawks.
Singlehandedly, Mitro's netted more goals than entire football clubs have. He's level with Swansea City and Blackpool with 18 apiece and he's doubled Hull City's pathetic tally of nine. Averaging a goal every 73 minutes, Aleksandar's more than just a machine, he's a mining rig, boring through pervious defences as he snaffles up golden opportunities.
The striker's form is more than just special, it's threatening to be record-breaking. Mitro is six goals clear of his closest rival, Blackburn Rovers' Ben Brereton-Diaz, who has a healthy tally of 12. He's the country's leading bagsman and given his noxious condition, I can't begin to reason why he was ever cast aside by Parker.
Silva has one of Europe's hardiest hitmen at his disposal and in the Championship, the 27-year-old's a cheat code. It's actually unfair. While other teams are starving, reliant on basic Andre Gray regens, we're dining out on Mitro's michelin star cuisine, and our compliments are also reserved especially for Marco, the man who breathed life into a discarded recipe with those all-important secret ingredients: faith and confidence.
Recognising our renaissance
Embed from Getty Images
Mitro isn't the only player to have undergone a notable renaissance to date, either. With three clean sheets in four outings during October, Marek Rodak's been phenomenal, a very safe pair of gloves and above all, a leader. Composing from his 18-yard box, the Slovakian international's lessened the likelihood of our back line falling to pieces and when he's been tasked to recite his lines, he's pronounced himself, first time, every time.
His distribution could still use a little sharpening, but other than a stray pass every so often, I'd say the 24-year-old's fucking Dijon. Paulo Gazzaniga is a decent stopper, there's no discrediting that because on his day, he's also excellent, although Marek's awareness, positioning and command warrants an unconditional spot in the starting XI, no debate, case closed.
This brings us nicely onto Denis Odoi's mini resurrection. In Kenny Tete's untimely absence, Odoi's deputised marvellously along the right side and I swear, honestly, that I saw his name upon a Championship Team of the Season line-up recently, too. I'm not entirely sure of the validity, although his inclusion's fully merited.
From sumptuous in-swingers, towering headers to swashbuckling 'get tae fuck' challenges, the bulldoggish full-back's treated us to a glimpse of the past, while embracing his present duties, scrupulously as always, with a view to the future. Oh yes, this one-time Belgium international isn't spent just yet.
At 33, Denis's experience couldn't be more valuable to Silva. The Belgian's fought his way from this division twice during his five-and-a-bit years in SW6 and his athleticism, desire and dedication evidently hasn't gone undetected.
Odoi's never been squeaky-clean; his flaws amplify his qualities, because tangled between awkward episodes where he believes he's Lionel Messi in an alternate dimension, he summons an assuredness, battening the hatches and bodying would-be tricksters, pitilessly. He's the perfect man to hold Kenny's pint, if the Dutchman croaks himself again.
Additionally, of course, Jean Micheal Seri's transformed his reputation. His discipline both on and off the ball has aided our progression in central areas, he's perceptive, cooperative and he is now a firm fan favourite, despite being regarded as a scourge in the summer.
Neesekens Kebano had previously struggled to nail down a consistent place in the starting XI in seasons gone by, although with Silva's supervision, the DR Congo representative is also a shoo-in. Direct, unflinching, he rocks his markers from the get-go and he's infatuated by crumbling ankles and treading the byline. These boys, like their teammates, understand the assignment.
Tom awakens emotions
Embed from Getty Images
Tom Cairney's revival, though, endorses its own sub-heading, purely because his entrance against Cardiff City from the bench, just after the break, awakened emotions we hadn't encountered in almost a year. Anticipating a brief cameo, those in attendance and indeed those watching from home were ecstatic to witness TC rise from the dugout, prepared and focused to make an instant impact.
Harrison Reed had pulled up, the Ginger Iniesta's revamped role in our system is to calm and construct, so who better to replace our tenacious No.6 than our instrumental No.10? Absorbing a hero's ovation, Cariney warmed to the occasion immediately and his prestige eclipsed that of his peers.
Meshing sequences to launch searing counter attacks, Tom slotted back into our midfield, under a new regime, seamlessly. Metronomic, the 30-year-old reduced potential dispossessors to quivering puddles of anxious slop, nobody could get within 10 yards. His sudden, deft movements bamboozled and his vast passing range decimated the Bluebirds' fatiguing shape.
Something exceptional was brewing. The terraces reverberated with an energy that precedes fairy-tale moments and in the 57th minute, as the possession squirmed from Harry Wilson's custody, the world turned in slow motion. Magnetised by the inviting bounce of the ball, TC measured his stride and abused his laces with a thunderous lollop, destined for the top-left postage stamp.
Our skipper's bin-blitzing cracker was soon accompanied by an almighty boom from the spectating hoards, enthralled by what had just happened before them. This was his stage. Back in the spotlight, pressing his face into his palms, Cairney had stolen the headlines and an overwhelming sense of relief washed across the Cottage. Visibly touched, Tom acknowledged the Hammersmith End, saluting the masses, lips trembling, and with his very own 'Ain't Nobody' rendition cascading from one and all, a star was reborn.
Silva is cautious of Cairney's underlying fitness and is wary of burning him out too soon, but in his outings at the City Ground and most recently against West Bromwich Albion, the Nottingham-born flagbearer continued to contribute magnificently, and in front of Reed and another remodelled midfield expert, Seri, his invention's complimented Fulham's poise and balance. This homecoming spells nothing but trouble for the rest of the division, as Silva's selection pool's just gotten deeper and colder in the final third.