Is Bobby De Cordova-Reid a victim of his versatility?
Written by Dan Cooke on 21st May 2021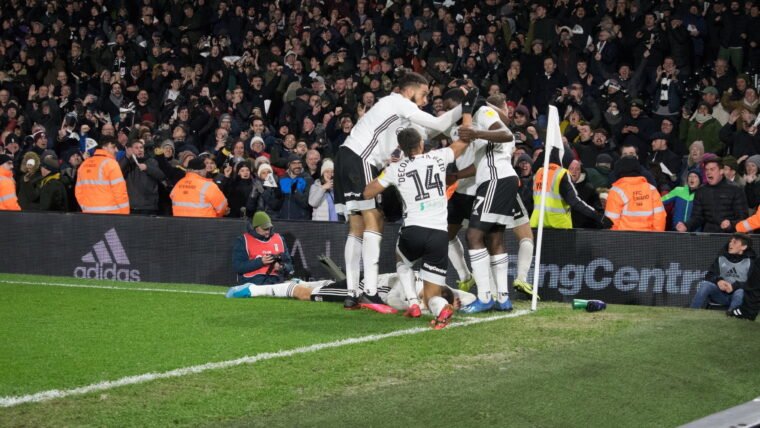 Dan Cooke questions whether Bobby De Cordova-Reid's talents are being wasted.
When we signed Bobby back in August 2019, initially on loan, I thought it was a very smart move. Two years earlier, he had managed 19 goals for Bristol City in the Championship. His season in the top flight with Cardiff wasn't as successful as he and others perhaps anticipated, but he still ended up as Cardiff's equal top scorer.
His willingness to jump ship to the Whites after we were relegated with Cardiff was apparently due to him not enjoying the Bluebirds' brand of football. This already made him a favourite in my books – no one truly likes Warnock-ball. Two years into his stay, and I think the Jamaican international has steadily improved and he has become a key member of this squad.
This season, Bobby has played pretty much everywhere, and was a revelation at wing-back during our mid-season resurgence. His ability to produce capable performances wherever he's played, has meant he's been used to plug gaps. It's for this reason that I feel that Bobby De Cordova-Reid has been both under-appreciated and misused by Parker. Scott knows he can rely on him to 'do a job', but seems to have forgotten why we signed him in the first place.
It's well documented that Bobby is our top goalscorer this season, reaching the dizzy heights of five goals. It's pretty impressive when you consider his lack of game time in advanced positions. To put this in perspective, our four main attacking options this season (Loftus-Cheek, Lookman, Cavaleiro and Mitrović) have scored a combined 11 goals.
Attacking intelligence
Embed from Getty Images
For me, his most impressive attribute is his positional intelligence. This explains why he's adapted so well to whichever position he's asked to play in. However, by forcing him to play deeper, you lose that intelligence in the final third. While he has it in his locker, he's not a winger who will terrorise full-backs by taking them on. Nor is he an out-and-out striker who will lead the line. Instead his offensive game centres around picking up smart positions, finding space in between defensive lines.
Four of his goals this season have seen him sneak in between the opposition left-back and centre-back. He sniffs out space, it's something Cavaleiro isn't as good at, and something Loftus-Cheek is meant to be good at, but we all know he's been a colossal failure.
This is where I think Bobby is under-appreciated by Parker. There's no doubt Scott is a big fan of him, however for one reason or another, he has favoured Cavaleiro and Loftus-Cheek in positions where I think De Cordova-Reid may have been a better option.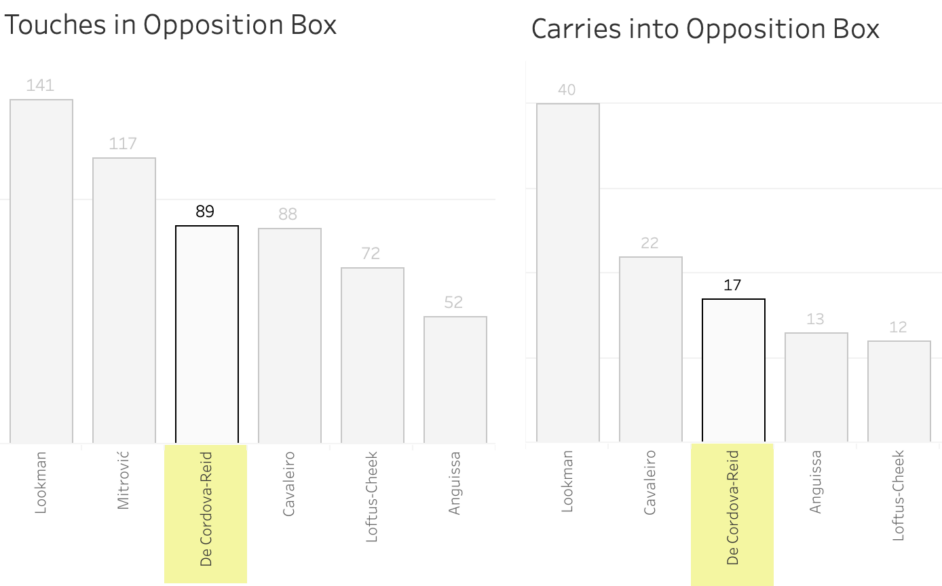 The above graphs might not initially be that impressive, but what they show me is a player who possesses a considerable attacking threat. Bearing in mind that roughly a third of his starts have been as part of a back five, to rank where he does statistically, shows his qualities. He has an ability to find pockets of space in and around the area and that's something we've needed all season.
If you look at a Bobby De Cordova-Reid highlights reel, you're not going to see bags of 30-yard screamers, or individual wonder goals (barring when he turned into prime Maradona against Huddersfield), what you will see is a player who has the knack of being in the right place at the right time. That is an incredibly valuable skill.
Unfortunately, I think it's a skill that is becoming more and more overlooked in modern football. Everyone seems to be looking for flamboyant wingers, rapid strikers or attacking midfielders who can thunder them in from range. While those things are all great, there's a lot to be said for those players who just get into good spaces. It's my favourite role in football, purely because of the name – the raumdeuter, a "space investigator". That's sort of what Bobby is, and though it might not blockbuster viewing, it leads to goals, and my God do we need some of those.
Time to shine
Embed from Getty Images
Now, Bobby is by no means perfect. His finishing has been slightly erratic during his time by the river. After all, it took him four months to bag his first goal for us. However, you don't score 19 goals in a season by chance. If played in the right role, I see no reason why he can't score a significant number for us next season.
So, what is the right role for him? I think he excels best when playing off another, more physical striker (*cough* Mitrović *cough*). It may be naïve, but I want us to try and dominate the Championship. I want to see us scoring freely, bullying teams into submission. That means a move away from pragmatic football and it means getting your best players in their best positions and playing to their strengths.
The season Bobby scored 19 goals, he was playing alongside Famara Diédhiou. Together they scored 32 goals. This is no disrespect to Diédhiou, he's a player I quite like, but he's a BTEC Mitrović. If played together regularly, given time to develop that telepathic understanding, there is no reason why Bobby and Mitro can't form a lethal partnership.
At 28 years old, De Cordova-Reid should be hitting his peak as a player. Unfortunately I think he's spent the past three years playing in teams that don't correctly value his attacking contributions. This upcoming season is the perfect chance for him to assert himself in the Championship again, and I hope he is given the chance to do so.