Five Thoughts: Fulham 0-0 Southampton
Written by Cameron Ramsey on 27th December 2020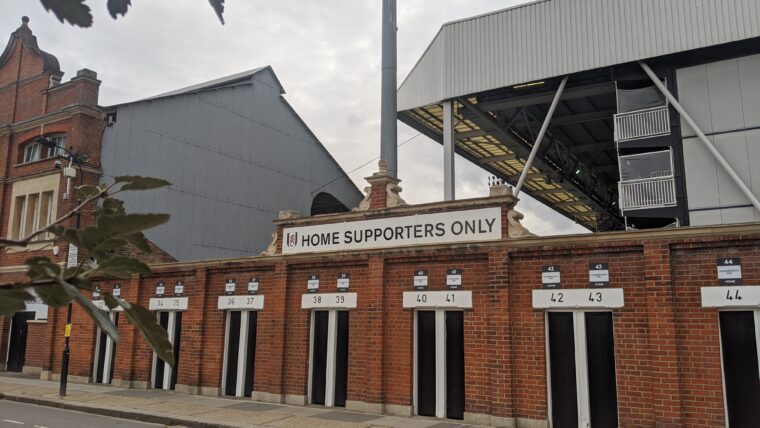 Fulham's merry meeting with Southampton was the footballing equivalent of a traditional Lynx Africa set. On the day, it's mildly underwhelming but in the long-run, it's an understated life saver. Ralph Hasenhüttl's side couldn't poop on the party in SW6 because Stuart Gray and Matt Wells initiated a tier system that stranded the seasiders on the banks of the Thames, via Scott Parker's Zoom-issued instructions.

Without Danny Ings, Nathan Redmond, Jannick Vestergaard and Oriel Romeu, Fulham could've capitalised, although the visitors still carried a threat in Theo Walcott, Che Adams and James Ward-Prowse. We had to be wary, assured and we navigated proceedings safely and that, in the in-form company we kept, has to be commended.
Next up, just before 2020 comes to its demise, a trip to Tottenham Hotspur awaits, a treacherous fixture that basically spells defeat for the Whites. We've anticipated losses in weeks gone by, however, and we've come through games against Liverpool, Leicester City and Newcastle United unscathed, so who am I to make baseless predictions? We're in the bottom three, but we're not feeble relegation fodder, not anymore.
Bore Score Draw
Embed from Getty Images
We didn't really need another excuse to nod off after devouring a Boxing Day platter of gammon and turkey sandwiches but that was a particularly insipid yuletide meeting and, whilst a point's still progress, we clearly weren't prepared to loosen the leash, as we did the belts around our midriffs. A little subdued, withdrawn from the occasion, Fulham invested the bare minimum but resoundingly, that's all we needed to expend to secure a hushed, yet significant draw. You wait, what, 196 home games for a 0-0 and you get two in a row – I'd like to see the odds for a third consecutive scoreless game, could be worth a flutter.
Both sides cancelled each other out in open play, not a honey-roasted sausage was given, and at this time of year, giving and receiving is customary, a truce to bid goodwill to all, so we'll appreciate the sentiment. Shane Long used his "experience" to trouble our back three, to attract fouls, but he couldn't manufacture meaningful gateways for his teammates to cash in on. Interestingly, Southampton only managed to register three shots throughout which, if my understanding's correct, is their lowest tally in 17 years or so .Ademola Lookman scanned across the final third, dragging the Saints out of kilter, but support refused to respond with punctuality and he was swiftly overwhelmed. A war of attrition, it was not, an armistice over the festive period? Most definitely.
Southampton's two disallowed goals got the heart thumping for a brief millisecond or so, which isn't healthy in the slightest on a stomach of Birra Moretti and Cadbury's Heroes, but where Fulham's stand-out, edge-of-the-seat instances are concerned, we were dining on meagre scraps, bubble and squeak with no substance. Fulham upheld a stubborn defensive condition and Southampton absorbed manageable pressure exercised lightly by the hosts. It had 0-0 scrawled all over it, and against a side that could've blown us away, even with a depleted squad, we've got to count our blessings and be thankful for a generous share of the spoils.
Ref Snubs Rules
Embed from Getty Images
This is getting tiresome but the tedious debate rumbles on. Every single matchday, we seem to berate the sporadic use, or misuse, of VAR and it doesn't matter who's in charge, the bloke with the whistle is just as clueless as you and I, although I'd guarantee we'd oversee proceedings with a fairer, perceptive eye and if we were completely flummoxed, torn between one outcome to the next, we'd actually consult the tools available to us, rather than discrediting them entirely. It has to be a matter of pride and honour, why else would these conceited beings with cropped trims and Copa Mundials, who are supposed to be neutral and impartial, snub feasible advice and evidence that's provided to deflect disputes and dissension.
Jan Bednarek's arm was raised, and it was just as much a penalty as AK47's a few weeks ago against Liverpool. The ball may not have been heading goal-bound, but it's flight was undoubtedly deviated by the Polish centre-half's rogue limb, there was no grey area. Bobby Decordova-Reid's yellow was unfounded, he won the ball conclusively and it was actually Ward-Prowse that brushed himself off the tackler's boot, which was studs down. Ruben Loftus-Cheek was reprimanded for a suspected handball which wasn't intentional or indeed visible and Ola Aina's questionable contact could've been penalised, and just for the record, if we're abiding by the irrefutable rules and regulations, it was an unlawful infringement, but there is no transparency. It's vague, opaque, and pathetic.
Darren England allowed the game to develop freely and he administered much more reasonability and logic than, let's say, Graham Scott and Andre Marriner, however he still discounted crucial moments that required closer scrutiny and that appears to be a running theme amongst the top-flight's refereeing committee. Human error will always feature in the game, it's intrinsic to what makes the sport so engrossing, but in the modern variant, there is no room for controversy when there's measures and instruments in place that are designed, precisely, to differentiate between correct calls and howling clangers. This case is adjourned, for now, but it's not closed indefinitely and it never will be.
Bobby's Pliant Desire
Embed from Getty Images
Never have we known or revelled in a player's reformation quite like that of Bobby Decordova-Reid, who has been exceptional in his rebirth along the right channel and he was typically astounding against Southampton's opposite numbers. An energy-blessed virtuoso, BDR tampered with Southampton in that experimental right wing-back position of his, and though he may have to sacrifice offensive functionality in order to retain our inflexible defensive composition, the Jamaica international is churning out solid 8/10 outings every single week and that, by his stable standard, his light work.
Grappling with Kyle Walker-Peters, BDR advanced with possession expansively but he was also held under quarantine by the Tottenham Hotspur castaway. That was a key battle throughout, both asked substantial questions of one another and I was compelled by our versatile constituent's willingness to meddle and irritate. Matty Cash underwent a similar transformation last season at Nottingham Forest, and now I'm noticing plausible parallels between our rehabilitated attacker and Aston Villa's refined wingman. BDR is non-stop, resourceful and above all else, dedicated to the daunting tasks at hand.
There's also an advantageous connection forming between BDR and Aina, and the pliant pairing shored-up their respective sectors expertly, safeguarding in tandem, a credit to Parker's bold rotational implementations. Decordova-Reid wants to play, regardless of where he's ultimately placed in the starting XI and he embodies the attitude, desire and ethic our house-bound gaffer's striving to instil. He's our top scorer, a proficient competitor and now, without fuss or objection, BDR is indispensable, a revamped Denis Odoi with greater productivity, capacity and self-control.
Faulty Final Product
Embed from Getty Images
Clear-cut, distinguishable chances were few and far between for the Whites, but it's not as though we didn't penetrate the Saints' vulnerable areas, no, we simply couldn't supply the goods with that splendid gift-wrapped touch and without an out-and-out, bonafide striker that's capable of getting behind back fours, we're scraping the bottom of the barrel in terms of gilt-edged enterprise. Our defence is exceeding expectation, we're four unbeaten and we're now an imposing stumbling block for potent, formidable outfits to confront but moving forward, we're detectable, toothless and rudimentary.
Lookman laid up an unmarked Andre-Frank Zambo Anguissa, but the perpetually in-form box-to-box instigator failed to land that all-important killer contact upon the penalty spot. Agonising. Antonee Robinson motored the left, as ever, and flashed inviting crosses into prime striking zones, but the American's efforts passed innocuously overhead. In fact, Robinson supplied a peach of an in-swinger for Ivan Cavaleiro and in acres, undeterred, the makeshift leading marksman's header floated harmlessly over McCarthy's crossbar. If that were Aleksandar Mitrovic, in an idyllic scenario, you'd have banked on the Serb to at least work the target with that bread and butter chance, so we're evidently deploying the wrong personnel, if we're reluctant to slip our runners in behind, that is.
Fulham's stints in possession were disjointed, erratic and once we'd manufactured the time and space to pick our spot and potentially pull the trigger, stage fright afflicted our composure and impulsiveness. If we're not going to reintroduce Mitro into our primary plans, we have to identify a mobile attacker in the January transfer window because as much as Cav's come on leaps and bounds, he isn't consistent or convincing enough to guide a Premier League front three competently. Our attack's deprived of dynamism, we opted for elemental crossing sequences that culminated from the flanks and in the 18-yard box, we failed to dispatch various care packages because Cav', and Lookman, are not natural-born finishers. Great weapons on the break, of course, but not tried and tested goal machines.
Ruben Isn't Ready
Embed from Getty Images
I want Ruben Loftus-Cheek to succeed in black and white, I genuinely do, although I can't work out for the life of me why and how he gets into our favoured fold over Tom Cairney, a playmaker that, well, actually does what he's employed to do, at a rate and effectiveness that eclipses the Chelsea loanee's rigid offering. He should've settled into his new surroundings by now, so I don't think it's a matter of being alienated in that regard, although each time he's selected at the expense of representatives that regularly embrace responsibility and initiative so avidly, his meek performances reek of detachment and disinterest, as if he's too good to get himself entangled in the dirty work that crawls beside the relegation skirmish we're currently braving. I'm sure that this isn't the case, however we have to observe a marked change in attitude and application if he's to rescue his reputation.
Lagging, delayed, RLC was a passenger in the middle of the park and was comprehensively outclassed by Ward-Prowse and Ibrahima Diallo, a relatively inexperienced 21-year-old that should pale in comparison. With the ball in his flimsy custody, Loftus-Cheek, instead of heightening the tempo, muted the phases of which he'd loosely contributed, and for a player of his assumed vision and inspiration, it was a downright disservice to our progressional game plan. We couldn't make passing phases stick in the final third because we didn't field a creator that's versed, certified at unpicking stringent defensive lines and the solution was right there, slouched on the bench, neglected. TC compliments our system and is the beating heart behind our originality, so his sudden lack of action is almost discriminatory. I mean, what has he done to gripe Parker so gravely?
For all the good I've said about him, the bad, impotent aspects of his game are just as prevalent. We haven't seen the awe-inspiring, innovational England international we'd been promised, we've received an imposter, devoid of poise, nerve and confidence. He gravitated towards the touchlines against the Saints, which actually worked fairly well as he joined forces with BDR, but in central zones, whilst being closed down, he was vastly ineffective and outfought, so where and how do we get the best out of RLC? By trade, he's a strapping No.10, residing just behind the main focal point but, then again, he hasn't exemplified this supposed distinction whatsoever and he's been granted multiple opportunities to flex his credentials.