How The Bees Were Stung. Part 1: Defending
Written by Eamon Levin on 11th August 2020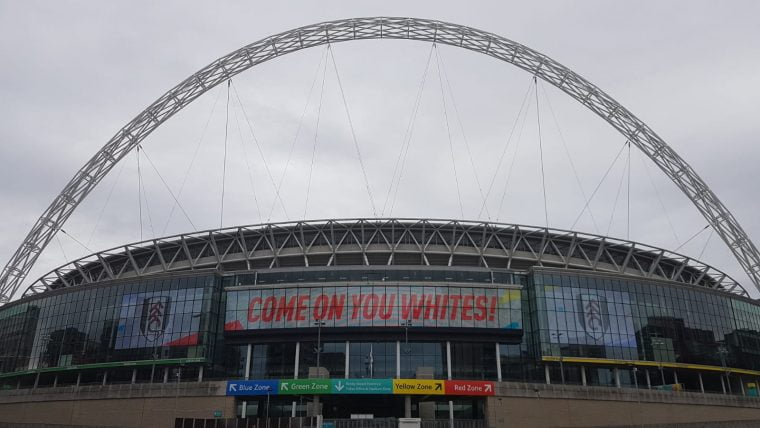 Eamon Levin takes a look at Parker's Wembley tactics to uncover just how we bounced straight back up to the Premier League.
Champagne has flowed, songs have been sung and Emiliano Marcondes is now well aware that no one ever did, nor ever will, fear him. After a week of disbelief, the dust has finally begun to settle and it's time to look at the game itself and understand the master plan Parker devised.
Like most Fulham supporters, I spent the days after the final replaying Joe Bryan's heroism in my head, recovering from a few drinks, and in a constant state of euphoria. However, a week has past, and many are looking forward to the Premier League season, scouring the corners of the internet for leaks of our new kit or hints of transfer rumors. But as the celebrations began to calm, I decided to take a closer look at the final. Since Tuesday night, heaps of praise have been piled onto Scott Parker and his staff and I wanted to get a better idea of what exactly had earned those plaudits.  
Having rewound the tape, it was apparent that Fulham's defensive game plan rested on three pillars:
Make no mistakes operating in the defensive third with the ball
Press high up the pitch to force Brentford long
Defend 1v1 and combination situations on the wings at a high level
If we could succeed in these three areas, then there was a high chance of success.
Parker was able to create a game plan that maximized Fulham's strengths and exploited Brentford's weaknesses, showing growth in a season during which so many times it seemed like his players were forced to stick to a system regardless of opponent, often seemingly holding the team back.
Make no mistake!
When determining a plan to face Brentford, creating a defensively-minded plan was crucial. Three reasons made this clear: The Whites have lacked offensive firepower going forward this year, Brentford have demonstrated how lethal their front three can be, and the low-scoring nature of a final – in which players and teams are scared to make mistakes – mean a single goal can be costly. Luckily, the Whites had been practicing Parker's defence-first philosophy all season and this game was the perfect culmination.
The first pillar of Fulham's defensive game plan was to not make any mistakes operating with the ball in their own defensive third. More than once this season, self-inflicted errors have led to opposition goal-scoring opportunities – all stemming from overplaying in the back. It was clear the players had instructions to play long and wide if there wasn't an immediate pass on.
Throughout the season Ream and Hector have often stood on the ball, waiting for a pass to present itself. But on Tuesday night both central defenders would take only one or two looks before pumping the ball upfield. Even Rodak had his internal clock counting down the seconds. One, two, three… still nothing? Go big. If Brentford were going to score, they would have to do it themselves and play at a high level to do so, Parker wasn't giving them anything.
Embed from Getty Images
Force them long
Parker's second defensive pillar was to use a high press to force Brentford to play long. All season, Brentford had been praised for their swift passing, quick attacking movement and sensational technical ability up front – Parker was intent on breaking this up. Brentford's players may be technically gifted, but Hector and Ream are bigger and well-versed in winning balls in the air. With Reed sitting in front of them to sweep up any knockdowns, Parker was confident his team would be able to often win back possession and disrupt any long-ball attack this way.
Kamara and Onomah were key cogs in the press – applying pressure to the ball carrier, while always keeping a man on Norgaard, Brentford's holding midfielder. Norgaard often ran the show this year, switching the field to start Brentford's build up play, and it was crucial to disrupt his rhythm. With the ball circulating around Brentford's back four, Kamara and Onomah switched between pressing the ball carrying center-back while the other hovered over Norgaard. This key idea seems trivial, but Norgaard's threat when given time to turn was clear when he finally did so in the later stages of the second half, leading to Watkins's only shot on target.
Embed from Getty Images
Bryan and Odoi also pushed high up the field, cutting off wide outlets. The numbers show how effective this strategy was: In the first half, Brentford played long 12 times while attempting to pass out or dribble upfield only seven times. Only twice out of those seven did they successfully keep the ball – a testament to Fulham's determination to force the ball into the air. The second half was even better when Brentford went long 14 times compared to only six times on the floor.
Situational Defending
The last pillar of Parker's game plan was perhaps most crucial. Fulham had to keep Brentford's front three at bay. Brentford's attacking players have excelled this year at beating their defenders on the wings, resulting in uncontested crosses or shots from inside. They have great technical ability and stopping them with the first man was essential. While it was disappointing not to see Cyrus Christie on the right flank with his recent form and attacking play, Odoi was the correct tactical decision. He is a better individual defender and is less likely to be caught upfield against counterattacks.
Embed from Getty Images
In addition to executing great individual defense, our full-backs and wide players had to work together to defend 2v2 and combination situations. A big piece of Brentford's offence is their commitment to sending players forward – their full-backs often join the attack and their attacking midfielders often come wide. It was clear that Parker instructed his wingers to defend and had thoroughly worked on defending combination-play in training. You could see the communication when Brentford attacked wide; fingers pointed to marks and assignments were called out. Our players never crossed when defending overlaps (something I saw far too often for professionals this year), switched marks when midfielders ran forward from deep, and quickly applied ball pressure.
Going against Brentford was always going to be tricky. Admittedly, they have played some of the best football in the division and had some of the best attacking players (although not the best attacking player) in the Championship. However, Parker was without fear and dared Brentford to beat his side. His message to his players was simple: if we don't make mistakes and have good fundamentals, they're going to have to be at their absolute best to win this one. And they weren't.
Parker was able to implement a game plan drawn from previous experience, what he had learned throughout the season and some research into the Brentford team. His success shows promise for the future and demonstrates that Scott is quickly learning his trade. While I find myself worrying about the upcoming season, a galloping Joe Bryan enters my mind and reminds me to enjoy the moment. After all, we are Premier League!