Beauty or the Beast? Positioning Fulham for long-term success
Written by Eamon Levin on 17th July 2020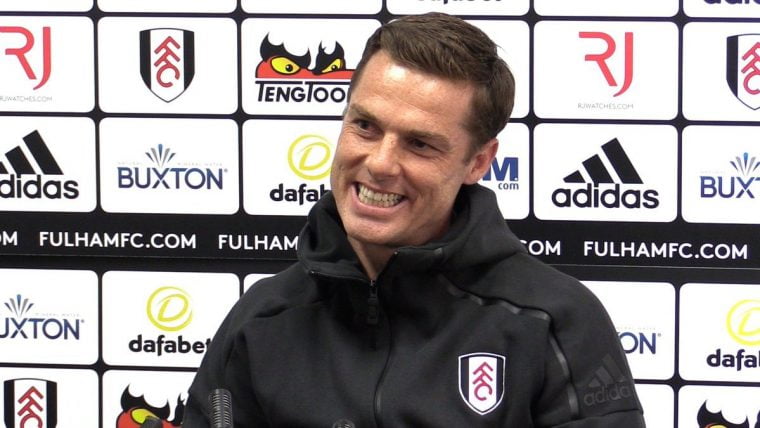 Eamon dives deeper into the 'Parker in' versus 'Parker out' debate, takes a moment to acknowledge Onomah's recent displays and questions some fan behavior.
"You play to win the game!"
Fulham's 1-0 win over Nottingham Forrest last Tuesday, and countless games before it this season, have certainly held up that famous statement uttered by the NFL coach Herm Edwards at a press conference 18 years ago in the middle of a losing season. Edwards' notorious line, while sitting in front of reporters, was aimed at his players as a plea to continue to fight every game, regardless of the apparent hopelessness of the season.
Parker's phrasing may be different, but the message still applies. He doesn't care whether we supporters are entertained, his players have only one job: they play to win the game. The way he implements this philosophy has created much debate: you're either Parker in or Parker out.
Parker's teachings have been on full display in the first seven games back from football's quarantine slumber. The Whites have struggled to score, warranting legitimate criticism, but have also proved a disciplined and sturdy side against even the best offense in the league, holding Brentford scoreless for 88 minutes. With the attacking players at Parker's disposal, criticism of his philosophy isn't without merit, but he's also positioned his side well if they are able to make the leap back to the Premier League.
Parker's defense-focused philosophy this season is the correct move to make, but his vision isn't complete, leaving the team weak in the final third. This philosophy offers a better chance of staying in the Premier League, but with a lesser chance of getting there due to our softer attack.
Parker's bigger picture
These first seven games back have been a microcosm of Fulham's season. Our record against the clubs at the very top of the table has been average this year – bar a 2-1 win over Leeds in December. Defeats against Brentford and Leeds after the restart showed us why. We struggled to create chances, mainly because we don't allocate resources to the offensive side of the game. Parker would rather his side play more conservatively, holding back his full-backs instead of allowing them to get forward and playing possession-focused midfielders who are less likely to break through opposing defensive lines.
This style of play is boring, uninspiring, and with the players we have, at times infuriating. However, it's pragmatic. And pragmatic is exactly what Scott Parker is. It's even how he operated as a player. Parker has an older, classically English, idea of how to play the game: stay disciplined, play hard, and get the job done.
Embed from Getty Images
Parker's headstrong philosophy is the correct path for Fulham to take, but the execution this season has been poor. Parker appears to believe that football is a zero-sum game – that there are only so many resources a side can spend, and they must choose to spend those resources on either attacking or defending. The more you choose to attack, the worse your defense will be – or in Fulham's case, the fewer players that gallop forward, the fewer goals you'll concede.
But this is not how the game works. Players adjust to in-game situations. If Knockaert has the ball up the pitch and Cyrus Christie overlaps around him – as he should – then its Bryan's job as the left-back to slide over centrally, making sure there's a solid defense prepared for a possible counterattack.
The "battle" between offense and defense is not a zero-sum game; the two complement each other to create a balance such that there should never be a weakness in any area of the field.
Despite this lack of execution, conservative play has been the right thing for the team. Our open and expansive play under Jokanovic was beautiful and entertaining, but ultimately didn't finish the job. Yes, we reached the Premier League, but that isn't the end of the line – staying there is the ultimate task. If we had simply recreated Jokanovic's system, we might have gone up, but then we would have come straight back down – we know that because it happened.
Forward passes!
Josh Onomah was oddly left out of the matchday squad in Fulham's first game back against Brentford. Furthermore, he was omitted from the starting XI for three more games before forcing his way into the squad with a last-minute winner against Birmingham City. His performances off the bench prior, and his outings since, have been nothing less than game-changing, as Ben's already covered.
Embed from Getty Images
Onomah's energy and attacking directness have been a breath of fresh air from Cairney's possession-based play. His willingness to drive vertically up-field or play a forward pass is distinctly different from Cairney's constant swiveling and regressive ball movement. On the defensive side of the ball, Onomah is just as progressive, pressuring the opposition often in line with the front three. His defensive effort only increases the energy of the team and encourages the side to press up the pitch rather than sit back and defend. We saw a direct result of that energy against Cardiff on Friday night – a two goal lead!
"Back the boys!"
Questioning and criticizing the manager is pro-Fulham. Parker has been a polarizing figure among the supporter's ranks this season and as the campaign draws closer to its end the Parker in/Parker out debate rages on. If you've read any of my previous pieces you know that I stand on the Parker out line.
Many seem to think that those who identify errors, criticize, and question the manager or the team's poor play are in the wrong – "back the boys!" But to not question the manager's tactics is to be content. They lack the desire to be better. I cannot understand why a supporter of Fulham would not want our team to be better, regardless of the heights we reach. You know who else doesn't want Fulham to be better? QPR and Brentford supporters. And I'm definitely not one of them.
Whether Parker really made an astute tactical decision to place Onomah as a lone 10 is in question. He deserves the credit as the manager but if Cairney had been fit to play, would we have seen the same?
Parker's tactical knowledge is limited. But perhaps the credit he deserves should be more than folks (and I) are giving him. He has set up his team for long-term success if they achieve promotion. Our attack may be underwhelming, but if the defense and midfield aren't sturdy, the offense is irrelevant. Survival in the Premier League, as we've seen, is hopeless without a sturdy defense and competent midfield.
Onomah's resurgence in the team has allowed Parker's desire for a defensively disciplined side to remain while adding some bite and energy, especially in the final third. As we enter the final push, its looking likely that the whites will have to battle it out in the play-offs to make the jump back to the top division. If so, a solid defense will be key, as the play-offs often present cagey affairs in which teams must take their limited chances. Luckily for us, we've been doing that all season.