Why did Fulham just sign Anthony Knockaert?
Written by Marco De Novellis on 9th July 2020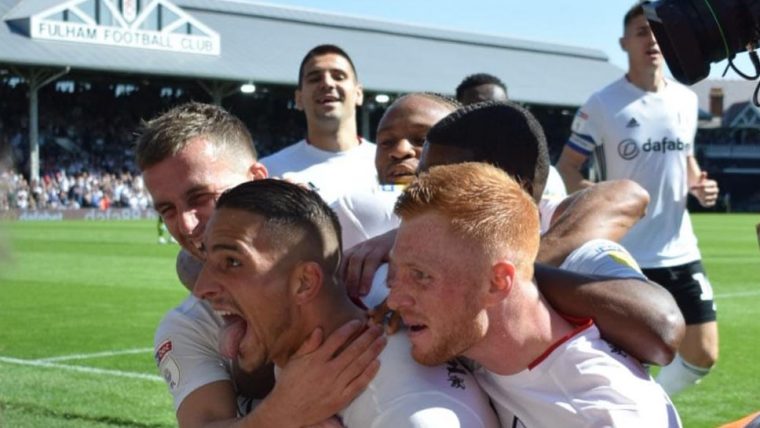 It's the transfer deal you weren't waiting for. Fulham have signed Anthony Knockaert on a permanent contract until 2023. The question is: Why? Marco De Novellis explores.
The score was 3-3. It was cold. Deep into added time, we won a corner.
Then came Tony Knockers. Blustering; arms waving; chest pumping; after a rallying call to the away fans, he steps up. The corner is cleared by the man at the front post. The game ends.
By some cruel twist of familial neglect, my busy Christmas schedule was interrupted by an hour-long commute to Luton last Boxing Day. There, in post-apocalyptic surroundings, 800 Fulham fans – unwittingly or not – witnessed a moment that defines Anthony Knockaert's Fulham career so far.
Embed from Getty Images
His permanent signing is a nonsensical arrangement; likely a forced move and an example of reputation trumping reality. Knockaert was a good player, but now he's not.
71 shots, 3 goals
In 38 Championship appearances for Fulham, Tony Knockers has scored three goals and made five assists. Perhaps, like with Tom Cairney, it is Parkerball – Scott Parker's miserable tactical system – that's stifling Tony's creative freedom and natural flair.
He has taken 71 shots in total this year (Cairney has had 43). 31 have been from outside the box. Imagine playing alongside that.
In a system reliant on either Mitrovic or long-range pop-shots from marquee players, he is failing. Lately, he has moved from his principal role as an ineffective winger to that of an inverted corner flag Raumdeuter.
Rather than finding space, he gets the ball into as tight a space as possible. His goal is to take the ball to the opposition corner; to jostle, joust, and guard it there for the maximum amount of time. This charade often starts well before extra time.
Another Fulhamish article correctly identified Tony as a 'passion merchant' earlier this season. He does try; he is keen and committed. You can't fault him there.
But his below-par performances make his overzealous style a bit embarrassing. When he gestured to rally the crowd at Luton, the effect is more Zippos Circus than Messi at the Camp Nou.
Embed from Getty Images
A risk gone wrong
Ultimately, whether Knockaert fits Parkerball is immaterial. He has played for a year and failed to adapt. And yet, after a season-long loan, we take the option to sign him on a permanent deal.
Why? There are unconfirmed reports that we had to; that the deal was agreed last summer.
By signing Knockaert first on loan before converting into a permanent contract later, we spread the cost of the deal over a longer period of time and thus navigated the murky backwaters of FFP. The option to extend is not really an option at all.
Whether this is true or not, the club has failed. Either the transfer is a risk gone wrong or, if the club have decided to sign him on a permanent deal based on this season's performances, the decision is even more baffling. Parker himself has said he hopes there's more to come from Tony – and you can understand why.
Reputation > Reality
The Knockaert signing strikes me as the decision of an out-of-touch director of football operations attuned more to the past reputation of players than the reality on the pitch. Like most Fulham fans, I was excited when we signed Tony on loan, but it's clear now that Brighton loaned him out for a reason.
Meanwhile, Parker's Fulham team is becoming centered around older, better-known, more expensive players. Arter, Cavaleiro, Knockaert; these are journeymen footballers; too war-torn and weary to fight back against Parker's tactical tyranny.
Track records are no bad thing, but an over-reliance on reputation is dangerous. When Fulham were first relegated from the Premier League we faced a more extreme version of the same problem; players who worked well for us in the short-term contributed to our long-term demise. It was Martin Jol and Berbatov who got us relegated; not Felix Magath and Lewis Holtby.
And while our current crop have strong Championship records, their experiences in the Premier League are defined more by relegation or the substitutes bench.
As for Tony, there is talent there. I've watched clips of his promotion seasons with Leicester and Brighton. I've seen him shouting and jumping on peoples' shoulders. The passion merchantry is more palatable from a distance than it is up close.
Embed from Getty Images
But it's not happening now for Knockaert. I hope things change and Tony returns to the player he once was, but it doesn't look likely to happen under Parker at Fulham.