How Parkerball Is Destroying Tom Cairney
Written by Marco De Novellis on 24th February 2020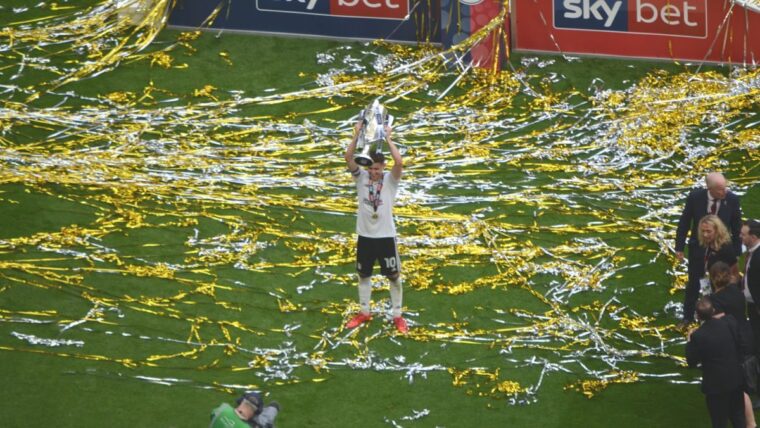 Tom Cairney was once Fulham's best footballer. Now, he gets subbed off after 50 minutes. The Fulham captain is being shackled by Scott Parker's unique brand of footballing misery.
That Saturday, it was 25 degrees. The sun scorched the uncovered heads and shirtless shoulders of the White Wall. There were black and white flags and balloons. The Torch pub was lit. There was a double decker bus.
It was our last game before the summer; the multimillion pound game. There were 85,000 inside a packed-out Wembley. Looking out from the concourse, there were more Fulham fans than you ever thought existed.
And there, Tom Cairney – Fulham captain, playmaker, goal scorer, and Championship play-off final match winner—was king of all he surveyed. On that kind of day, you take a moment and say to yourself: 'We are a massive club'.
Embed from Getty Images
Fast-forward two years and the Tom Cairney we know is shackled by the miserable drudgery of Parkerball. With his tactical depravity, Scott Parker has created his Frankenstein's monster. A new Cairney has emerged: an ugly creature, moulded by Parker into a depressing replica of himself.
What is Parkerball?
When Fulham started the season with an attacking line-up of Cavaleiro, Mitrovic, Knockaert, and Cairney, we anticipated attacking, free-flowing football. What we got was Parkerball.
In August, the 4-0 win at home against Millwall was the most perfect Fulham performance for some time, although against an imperfect side. But the warning signs were there: a first game loss to Barnsley at Oakwell; then Stoke away; then a 3-0 loss to Hull City at home.
What soon developed was a conflicted tactical style: long hoofs up to Mitrovic; backward passes; wingers terrified of the wing; full backs imprisoned in their own halves. What developed was an utter reliance on moments of brilliance: 30-yard screamers, solo dribbling efforts, or Mitrovic goals, dispersed thinly across hours of maddening build-up play.
For fans, Parkerball is a unique brand of footballing misery. It is slow and primitive, especially away from home. It is consistently inconsistent. When things aren't going well, it can descend into farce: Joe Bryan at right wing; strikers at wing back; Kamara on the team sheet.
But Parkerball is about more than what happens on the pitch. It's a state of mind. It is victory at all costs, but it's also short-termism. It's a sign that Parker doesn't trust his players or himself. It's the tactical conservatism of a novice manager clinging onto his job.
Under Parker, Cairney has become a square-shaped cog in a wheel of a car with no suspension. He has become what Parker used to be: backwards pass, turn, turn, backwards pass, turn. But Cairney is not Scott Parker. In the Parker system, in games Cairney should influence, he disappears.
Embed from Getty Images
Where was Cairney at Charlton, Luton, or Millwall away? Where was Cairney for the 3-0 defeat to Barnsley at home? Where is the Fulham captain?
Not my captain
In the abomination of a TV show that is BBC Three's Football Stars In Bad Cars, the Fulham captain, alongside Steven Sessegnon and Marcus Bettinelli, had a mixed performance. There were three young men in the pimped-out Fiat Multipla when it left Motspur Park training ground: one shy, retiring figure; one village idiot; and Tom Cairney.
He made a valid contribution to the 'Do you wash plates before putting in the dishwasher?' debate. But also, in between mouthfuls of chewing gum, he boasted proudly about his Lamborghini and his sexual conquests on nights out in Leeds. He was joking, but it was awkward to watch.
Parkerball is destroying Cairney, but he also has to take some responsibility himself. Tom Cairney turned 29 in January. He led by example in our promotion year. But, this year, can he be the mature, grown-up, rousing leader that can lift the team even when he's not playing well?
Lately, it seems not. Cairney has been subbed off six times in the last seven league games. In our previous game at time of writing against Barnsley, he was subbed after 54 minutes.
Embed from Getty Images
Fulham captains tend to be big personalities; experienced, influential figures on and off the pitch: Coleman, Clark, Boa Morte, Murphy, Hangeland, even Parker himself. When you think about the type of character it takes to be Fulham captain, when things aren't going well this season Tom Cairney is not it.
Parker's Cairney conundrum
Make no mistake, Cairney has been a brilliant player for Fulham. He cares; he tackles; he does try. But he is wasted and underperforming in the Parker system, playing a role that a far less talented player could fill.
Cairney is sacrificing himself for promotion, sideways and backward passing and leaving someone like Onomah to do the forward running at the orders of the head coach. When it works, when we are defensively solid and we win 1-0 through a Mitrovic goal, it's fine, but it so often doesn't work out that way.
The irony of Parkerball is that it might get us promoted from a poor Championship league. Then, if we get to the Premier League, we may stand more chance of staying up playing Parkerball than by playing Slaviša Jokanović's swashbuckling style.
But the risk is losing one of Fulham's finest players. The risk is that Parkerball is first the devolution, then the end of Tom Cairney.