Europa Memories: FC Basel
Written by Sammy James on 16th December 2019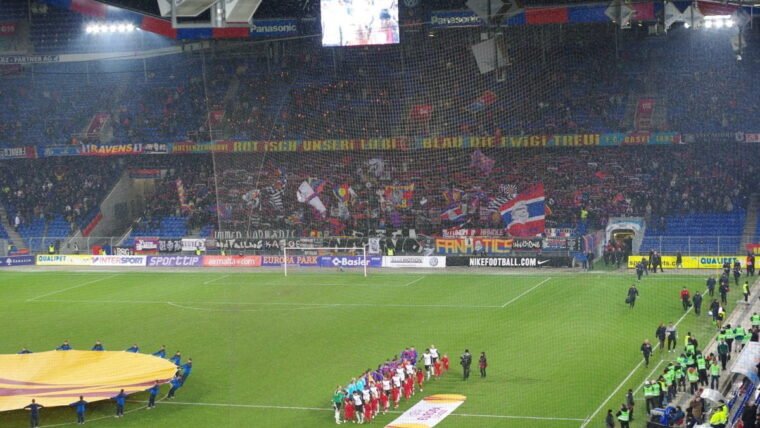 It's ten years since Fulham's famous 3-2 win in Basel that secured qualification from Europa League Group E, and a date with holders Shakhtar Donetsk in the last 32 of the competition. Sammy James was there, and he looks back at one of the highlights of the famous Europa run.
Ahh Basel. One of my favourite ever Fulham games. One that I'm sure myself and everybody who attended will remember as long as we live, and definitely one that I'm proud to say "I was there" for (apart from both of Bobby's goals that I missed, more on that in a second).
This was my first ever Fulham trip abroad. I was 17, in my final year of college and my Dad had promised that if we qualified for the group stage, we could go to one of the games. Sofia was a bit far, Roma clashed with a family holiday, so Basel was decided.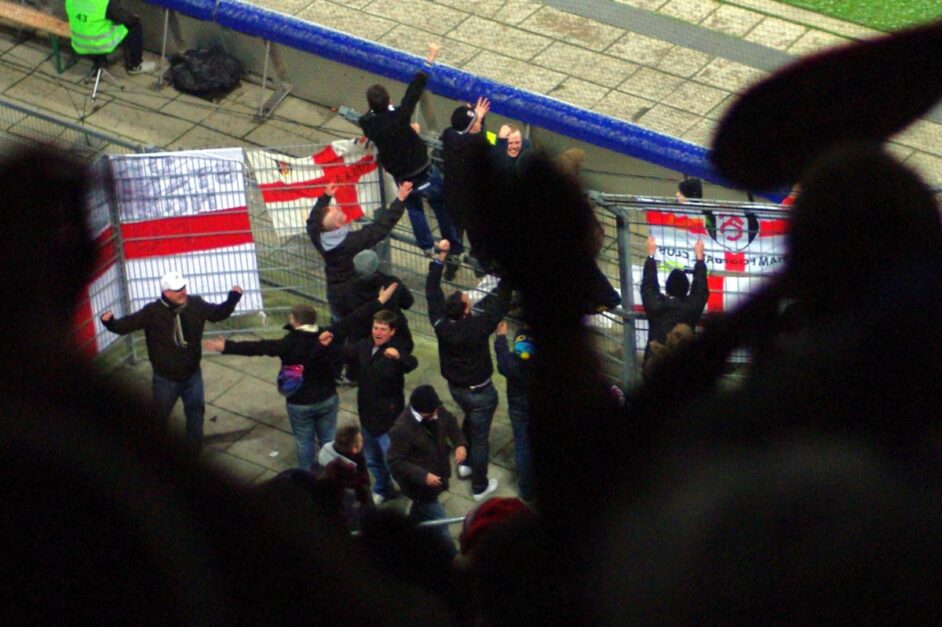 For some reason, we flew from London City airport. I never have before or since. Think Dad had some airmiles that he used up. It was a rickety little plane, probably normally used by bankers travelling out to the Swiss chalet for the weekend. On this occasion, there was a nice healthy smattering of black and white scarves. Not quite enough for an impromptu "YOUUUU WHIIIITES" as we took off though.
I don't remember too much about where we stayed, but all I know was that it was a casino on the outskirts that a few months later was on the receiving end of a big heist. The only thing to be stolen that night, were three points and an unlikely spot in the last 32 of the Europa League.
A fantastic night ✨

Victory in snowy Basel = progression to the @EuropaLeague knockout stages 🎩#10YearsOn 🏆 pic.twitter.com/LtZffiVlc1

— Fulham Football Club (@FulhamFC) December 16, 2019
Basel that day was freezing. Of course it was going to be cold, but this was next level. Dad and I wandered into town fully wrapped up underneath a Fulham hat, a hideous multi-coloured scarf and a giant coat with about 17 layers that my Mum made me pack. We really wanted to soak up the culture of the place, so we headed straight for the Irish bar.
Whilst using the Irish bar as a base, we did occasionally soak up the delights of Basel. It was a nice little town, with an extremely ornate Christmas market in the town square. This wasn't your classic German sausage and stein, and more extremely detailed models of Jesus Christ. Back to the Irish bar it was.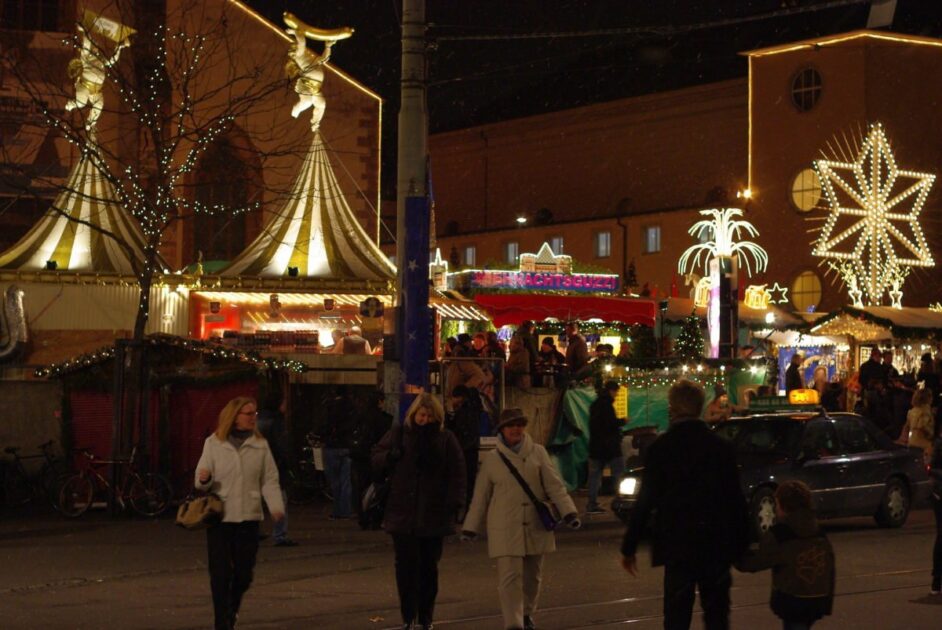 Gametime came around quickly, and we packed ourselves onto a tram which was a 50/50 split of Fulham fans, and grumpy Basel commuters who couldn't give a shit where the blue flag should go. As we made it to St Jakob Park, I remember it being quite unremarkable from the outside, and there was a long queue to get in the ground for away fans. I was buzzing though, I couldn't believe my luck that I was watching Fulham away in Europe, in a group decider against a famous team like Basel.
Inside the ground there was a brilliant atmosphere, two tiers of Fulham fans, flags everywhere and a strange black netting in front of the away end (which I now realise is fairly commonplace in Europe). There wasn't much atmosphere from the home fans, save an impressive, small section of Basel ultras in the lower tier behind the goal. In the rest of the ground, the fans were given red blankets to keep them warm. Say what you like about clappers, goal music and the Michael Jackson statue, but imagine the rage if Fulham stuck blankets on seats.
I'm sure you all know what happened in the match. You probably don't remember what happened for the first 35 minutes though, as precisely nothing occurred. Barely a shot, attempt or good move from either side. As a fairly rookie drinker, I'd mistimed the whole thing badly, and was desperate for the loo. Surely nothing would happen if I quickly popped to the concourse? Wrong. Bobby Zamora got the opener while I was queueing for the urinal. Damn. I rushed back upstairs to see the celebrations. I remember looking back upstairs to see my Dad laughing at me. I was gutted. Anyway, back to loo. Goal! Ah you've gotta be joking! Fulham are 2-0 up away from home in Europe and I've missed them both. At half-time I didn't know whether to be devastated or delirious.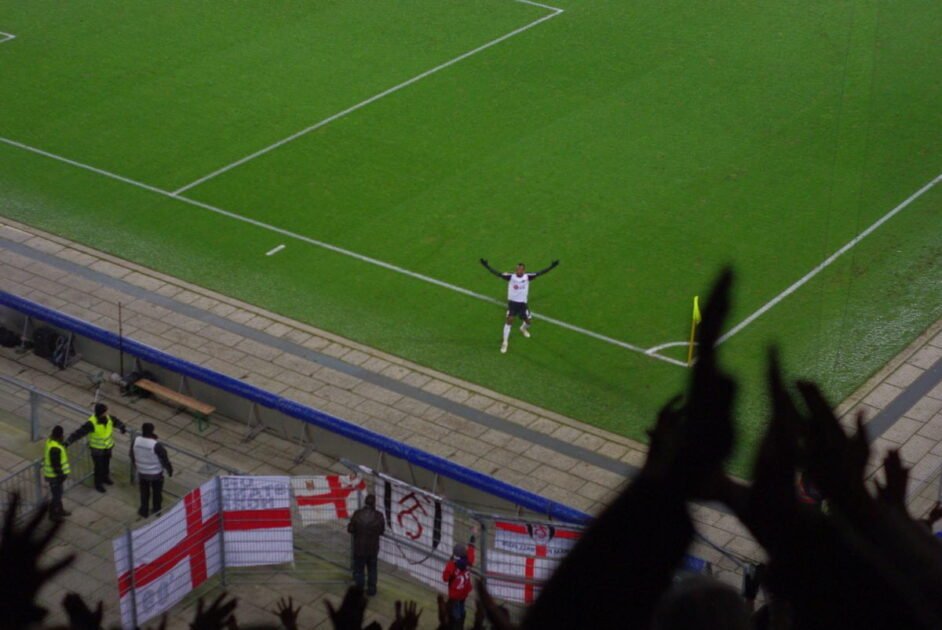 The rest of the second half was tense. Fulham gave away an early goal, and all looked worrying until the lethal partnership of Stephen Kelly and Zoltan Gera linked up for a wonderful goal. Easily one of my top 5 Fulham goals ever. Kelly's pull-back from the byline was wonderful, and Zoltan's precise finish into the corner was exquisite. Relief in the stands, and wonderful celebrations from the players right in front of the fans.
Maybe I'm rose tinted, but this was a time where fans and players felt united. It was new territory for everyone, and we were revelling in it together. Considering what happened later in the season, qualifying from the group stage doesn't seem that big a deal, but at the time, it was like Fulham had won the World Cup. We had qualified from a European group stage that contained three famous football clubs, clutching victory from the jaws of defeat following the loss in Roma two games previous.
I can't remember too much afterwards. I do remember getting back to London though, sitting on the DLR and reminiscing over an incredible 24 hours. One of those footballing days that you always hope for, but seldom come along. Weirdly, we thrashed Manchester United 3-0 a few days later, and whilst amazing, it still didn't match the elation of Basel. Better games and times were around the corner, but I actually think this was my favourite game of 2009/10. I can't believe it's been 10 years since.