Fulham's campaign in the Premier League brings them back to a heartwarming place against Tottenham Hotspur. Nick MacNee assesses Spurs before Saturday's game.
The Manager
Since his arrival in the Premier League in early 2013 at Southampton, Mauricio Pochettino's reputation has grown steadily and steadily, to the point where he could arguably be considered one of the three best managers in the Premier League. He's nurtured exciting young talents in Harry Kane and Dele Alli, introduced an attacking based style of play with emphasis on possession and solidified Spurs as a Champions League team.
He's young, bright and one of the shining managerial lights in the Premier League. However, the question that surrounds him is "Where is his next move?" Real Madrid were interested in this past summer but didn't make any contact with Spurs and ultimately opted for Julen Lopetegui. Poch's Espanyol connections rule out Barcelona. Perhaps a certain Manchester United will tire of a Portuguese grump and look to the future…
The Window
They did nothing. Nada. Zero. Zilch. They became the first team to do no business in a transfer window since the introduction of the summer transfer window in 2003. They didn't even loan out anyone! Quite remarkable really.
The Players
The likes of Kane, Eriksen, Alli and Vertonghen need no introduction really. They are as good as players get in the Premier League and have formed the spine of a Spurs team for the past three years under Poch's rein. Kane is the best striker in the Premier League and has a very good chance of breaking Alan Shearer's goalscoring record.
Christian Eriksen and Dele Alli have all been mooted with Gareth Bale-esque moves to Real Madrid at some point in their careers (and the latter probably will at some stage) while Jan Vertonghen is arguably the Premier League's best centre back. We haven't even got to Davinson Sanchez, Hugo Lloris, Kieran Trippier, Eric Dier and Mousa Dembele yet.
Make no mistake, this is the best team Fulham have played since, well, Tottenham in the FA Cup back in February 2017. Perhaps what is testament to Daniel Levy and Mauricio Pochettino is how none of their key players outside of Kyle Walker has left since that cup game, although whether you put that down to Levy's hardline stance on transfers or Poch's desperation to hold onto players is up to you.
Their Last Match
Spurs defeated Newcastle 2-1 at St. James Park, thanks to goals from Alli and Vertonghen. Despite largely playing a 433 formation throughout pre-season, Poch went back to the tried and trusted 4231 that has served Tottenham so well, with Eriksen, Alli and January signing Lucas Moura lining up as the three attacking midfielders behind Kane.
The centre midfield pairing is certainly of interest though. Moussa Sissoko is a pariah amongst Spurs fans due to his tendencies to play like a loose cannon and look not really sure about what he's doing on a football pitch. Eric Dier is a good player but extremely defensive focused and more a third centre back than defensive midfielder. He is not the perfect picture of mobility though. Spurs did get away with it ultimately though against a midfield of Jonjo Shelvey and Mo Diame, another midfield that can't exactly be classified as mobile.
Despite the win, warning signs did flash for Spurs. Newcastle hit the woodwork twice in the second half through Diame and Salomon Rondon and can be considered perhaps unlucky to have lost the game. Despite his excellent assist for Alli's goal, Serge Aurier is very much a defensive liability at right back and extremely turnover prone, losing the ball three times at RB against Newcastle. Their World Cup squadron has had little rest and almost all of them were thrown back into the starting XI on Saturday. Plus, Harry Kane still hasn't scored in August! Surely, this can continue past Saturday's… ah, who am I kidding, of course he's going to score against us.
The Lineup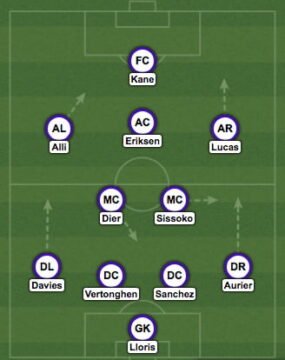 It'd be hard to see Pochettino making too many changes after winning against Newcastle, although I suspect he may bring back Mousa Dembele into the fold because Moussa Sissoko isn't very good (but Pochettino seems to like him for some reason). Dembele had a disappointing season last year by his lofty standards and it does appear that we may well be coming to the end of a very good player's Premier League career, as he was mooted to Serie A and China in the transfer window before it slammed shut. Dembele may not have the physicality and pace that he had, say, two years ago but he still remains a good player. Whether his body can keep up with the demands of the Premier League this season remains to be seen.
Fulham are fortunate though that Son Heung-Min, who was excellent last season, has departed for the Asian Games and won't play a part in the game. He gives Spurs an excellent option off the bench and his dynamism will be missed. Erik Lamela, Harry Winks and Josh Onomah all returned to training this week but probably won't play a part.
I'd wager then that we see the same lineup that they played against Newcastle then, which could give Fulham some room to operate provided that they aren't destroyed by Spurs' high press. Despite pressing becoming a more and more intrinsic part of today's game, Spurs still averaged an extraordinarily low PPDA (Passes Per Defensive Action – a measure of quantifying the intensity of a team's press where a smaller value indicates a greater value of defensive intensity i.e. the defence has allowed a smaller ratio of uncontested passes to be made) of 7.58 last season, only behind Manchester City's value of 6.40 (for reference, Chelsea's title winning team under Antonio Conte allowed 11.08 PPDA, a low rate of a press).
Fulham's View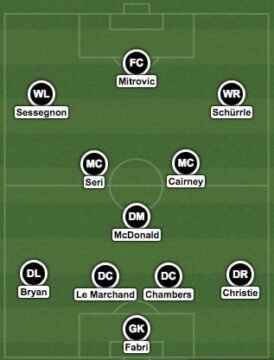 This game present's Fulham's first game for a long time where they are not expected to dominate the ball all that much. Indeed, last season, Spurs averaged the second most average possession in the league last year (58.8%). So how will Fulham counteract this and respond after their defeat to Palace?
It's difficult to see what changes Fulham could make. Alfie Mawson, Denis Odoi and Tim Ream are still out, meaning Calum Chambers and Max Le Marchand will stick together at centre back. I wasn't altogether impressed with Kevin McDonald's performance against Palace last weekend but it may be too soon to throw Zambo Anguissa into the fray, although I would wager it likely that we see him in some form against Burnley the following weekend.
Andre Schürrle will remain in the starting lineup, although worryingly he doesn't look to have any sort of communication or partnership going with Cyrus Christie down the right hand side, which severely restricted Fulham's attacks. Indeed, Schürrle did look better playing behind Mitrovic or on the left hand side but is it worth switching Ryan Sessegnon to an unnatural position? No. Even moving Schürrle to the no.10 role and a 4231 would mean sacrificing one of Tom Cairney or Jean Michael Seri, another unlikely change.
There's a chance Spurs might suffer some squad fatigue from the World Cup but it'd still be hard to predict anything more than disappointment personally. This is a squad that needs time to get to know each other and let's not let a bad result against a Champions League team have us reaching for our pitchforks. Instead, let's judge them on games against Burnley and Brighton, two teams much closer to where we are now than Palace and Spurs.
My Prediction: 3-1 Spurs
Scorers: Kane x2, Eriksen; Mitrovic