Fulhamish's resident statto Nick MacNee dives into the statistics to examine what possible factors are behind Fulham's sudden turnaround in form, and congratulates Slavisa Jokanovic on getting things back on track.
I guess I should hold my hands up. I didn't see this coming at all and should probably apologise to Jokanovic and his team. Since the international break, Fulham have averaged just over two points per game and rocketed Fulham back into the playoff chase.
So what's behind this sudden turnaround after all seemed lost after the defeat at Molineux?
It's hard to say really. I did a rudimentary analysis of Fulham's shot volume and expected goal data before and after the international break. Some things stood out to me.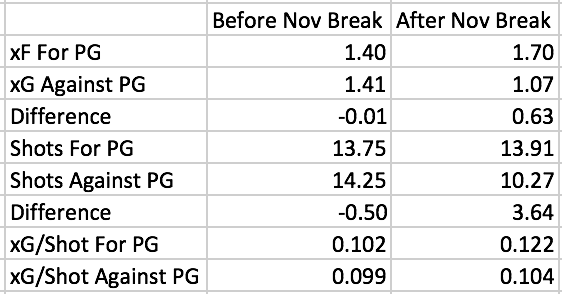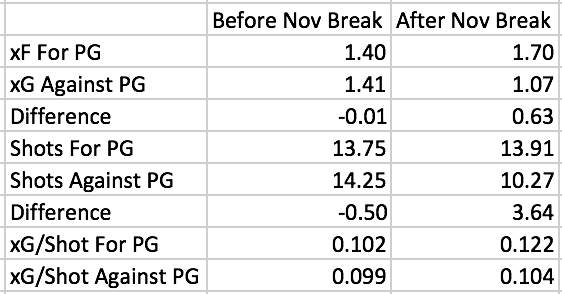 For the most part, Fulham are taking a similar amount of shots per game. However, the shots that they're taking are of a far better quality compared to what they were before Derby. Prior to that game, Fulham were averaging 0.102 xG/Shot (essentially, a measure for the average quality of a shot the team takes) with league average standing at approximately 0.103xG.
Fulham after the international break stand at a whopping 0.122xG per shot, with Wolves being the only team over the course of the entire season to better Fulham thus far.
Defensively is where Fulham have dramatically improved, as they've forced opponents to take almost FOUR less shots per game than they did prior to the international break, which has likely led to a huge defensive xG improvement of 0.34 in the past eleven games.
The defence has improved so much that, had the defensive metrics only taken into account the past eleven games, Fulham would have a top five rated defence alongside the likes of Preston and Aston Villa (1.06 and 1.07xG conceded respectively).
It should probably be noted though that while Fulham have had impressive victories over Cardiff, Sheffield United and now Middlesbrough away from home, the improvement from Fulham might simply have arisen from playing a kinder schedule and easier teams.
While the likes of Millwall and Ipswich are no slouches, they're hardly promotion or playoff contenders that the aforementioned trio are. With higher expectations on their shoulders, Fulham should be beating teams like Barnsley and Birmingham at home and they've finally started to put these easy games away at the Cottage.
It does make me think however. Where would we be had Slavisa not bizarrely stuck with a strange false nine lineup with Johansen up top in vital games against Brentford and Sunderland? 4th, 5th? Of course, hypotheticals are hypotheticals and we shouldn't deal with them but they still leave a sour taste in the mouth. Please Slav, don't ever do that again.
So Fulham have dragged themselves back into the playoff hunt and still have a favourable schedule ahead of them for the time being.
There still remains lots of work for the Whites to do however and putting themselves in the playoffs before taking on the likes of Villa, Wolves and Derby would put the Whites in a kinder position. That process starts next week with Burton at the Cottage.
The Burton Conundrum
Considering how poor Burton have been throughout the course of their one and a half seasons in the second tier, it's remarkable how much trouble they have given Fulham since their ascendance.
We required a last minute goal from Ryan Sessegnon to grab a point at home during last season's slump in September and lost in bizarre fashion at the Pirelli this time around. Fulham shouldn't underestimate this game.
Of course, coming off a triumphant success in Middlesbrough and four consecutive wins at the Cottage, Fulham have plenty of reasons to be motivated and sure of themselves but so will Burton, who have won three straight games on the road (some in more bizarre fashion than others).
Per most metrics though, Burton have been, for lack of a better word, absolutely dreadful. The team currently has an expected goal difference of worse than -20, by far the worst in the league.
Their attack has been totally putrid and ranks at the worst in the league at 0.80xG for and their defence ranks only slightly better as the second worst overall team (ahead of Bolton). It really would require another miracle by Nigel Clough for them to stay up for the second season running.
Simply put, this is a game where Fulham have to take care of business and dominantly assert themselves, as they have at the Cottage in their past four wins. A goal or more in the first half, which Fulham haven't done since their Boxing Day win at Cardiff, should go a long way to securing the three points.
Tom Cairney, who was an unused substitute against Middlesbrough, will hopefully be fit to play and to dictate play against a team that will look to shut up shop and play on the counterattack against Fulham. His return to the midfield should allow Fulham to be far more creative and threatening than they were against Boro.
Window Watching
The January Transfer Window is often a topic of hot debate, with this year's incarnation no different. For Fulham, their objectives are clear – to find a striker, left back and a centre back.
Frustratingly, for both fans and Jokanovic, Fulham are probably unlikely to find anything until the final few days of the window barring something dramatic occurring. This isn't the Khans or "stats people's" fault but rather simply down to the machinations of the window where clubs enter a panic and start taking whoever they can get left, right and centre.
Fulham have to ensure that they keep up their form and work cohesively in recruitment to ensure that we actually find players the manager is happy to use. Apologies to Yohan Mollo, Jordan Graham and Rafa Soares.
Rumours have been few and far between for Fulham though. For the striking department, there have been murmurs of a return of a wardrobe and a surprisingly interesting Nelson Oliveira murmur, although I feel this rumour from Messers Sun and Mirror are more fiction than fact, as is usually the case from these "publications".
Matt Targett has supposedly been the main source of interest, with a loan deal being put on hold until Southampton's injury woes recover. Given that Targett didn't even make the substitutes bench for the Saints, one would hope that these "issues" have concluded and the deal is close to being secured.
With Targett in, Fulham would finally be able to have some rotation on the left hand side of the pitch and give Ryan Sessegnon some rest and reprieve while also allowing to play that left wing role he excels at and rotating in the likes of Kebano, Piazon, etc. Let's just hope that Targett doesn't turn into another Luke Garbutt… God forbid.
Personally, I'd like to see Fulham look at Tom Bradshaw at Barnsley, who is still finding the net repeatedly in a poor Barnsley side. While Bradshaw doesn't have the shot volume that an Oliveira has (2.9 shots per 90 compared to Oliveira's whopping 4.4), the shots he is taking are usually of a good quality compared to Oliveira's, who averages roughly 0.08xG compared to Bradshaw's 0.15xG/shot.
While these are fairly impressive stats, they are of course only taking into account Bradshaw's finishing and shots and not his overall play including ability to hold the ball up, passing, bringing teammates into play AKA factors that we saw a Chris Martin able to do last year.
I should stress that these areas in particular are where scouting comes heavily into play and we shouldn't just be reliant on analytics for our transfer dealings.
Other Tidings
Credit to Fulham and Ryan Sessegnon's team for how they've managed his blossoming career up to this point. Fulham only have to point to how quickly Emerson Hyndman's career has nosedived since he left the club on a free transfer to Bournemouth in 2016.
Since that move, Hyndman has played a grand total of 180 minutes for Bournemouth and just over a thousand for Rangers over the course of one and a half years. In that same period, Ryan has played over four times that amount for Fulham.
Ryan is now highly coveted by numerous big teams around the world. Hyndman is just a receding memory who has been poorly guided by bad management and decisions. Playing time really does matter for young talents, folks.