Carlos Vinicus and Joshua Zirkzee: Fulham's sliding doors moment
15th November 2023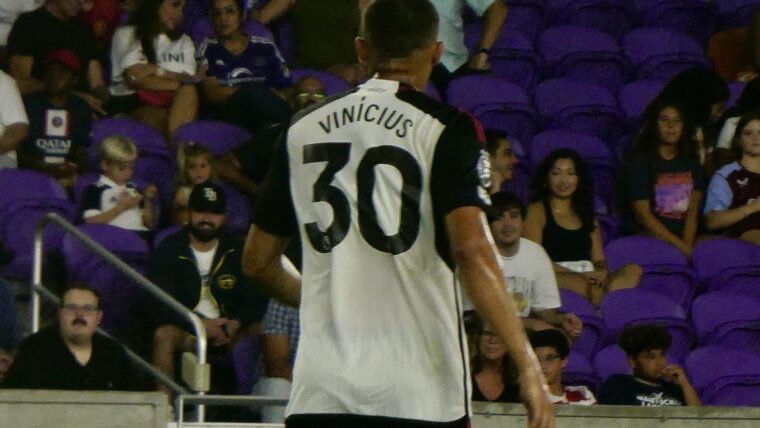 In his debut piece, Finn Nelson looks at a player Fulham reportedly passed up on in favour of our Brazilian striker.
It's not a secret that this season, so far, has been somewhat underwhelming from a Fulham fan's point of view.
Despite only being six points short of last year's total to this point (after 12 games played), it's felt like a much less impressive campaign. Some might argue it's due to the increase in expectation, many more would point to a lack of goals; after 12 matches last term, Fulham had netted 22 goals, with Mitro leading the charge with eight. That's in stark contrast to this season's 10 (Joao Palhinha and Bobby De Cordova-Reid both on lead the way with a paltry two each). It paints a pretty clear picture of what is missing at Craven Cottage.
Olá, Carlos
Turning back time to the summer of 2022, Fulham were preparing for their third return to the Premier League in just five seasons, but there was a different feeling in West London this time round. After some exciting acquisitions with the likes of Palhinha, Andreas Pereira and Willian, Marco Silva was still looking for an understudy to his star centre forward Aleksander Mitrović.
Rodrigo Muniz deemed not ready for the step up was sent out on loan to Middlesbrough. The end of the transfer window saw many potential names come and go, but it was the Brazilian Carlos Vinicius who put pen to paper and joined. He went on to have an impressive first season, serving as a great impact off the bench and proving to be a worthy replacement in Mitrovic's absence through injury (or indeed suspension). His match-winning effort against Chelsea in January 2023 was the undoubted highlight. However, now that the Serbian is firmly out of the door, goals have dried up and Fulham find themselves in a crisis. It is hard not to let the mind whirr and wonder about what life by the river would be like today had things gone differently on deadline day 2022.
Sliding doors
Vinicius's arrival in SW6 meant Fulham passed up a particular promising young Dutch talent, Joshua Zirkzee: a Bayern Munich youth player who, at the time, had just finished a successful loan spell at Belgian side Anderlecht – scoring 16 goals in 38 appearances. The youngster was linked with a move to the Whites, as covered in that summer's rumour round-up. But instead of a move to the Cottage, Zirkzee signed with Serie A club Bologna FC as a backup to Marko Arnautovic.
The similarity to Vinicus's situation can't to be understated: both were brought to the club as a second option behind an experienced and established talisman, spending their first season learning from the bench and eventually being promoted to starter following a big summer move away for their competition – Arnautovic joined Inter on loan and Mitrovic moved to Saudi club Al-Hilal both in August of this year.
Stepping up
The Serbian's and the Austrian's departures from their respective clubs were, similarly, identical in their effect. Both acting as the focal point going forward: dropping back, holding up the ball and linking up the play in the final third. Qualities like this are hard to come by, especially among young strikers. Vinicius has struggled to fill Mitrovic's boots in this regard: the Brazilian averages just 2.36 shots and 10.61 passes per 90 minutes this season compared to Mitrovic's average of 4.16 shots and 13.25 passes last campaign.
Zirkzee, on the other hand, is beating his former teammate in that regard. He's has managed 2.17 shots and 18.38 passes per 90 minutes so far this year in comparison to the former West Ham man's average of 1.81 and 18.88 last season (stats per fotmob.com). Granted, there is more to a performance than efforts on goal and passing – realistically, the only important stat for a striker is goals scored – but, at the very least, it demonstrates Zirkzee's more active involvement in Bologna's actions than Vinicius' to that of Fulham. Furthermore, when we contrast Zirkzee's four goals and two assists to Vini's singular goal on the season so far, we might want to say that the former has stepped up to the plate more so than the latter.
Mitigating factors
Of course, this is all conjecture and there are various factors worthy of consideration: firstly, the Premier League has a more direct offensive play style compared to the more diligent, tactical approach observed in Serie A, not to mention the concentration of quality backlines in England. Secondly, they are playing under completely different coaches with completely different systems. Thirdly, Vinicius is a young player in a very experienced changing room (Fulham with the oldest average squad age in the league: 28.6) and, thus, under greater pressure to adapt and impress the veterans.
Contrast that to Thiago Motta's very young Bologna side (third youngest squad in Serie A with an average age of 25), Zirkzee is playing in a much less-experienced environment and, consequently, less is expected of him at this point in his career. Finally, we must acknowledge that a replacement nine was brought in (Raul Jimenez) following Mitrovic's exit, and Muniz was not sent out on loan again, thus competition for the starting spot is increased and opportunity to find form is, conversely, decreased. Zirkzee, meanwhile, is the most experienced striker in the side after the Rossoblù brought in just one replacement: fellow countryman, Sydney Van Hooijdonk.
It must be stressed I'm not claiming here that Fulham would be flying this season had it been Zirkzee who signed in lieu of Vinicius before the 22/23 season; this article is merely presenting a hypothesis and, subtly, promoting a playerI believe to be, an extremely promising talent in Joshua Zirkzee. Think of this as a formal prediction of a very bright career.