Player Ratings: Aston Villa 3-1 Fulham
Written by Dan Cooke on 12th November 2023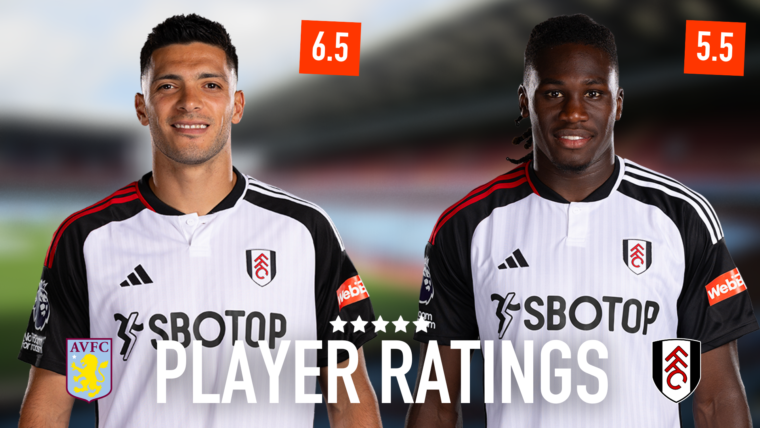 Fulham made it three losses from four in the league, with what was a rather insipid performance at Villa Park. The Whites didn't lay a glove on Emery's men in the first half and we deserved to be 2-0 down at half-time – if anything we were lucky that it wasn't more. The entrance of Harry Wilson for the second half saw a slight resurgence, but we contributed to our own downfall once more to go three down. Raúl finally got his first goal for the club, but it was nothing more than a consolation.
Bernd Leno
We thought last week that Bernd will probably have been disappointed to have let Fernandes' goal slip in. I imagine he'll be even more frustrated this evening, after his indecision led to the opener in the Midlands. However, beyond that, Leno was up to his usual tricks, making a couple of smart saves and definitely could not be blamed for the other two that hit the back of his net. Bernd has nearly infinite credit in the bank for me, so we can't complain too much. 5.5/10
Timothy Castagne
There's a comforting consistency that Castagne provides, however he felt exposed in that first half, with Digne getting a lot of joy down his flank. Dependable in possession, and on the rare occasion that we managed to get forward, Castagne was usually supporting on the overlap, nearly creating a chance in the first half when he cut one back across the face of goal. Not exceptional, not awful, but with the return of Kenny Tete to the bench today, it'll be interesting to see who starts against Wolves after the break. 6/10
Calvin Bassey
There's a lot to like about Calvin; a physically strong, yet quick centre-back, his ability to catch back up with opposition runners has brought value to this team. Sloppiness in possession continues to be an issue. He's capable of picking out lovely passes, so it leaves you feeling slightly exasperated when he suddenly misplaces one that looks simple. He also does have a hand in Villa's third; he's guilty of ball watching and allows Watkins to tap home unmarked. He did a lot of good, especially in physical duels, and I still firmly believe he'll prove a good piece of business, but it's never good for a centre-back when you concede three. 5.5/10
Embed from Getty Images
Tim Ream
It's hard to evaluate this Ream performance; he was caught in possession a couple of times, and a few misplaced passes let him down, but you could say this for probably every Fulham player. Against a quick front line, I thought Tim handled it well, regularly reading the flight of the ball to intercept passes over the top. I do think Tim and Calvin are forging something of a partnership here, but it does seem that Ream's years are starting to catch up with him. It'll be interesting to see what Silva does once Tosin and Diop come back from injury. 5.5/10
Antonee Robinson
Ah Jedi… He is making a bit of a bit of scoring own goals at the back post. I actually don't think it was his fault, however, this was one of his worst days in a Fulham shirt. He contributed to all four goals on the pitch today, with his tame header handing possession to John McGinn to sweep home, before poorly giving the ball away for the third. He finally found a positive out of today, making a good run and squaring for Raúl. It didn't feel like a good day for Robinson, but he'll come back from it. 4/10
Embed from Getty Images
João Palhinha
A rare un-impactful performance from our midfield cruncher today. We've got to be honest and say that John McGinn did a real number on Palhinha today. Wherever Palhinha went, the Scot followed. When out of possession, McGinn drew foul after foul out of João, which ultimately led to a fifth yellow card of the season (which didn't look like a foul at all). McGinn was tasked with being an irritating sod and negating our key man, and he followed orders to the letter. Our next game is winnable, but without our main man against Wolves through suspension, it's got a lot tougher. 6/10
Alex Iwobi
I like this guy a lot. He just gives us something. Sometimes it's hard to put a finger on what that 'something' is, but I'm certain that when he's on the pitch, we're a better team. He's got a flair and the ability to back it up. He's great in tight spaces and gets us up the pitch brilliantly. His shining moment of the game was skinning two Villa players on the break before Raúl so nearly ended the move with a goal. I thought Marco's decision to sub him off was questionable, but there's no doubting that we've got a veritable baller in Iwobi. 7/10
Bobby De Cordova-Reid
I'll be honest, I don't really remember Bobby doing anything in that first half. Not a good day for Bobs, and was rightly dragged at half-time in an effort to give us a bit of zip. One would presume he made the starting XI to try and negate the influence of Digne down the left wing… it didn't work. In possession, our top-scorer offered very little. Not one of the Jamaican's finest days. 4/10
Andreas Pereira
Things just aren't working for Andreas this season. He seems to have nabbed the invisibility cloak from Hogwarts, and seems to insist on wearing it during matches. It can be really detrimental when Andreas drifts out of games as we lose that link to our forward line, which leads to us playing some really dull, impotent football. We know the abilities Pereira possesses, but we're really getting his worst hits at the moment. I do think he needs a spell out of this team as we try and find a winning formula. 4.5/10
Willian
Another player who is nowhere near what he was last season. Matty Cash barely had to break a sweat when trying to contain our Brazilian. No longer able to beat a man with his pace, he also seems to have been drained of his creative juices. This was summed up by a counter attack that would've seen Fulham through on goal had Willian not looked like he was running through treacle. Marco needs to find a solution our left wing woes, because we're currently getting no joy out there. 5/10
Raúl Jiménez
I feel strongly about this one: our Mexican did pretty well. For him to finally get a goal is huge, it's also a relief. I thought he led the line relatively well, held up the ball and brought others into play. Part of our striker debate has to be prefaced with the fact that they just don't get enough bloody service. He was thwarted by a good save but shortly after managed to tuck away an unmissable chance. Slightly perplexed by Marco's decision to drag him off almost immediately after scoring, but hopefully this is the confidence boost our striker needs. 6.5/10
Embed from Getty Images
Substitutes
Harry Wilson
Subbed on at half-time for Bobby De Cordova Reid
Talk about an impact sub. Wilson came on for the second half, and changed the game. He stretched the Villa defence by getting in behind them, and when he came short he picked up the ball and ran at them. He gave us something different and in hindsight we'd probably say that he should've started. He capped off the performance with a perfectly weighted pre-assist for our goal. I get the feeling that if we're to do anything this season, an in-form, confident Harry Wilson is needed. 7.5/10 – Man of the Match
Tom Cairney
Subbed on after 74 minutes for Andreas Pereira
Didn't really get a chance to put his TC mark on the game, but as always he's so smooth in possession. Most memorably managed to worm his way out of four Villa players on the edge of their area. Is it time for him to start? 6/10
Carlos Vinicius
Subbed on after 74 minutes for Raúl Jiménez
As I said earlier, not sure why we didn't keep our Mexican on after his goal. It felt like Vini spent the entirety of his cameo standing offside, and if he had timed his runs better (which he should've done), we could have been well and truly back into the game. It feels like Raúl is currently most likely to start against Wolves. 5/10
Harrison Reed and Adama Traoré (subbed on after 82 mintues for Alex Iwobi and Willian) both came on too late to be fairly rated. However, it is really good to see Adama back in the squad, his pace and chaos feels like something we need.