What's next for the newly re-signed Marco Silva?
Written by Alex Mackenzie on 25th October 2023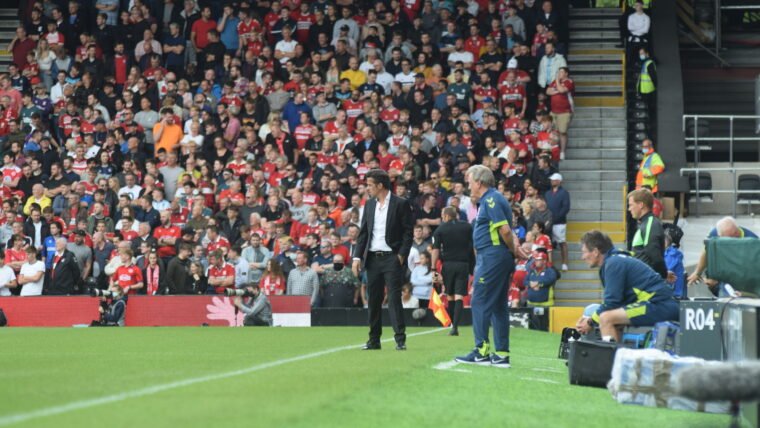 Alex Mackenzie looks at what Marco Silva's new deal means for Fulham FC in the coming months.
This is the one we've been waiting for. After months of murmurings about the contract talks between manager and club, Shahid Khan has been in town for the last few weeks. It now seems obvious that the owner was coming in to approve the terms and manage the most important issue at the club.
Marco Silva's previous deal was due to expire in June at the end of the season. And with talks of a move to Saudi Arabia ongoing last summer, it was feared that he would be leaving like Mitrovic and other money-chasing mercenaries. It was also very probable that he could be tempted by other jobs in football closer to home in the Premier League. But he's now put pen to paper and made a commitment for the next three years.
It's often not wise to speculate on new contracts. Reporting on them can be misleading as they are largely dependent on the commercial reality of Silva's position and future. However, there is no doubt we've got a great manager who can bring great players to a club, provide fans with enjoyable football and both satisfy and be satisfied with the club's hierarchy. The last of which has often been the source of much criticism by his predecessors. So why don't we try and look deeper into what this new agreement means for the future?
A changed man
Three years is a long time in football, and Marco will have wanted to discuss those years in detail, much like he did when he took over a few years ago. Back then, Shahid Khan and Marco met in Portugal (possibly on a yacht) to discuss the future of Fulham and the vision for how the club would move forward after yet another relegation. Silva had endured a difficult time on the manager merry-go-round, going from Hull, Watford and Everton all in quick succession before being sacked and saddled with a reputation of being less-than-loyal to his employers.
Nevertheless, Marco's ability shone through to Mr. Khan, who reignited his passion by showing faith in him. Silva's sign of commitment shows that he might have learned from the past failures when deciding not to stick around at club that was going well under his leadership.
The carrots
Aside from potential performance-based bonuses, right of first refusal if other clubs are interested and escalations dependent on player recruitment (for specific territories or otherwise), the big part of the whole process would no doubt have been the promises from Mr. Khan to invest in the squad once more, as well as some of the infrastructure.
Fulham have the potential to maximise profits in the years to come after the long-awaited redevelopment of the Riverside stand finally opens up. But when it does, Silva would have hopefully have cottoned on to the fact that the corporate hospitality and non-footballing income will need to be redistributed into the club (with ticket prices stagnating across the rest of the ground). Marco will have wanted assurances that the new resources will also go towards the transfer budget, and he can utilise his powers of persuasion to bring new personnel (both coaches and players) to the team and youth systems.
The need to deliver
I imagine with a new contract and increased financial gain, Marco will have been set new targets. It might be plausible that this season a mid-table finish is the goal, what with the change in faces and the loss of a certain striker. But long-term Fulham will be thinking of challenging for Europe again. It must be something that's on the radar and part of the discussions when the next few years are considered.
Failure to meet such expectations will certainly lead to Marco's future being in question. There's a fear that he's becoming too predictable to opponents. So he'll have to keep adapting. When Marco arrived at Fulham he had two years away from the game to work on his craft, now he will have less time to think and needs to act quicker to solve problems. He's proven his worth, but the hard part is to sustain that success.
Worth the deal
The club know that Marco is part of the story that's being written, and this new agreement will hopefully inspire him to keep pushing himself and this team. To have the win ratio of 48.57% over two seasons in two divisions is something that he can look at with real sense of achievement, and largely the club have done well due to his persistent and obsessive talent.
Troy Deeney recently commented on his management skills, saying that it was little things like the signing of Andre Grey when he was at Watford and getting him to compete with Troy by saying things like "I don't think you can keep up with him", that made Troy himself improve as a player and striker. He's a motivator, he will not settle, and for a club that is getting more ambitious, that's vitally important. That ambition problem has been a big one with managers who have sometimes only ever seen the club as a stepping stone or a place to simply gain experience. Mark Hughes in particular left due to a perceived 'lack of ambition'.
I have to say though, there are a lot of unanswered questions about what happened in the summer when both he and Mitrovic were offered careers in Saudi Arabia. There were some conversations that might have gone better in hindsight, and sadly Marco could not convince Mitrovic to stay. It might well have been difficult, maybe even impossible, to convince him. But with this new deal Mr. Khan and the like have taken the view that the reason Mitrovic got to the level of a £50m player is down to Marco Silva restoring belief in the player himself and giving him much needed game time after the Scott Parker years.
That is the correct view. The only view. Marco built a team for Mitrovic to thrive in (and Mitrovic owes a lot to him), the club waiting around till too late in the day to sell inhibited Silva's ability to find a great replacement in time, placing any blame at the board level not the management level. The club awarding this contract is an acknowledgement of Marco's devoted work. Marco may now look to develop players at his disposal and find new ones in a new system. And the club have trusted him with that challenge, they have made the right choice based on his record, but consolidating as well as excelling again will be the order of the day. That will be his biggest challenge in English football to date.