It's time for Marco Silva to stand up and be counted
Written by Alex Mackenzie on 5th October 2023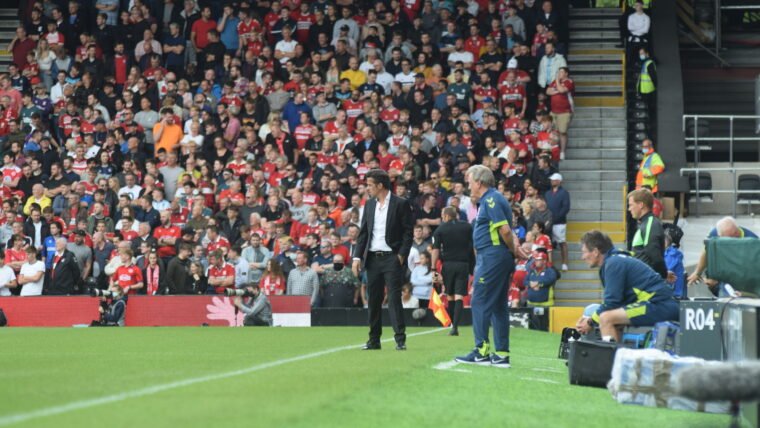 Alex Mackenzie says our gaffer faces a number of tough decisions in the coming weeks – and it could determine his future.
This week has been hard. It wasn't the result, nor the performance, Fulham wanted against the team they see as their fiercest rivals on Monday night. In hindsight, I'm not sure the fact that Fulham were favourites suits them in the slightest.
Our start this year has been so different to last term. In October 2022, Fulham had a buzz about them. With second season syndrome a term now starting to be murmured, the team will be looking at each other in the dressing room and searching for character. Things have changed. And this is where Marco Silva must step into control the situation and dig a little deeper. It will be hard to play swashbuckling football and tack up a record-breaking wins tally this time around. So, a reality check is needed. Adaptability will be the key.
A change in tactics
The squad is no doubt missing a focal point up top. There's clearly a different strategy being put forward by Marco without Mitrovic. And this will take time to come to fruition. Mitrovic could not only score but take the ball down and bring teammates into play. Raul and Vinicius can do neither of those things as well as Mitro yet. It's quite clear that Raul is more of a ball-to-feet kind of player; he's not winning the physical battles, so the team can no longer just knock it forward and expect it to stick. Added precision is also going to be necessary.
The play will be likely be much quicker and large spells of possession in the final third will not be as frequent. Playing on the counter against teams may well be a more common feature. There is a new style we need to understand, and a mentality change as well. Marco will need to use every bit of his tactical nous to figure out how to get the team firing and solid with a new ethos.
It's highly plausible that this team will look different come the end of the season. Many of us will want the familiar line up and to reward the players for the success of last season. But Marco must have plans beyond what we are currently seeing. He's testing players and their capability. Making them all compete internally. For example, Raul being taken off on minute 52 and being replaced with Vinicius was clearly man management from Marco. Not playing well, Raul was not a happy figure. I could be mistaken, but there was a sign of aggression for being subbed that I welcome from a player who, in my view, showed glimpses of the kind of player he can be before being subbed against Chelsea. It bodes well for an easier run of upcoming games.
Tough choices
Tim Ream's inclusion is another tactical element Marco needs to be brave about. Ream is a talented player, a fan favourite and loyal servant through thick and thin. But is it time to faze him out slowly and move to Bassey or Tosin as partner to Diop when they're fit? Sadly, his decline is inevitable with his age and slowing pace. Ream has proved his point at the top level, and before it gets late, and embarrassing, Marco could step in and talk about the need to share the responsibility of his centre-back role.
Ream was dispossessed five times in total all of last season, with not one error leading to goal. This season he has two errors leading to goals and we've only just hit October. The defence can't be as creatively expressive without the goal-scoring muscle to back it up; Fulham will need to be tighter at the back when scoring fewer goals, particularly against weaker teams. Ream may need to be made aware that his position is not a birthright.
Marco may also look to change the formation and become less predictable for opponents after last year. Palhinha, Reed and Pereira are the preferred midfield three. But in time that could change. I could see Pereira playing out wide, and Iwobi coming into the middle over time. I could see Iwobi replacing Reed altogether. Perhaps even Willian could drop into a deeper role and sit alongside Joao. Much like Tom Cairney has shown he can do after playing as a 10 and on the wing earlier in his career. It might be plausible to bring in Vini over a wide player and play with two strikers. The point is, Marco should not be looking to make drastic changes, but he must be open minded when the fluidity is lacking.
Stylistic changes
Fulham under Marco have had success crossing the ball a lot more than most teams, and the full-backs provide the width needed to shape attacks. This season the team has produced 113 crosses in total, which is the ninth highest in the league. Last season we were second only to Liverpool across the whole season with 769. Crossing without the big man is less likely to be effective, hence why we might see it less and why we're further down in the crossing rankings already. The tactic this year may be to use the width earlier on in the attack and create space for runners inside. Or even trying to play from back to front through the lines, rather than having sustained possession before crossing. The general evidence suggests working the ball into the box is more often the plan of action.
These are options for Marco Silva to explore in time, but these are the moments where good managers earn their stripes, and Marco knows the expectations of the team will need to be managed. Composure against the teams we can beat will be crucial. The underlying numbers suggest that the current system will need tweaking to give Fulham added success off the back of the triumph that was last year. I'm sure new signings are being worked on for January and next summer already. But Marco can focus on the players we have now and bring the best out of them by successfully shifting style.
Fulham must make sure they keep calm and carry on – there's still plenty to be achieved. The club will build towards a new 'familiar' line up and style. All in good time, no need to panic just yet. In Marco we hope we can trust.