Mohamed Al Fayed: 1929-2023
Written by Drew Heatley on 1st September 2023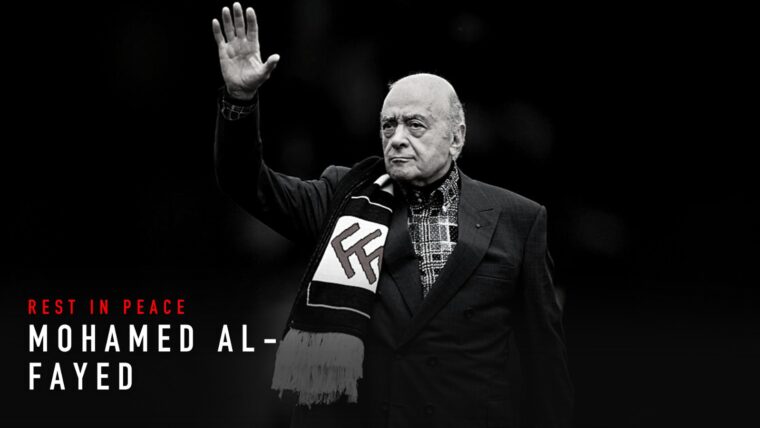 Drew pays tribute to our former owner, who passed away today.
Mohamed Al Fayed was larger than life. A man whose personality was so big; whose presence was so unmissable, that you thought he'd never die. But sadly, we've bid farewell to the man who took us from the third tier of English football straight to the top.
'Chairman Mo' passes more than two decades after our maiden Premier League campaign. He famously pledged to take us there in five years, and completed that mission in four. And there we stayed for 13 years. He was our owner and chairman for 12 of those.
A grand arrival
Embed from Getty Images
It all started in the summer of 1997. The Whites had been promoted for the first time in 15 years, and was on the up after a shaky decade in the lower reaches of the Football League. The Egyptian swooped in with £6.25m and immediately ploughed millions into the club to turbo-charge our upwards trajectory, saying at the time: "I am delighted to have this opportunity to invest in such a great and historic football club which so many people hold in such high esteem."
This was an era before deep-pocketed millionaires flocked to England to drag unfashionable clubs through the leagues. And none of us knew quite what to expect. But Fayed was an owner firmly in the Fulham mould: loud, eccentric and with more than a sprinkling of showbiz. Who can forget Michael Jackson visiting the Cottage before our Division Two game against Wigan? You can relive that particular madness here.
Strapped to a rocket
We immediately overhauled the squad. We became the first club outside of the Premier League to spend seven figures on a player, when Paul Peschisolido came in for £1.1m. We brought in Premier League players like Chris Coleman, Maik Taylor and Alan Neilson to play in the old Division Two. Micky Adams, the architect of our escape from Division Three, made way for Ray Wilkins, and then Kevin Keegan, and in 1998/99 we romped to the league title with a record 101 points.
A season of acclimatisation in Division One under Paul Bracewell followed, before Mo brought in Jean Tigana, and the rest is history.
Embed from Getty Images
The sight of him in Hamburg as we reached the Europa League Final in 2010 will live long in the memory – it was almost the perfect reward of the hundreds of millions of pounds he invested in his labour of love
No stranger to controversy
Embed from Getty Images
While no one can deny the positive impact Fayed had on Fulham Football Club, it wasn't always plain sailing. There was the move away from Craven Cottage in 2002 and the controversy that came with it. He sold the first right to build on the site of Craven Cottage to property development firm, Fulham River Projects Ltd. Despite the fact that we ended up back at the Cottage, a somewhat bitter taste remains.
There was the legal spat with former manager and Fulham hero Jean Tigana. There was the Michael Jackson statue. But even with all these episodes, Mo remained firmly in the hearts of the Fulham faithful, many of whom knew just how close we came to the abyss in the years preceding his arrival.
A muted goodbye
After all he'd done for the club, it was somewhat surprising we didn't see Fayed at the Cottage much, if at all, following the sale of Fulham to Shahid Khan in 2013. But even when exiting, Chairman Mo's eccentricity shone through as he donned a fake moustache in honour of our new owner.
Mohamed Al Fayed was a huge part of Fulham Football Club and its history. Perhaps the biggest. But his legacy will live forever.
"Take me home, Al Fayed, to the place, where I belong. Craven Cottage, by the river. Take me home, Al Fayed."