Can Fulham cause another big six upset?
Written by Jack Stroudley on 31st August 2023
Jack Stroudley previews our upcoming fixture away at Manchester City.
It's easy to forget that we've got a game this weekend amongst all of this transfer madness, but on Saturday Fulham head to Manchester City for the final game before the international break. The contrast in mood from around a week ago is a lot more positive following a point at Arsenal and a Carabao Cup win against Tottenham but Manchester City are a different kettle of fish and will be extremely tough, so can Fulham head into the break with another shock result?
The opposition
Playing Manchester City is tough enough, but a Manchester City side who have had more rest than you is even tougher! As we all know their squad is absolutely stacked in every position, they've lost Cole Palmer in recent days to Chelsea but it still looks a mammoth task. The loss of Ilkay Gundogan in the summer can't be overlooked and while Mateo Kovacic has come in, he offers a different threat to the German in a midfield that maybe isn't as well drilled as last season?
They've won three from three with results against Burnley, Newcastle and Sheffield United. An interesting thing to note is that Sheffield Untied (albeit not at the Etihad) ran the treble winners awfully close in a game where (despite scoring) Haaland had a bit of an off game giving the Blades the chance to level late on. They capitalised and scored but the ever-present Rodri put City back ahead in the final minutes of the game to stop a scare.
How do we prepare?
It's going to be yet another monstrous task for Fulham to get anything this weekend, nevertheless this is how I'd line-up.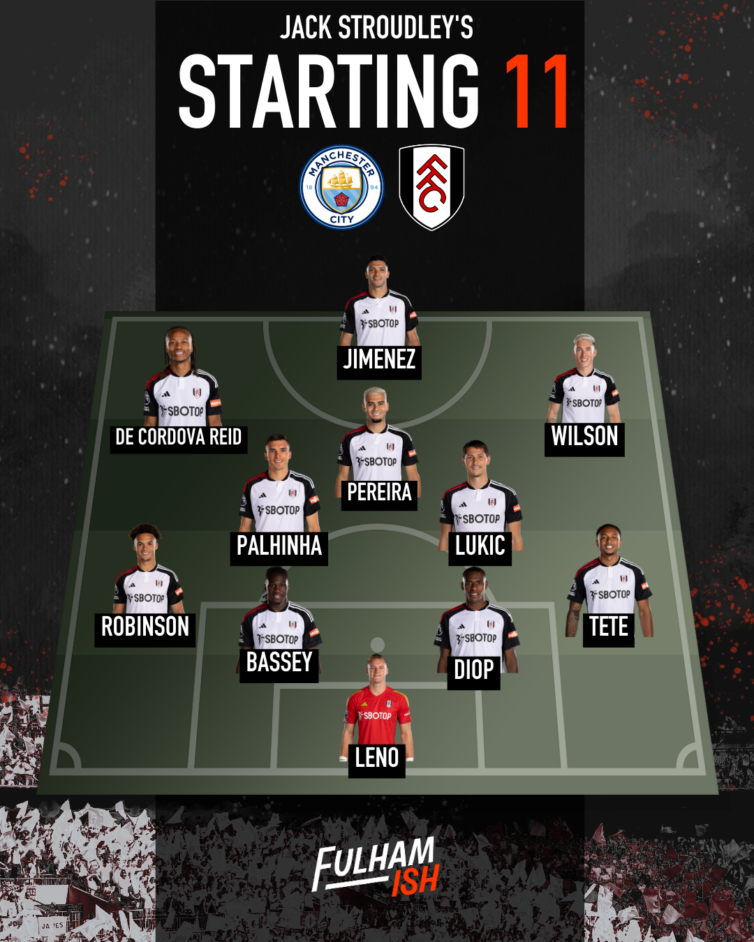 Unchanged from the Arsenal line-up but there are a few things to address. The first of those is a certain Portuguese midfielder. At the time of writing he is still a Fulham player and I'm going to stick with blind faith and say he will still be one by the end of the transfer window. If he isn't then please don't try and contact me for 5-7 business days.
I've got Bassey in there as red card aside, I thought he was magnificent on Saturday with some really essential challenges and overall good positioning. That being said, I've got a sneaky suspicion that Silva will go with Ream instead after a solid performance against Tottenham in midweek. Elsewhere I think the remainder of the side picks itself.
The final verdict
If you'd offered me four points going into the break, I'd have taken it and the results in the past week will have sparked confidence in the Fulham camp to end this round of fixtures on a high. We ran City close on two occasions last season and while I want to be confident, I just can't back us away at the current treble winners. As long as we don't disgrace ourselves, I think we can go into the international break with our heads held high but alas I'm going with a City win.