Player ratings: Arsenal 2-2 Fulham
Written by George Rossiter on 26th August 2023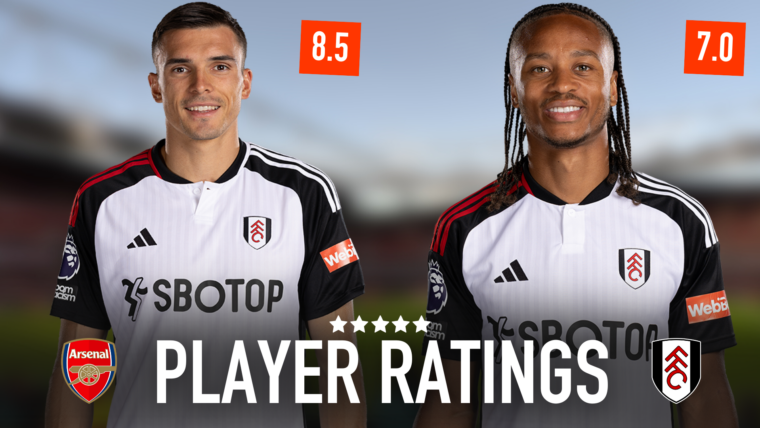 George Rossiter has the ratings after a topsy-turvy London derby.
Anger, frustration, tension, elation, relief. Just a few emotions I went through from the comfort of my own couch in just the second half alone, God knows what it was like for the thousands of fans travelling to North London. After a tense first half where Fulham led from the off, the second half was frantic and frenetic and resulted in both teams taking home a point, one that the Whites will be much happier with.
Bernd Leno
It does feel like most weeks, whilst I am ready to praise Leno, I also feel the need to point out how little he is at fault for the goals we concede. Another penalty plus a close-range Nketiah goal were beyond the German's control. Now onto the good stuff. Bernd made multiple first half saves, most notably a couple from scenarios where Martinelli cut inside and shot from the left hand side. In the nine, soon to be 11 added minutes in the second half, our keeper remained calm as Arsenal pushed for a winner, making two huge saves from Fabio Vieira. 7.5/10.
Kenny Tete
Judging Tete's first half was performance is difficult. By no means was the Dutchman poor but Martinelli did constantly find himself weaving into shooting positions beyond our right back. Regardless, until the 67th minute it was a fairly solid showing…then he had a rare rash moment. Tete's challenge in the box on Fabio Vieira was brain dead and cost Fulham after playing two thirds of the game and showing no signs of any lapses of concentration. While we did get back into the game, it went very wrong for the ten minutes after Tete's mad moment. 6/10.
Issa Diop
It's nice to see that last week's shocker hadn't effected the Frenchman's confidence this week. Diop was immense in the air throughout and never gave Trossard a sniff in the first half. From the moment Fulham went ahead in the opening minute, Arsenal bombarded our box and Diop dealt admirably with the pressure he came under, defending our six-yard area superbly. It was also positive to see that he didn't look shaky on the ball after the dreadful back-pass against Brentford. 7.5/10.
Calvin Bassey
Let's address the elephant in the room. His second yellow card was almost as stupid as Tete's challenge for the penalty, and the suspension will be annoying. However, the 83 minutes leading up to that moment were hugely encouraging. A lot has been said of Bassey's potential versatility and he showed reasons why that could be useful today, playing in the middle of the defence. His ability and strength on the ball, shown on one particular occasion when he bought the ball 60 yards up the pitch, is brilliant. Furthermore, he defended his own box incredibly well alongside Diop. Ream has serious competition. Small points knocked off for the red card, nothing drastic. 7/10.
Antonee Robinson
The first half was a mixed bag. While Jedi was positive defensively and tried to push Partey as far back as he could, when faced one-on-one with the skill of Bukayo Saka, he was sometimes beaten too often. That was the case less often in the second half as Robinson grew into the game defensively as Fulham came under more pressure in their own defensive third. Saka will cause more damage to better sides this season, so we can take that as a positive. 6.5/10.
Joao Palhinha
My goodness gracious me. This beautiful Portuguese man really does make a difference for our side. A lot has been said over the last week about how we replace Mitrovic, and that's fair enough, but Joao really has become the irreplaceable player at Fulham Football Club. His last-ditch tackling and use of his body to move the ball from our half to our opponent's in the transition is almost second to none in world football, and I don't feel that's an exaggeration. According to OPTA, his 6 tackles and 11 times winning possession from an opponent was more than any other player in the Premier League on Saturday. Just Joao things, he is a remarkable footballer. And that's not to mention the composure he showed in a crowded box to score a late equaliser. What a man. 8.5/10 – Man of the match.
Sasa Lukic
I'm sure quite a few members of the fanbase had to take a second glance at the team sheet at 2pm when Harrison Reed's name appeared on the Fulham bench. However, for the third game in a row I think Lukic showed what he can offer. He ran and ran and ran in midfield and was brilliant alongside Palhinha in regaining possession on a number of occasions. The remaining worry is that he doesn't recycle possession at speed like you need to in the Premier League but I continue to believe that that will come with time. 7/10.
Andreas Pereira
Let's start at the beginning, that's a good place to start, especially when Andreas Pereira is scoring long range goals in the first minute of the game against a title contender. Admittedly, I think he's scuffed the shot, but we'll pretend he meant to catch Ramsdale off guard. His tactical positioning within the game was reminiscent of the start of last season where he pressed so high that Fulham were almost set up in a 4-4-2 formation, and it was effective. 7/10.
Harry Wilson
Wilson started the game more positively than he did in the opening weeks against Everton and Brentford. He looked more confident taking on his man and shooting from range, which was a positive. It has to be said though, that he was less effective as the game went on and is still yet to put together a 90 minutes that lives up to the form he showed both in the Championship and in the run-in last season. It'll come, I'm sure of it. 6/10.
Bobby De Cordova-Reid
Attacking wise, Bobby was fairly quiet in the first half before being slightly more aggressive after the break, nearly scoring from range when Fulham countered dangerously in the 52nd minute. Most importantly in this game, Bobby deserves immense credit for how he dealt with Thomas Partey. Marco Silva used the Jamaican and captain for the day superbly, playing him slightly more narrow to squash the effectiveness of Partey inverting into Arsenal's midfield and thus not allowing the home side from overloading us in the middle of the park. Playing wherever, whenever for this club and doing it to the best of his ability is why he was given the armband, a leader in every sense of the word. 7/10.
Raul Jimenez
Bloody hell, if that acrobatic, overhead style strike on 22 minutes had nestled into the top corner of Aaron Ramsdale's net, we'd be talking about a potential contender for the Puskas Award. Beyond that, Raul put in a tireless display, certainly his best in a Fulham shirt so far. Even when Fulham were under the cosh big time, he ran all over the park to help Fulham press from the front, chasing every single ball in the Arsenal half. His first half block in the six yard box from a Martinelli effort was courageous and potentially goal-saving. Lots of positives to take going forward from the Mexican. 7.5/10.
Substitutes
Tom Cairney
Subbed on after 62 minutes for Andreas Pereira
Fulham imploded for a 15 minute spell in the second half just after the skipper came on and as a result he struggled to see much of the ball, which continued as Arsenal attacked our box time after time in the closing stages. 6/10.
Harrison Reed
Subbed on after 70 minutes for Sasa Lukic
Ran and ran and often chased Arsenal shadows for what ended up being half an hour of play after he came on. Like TC, found it especially hard to get onto the ball, other than when he assisted Palhinha's equaliser, that'll do Reedy, that'll do. 6/10.
Adama Traore
Subbed on after 70 minutes for Harry Wilson
In news to absolutely nobody, the Spanish baby oil King is bloody quick. I don't even want to consider the scenes in the away end had his 97th minute strike nestled in the Arsenal net. He's gonna cause our opponents all sorts of issues this year. 6/10.
Tosin (subbed on after 89 minutes for Bobby De Cordova-Reid) came on too late to be fairly rated but nice to see him back involved with the matchday squad.