Aleksandar Mitrovic: what happens next?
Written by Jack Stroudley on 8th August 2023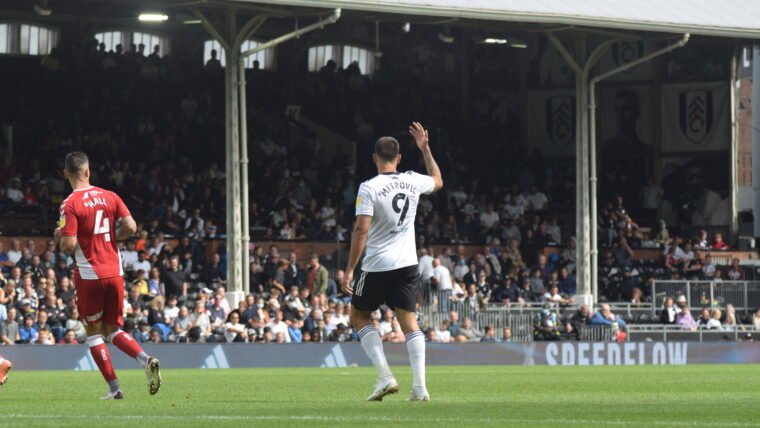 Jack Stroudley tries to find some clarity around the ongoing saga involving our star striker.
Despite an upcoming Premier League campaign, Aleksandar Mitrovic's future continues to be at the forefront of everything to do with Fulham. This will-he, won't-he saga continues to rumble on with the situation's conclusion as up in the air as it was weeks ago, despite the Serb running out for the WHites in our victory over Hoffenheim this past weekend. Our Serbian talisman is still on Fulham's books (for now) but where do we go from here?
The Saudis still interested
Saudi Arabian club Al-Hilal just won't go away. Multiple bids reaching upwards of £30 million have been rejected by Fulham alongside eye-watering contracts upwards of £400,000 per week. Three weeks ago this sparked the Serbian to strike out and reportedly vow that he'd never play for the club again (we'll get onto that shortly). The Al-Hilal fanbase have been relentless with their bombardment of posts on the newly-named X, alongside Instagram, suggesting the Mitrovic deal is closer than it actually is as well as a select few heading to Craven Cottage themselves!
Mitrovic was seen at Heathrow Airport after the Hoffenheim fixture on Saturday with those in Saudi Arabia claiming he was heading over to complete his move. This appears to be false as he was with Sasa Lukic at the time and the pair were likely going back to Serbia for a few days. Mitrovic's agent Pini Zahavi is pushing for a deal, with reports claiming Inter Milan are also interested. It was finally reported on Sunday that despite still have an interest in Mitrovic, Al-Hilal now see him as a last option.
A mixed reception
During Fulham's visit across the pond to the United States, Mitrovic was seen training on his own doing mainly running drills and presumably just keeping fit. At this time, I think Fulham fans had largely accepted that the Serb was off in the summer and a replacement was imminent. Since then though, things have started to swing back in Fulham's favour. He was seen training with the squad towards the back end of the Summer Series and appears to be integrated back in first team training at Motspur Park.
It turns out, Mitrovic would play for Fulham again and received a mixed reception at Craven Cottage last weekend where he came off the bench in our final pre-season friendly against Hoffenheim. After the game, Marco Silva also confirmed that Mitro had played 60 minutes a day prior in a BCD friendly at Motspur Park. Finally, when asked about the Serbian's situation, Silva stated that "Mitrovic is ready to play" and that coming on in the second half was "something that made him think, we are here to support not only Mitrovic but defend the club."
Is he staying?
While we can't be 100% sure, I think the pendulum is swinging more in Fulham's favour than Al-Hilal's. I don't think Marco Silva would've re-integrated him back into the squad if he wasn't going to commit to Fulham. Look at Tosin, same situation as Mitrovic but unlike the Serbian, he's still not featuring for Fulham. The whole situation has left a bitter taste in the mouth of many Fulham fans but if Mitro was to swallow his pride and continue to give his all in a Fulham shirt, I think people would soon forget the summer saga.