Ranking the 22 men who have partnered Tim Ream at centre-back
Written by George Rossiter on 2nd August 2023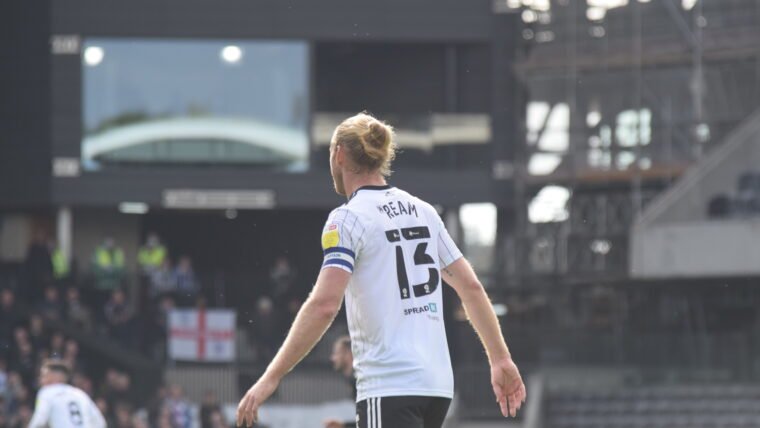 There are many questions being asked about Fulham's centre-back department in this transfer window. Calvin Bassey has already joined the club and featured alongside Issa Diop. Whether Tosin stays at the club to see his contract out remains to be seen and links have been made to all kinds of names, such as Morato of Benfica and Salisu of Southampton. Through every summer of speculation and the comings and goings of defensive options at the club, Tim Ream has remained the constant, now going into his ninth season with the club. Here, George Rossiter ranks the 22 men to have also played at centre-back during the American's time at the club.
22. Steven Sessegnon
Played 15 minutes of the league cup tie against Exeter City in the 2018/19 season, replacing Alfie Mawson as a substitute in a 2-0 victory. He's bottom because he just isn't a centre-back. Sorry, Sess.
21. Kenny Tete
Tete played once or twice in a back three during the miserable 2020/21 season under Scott Parker. While he's evidently one of the best players on this list, he is again not a centre-back.
20. Ola Aina
Copy and paste everything that was said for Tete really. The reason Aina finds himself slightly higher here is because he played as a wide centre-back much more often than Kenny did that year.
19. Marcelo Djalo
Onto the actual centre-backs. The Guinea-Bissau international joined after previous links to Real Madrid and Juventus and did absolutely nothing to show us why. Two starts in the league cup and 11 minutes across two substitute appearances in the Championship is all we saw of the elusive Djalo.
18. Terence Kongolo
The 29-year-old Dutch defender has been with the club for three years and has twice as many appearances for the academy teams building up fitness than he does senior appearances. Says it all really. There's definitely a player in there, but how good he could have been we will simply never know.
17. Shane Duffy
Despite his cult hero status in the 2022/23 season, facts are facts. Duffy played less than 200 minutes in total across seven appearances in all competitions and his impact on a successful season on the pitch was minimal. The Republic of Ireland international moves to Norwich for next season.
16. Havard Nordtveit
Nordtveit was effectively a victim of circumstance. His five appearances in the gloom of the 2018/19 season were just a blur in a depressing slog of a campaign. His career, which includes sizeable stints with Monchengladbach and Hoffenheim, prove he's a better player than we ever saw.
15. Shaun Hutchinson
Hutchinson, currently of Millwall, was actually not an awful defender for Fulham and for a time developed a good partnership with Dan Burn at the back. However he finds himself fairly low on this list as he only played nine times in the 2015/16 season when Ream joined the club, before joining Millwall where he has now spent seven years of his career.
14. Fernando Amorebieta
The Venezuelan international joined from Bilbao in the 2013/14 season and stayed with the club for three seasons before returning to Spain with Sporting Gijon. Amorebieta was a decent player but ever-so-slightly chaotic. My overriding memories of watching him as a young teenager was wondering why I kept seeing our centre-back venturing onto the left wing…
13. Ragnar Sigurdsson
We'll say it again: 'Don't buy a player off the back of a successful international tournament'. Sigurdsson arrived in the summer of 2016 after impressing with Iceland in the European Championships, which made up some of his incredible 97 international caps. Sigurdsson wasn't awful, but he wasn't exactly good either.
12. Dan Burn
Granted, I don't think any Fulham fan saw Burn's career path going the way it has. How the man has gone from being torn apart against Stoke in 2014 as Fulham's fate was sealed to being a Champions League player with his beloved Newcastle United, we'll never know. Another solid player, whose best days at the club were alongside the previously mentioned Hutchinson, before leaving for Wigan in 2016.
11. Maxime Le Marchand
It's worth mentioning that, in an article in reference to Tim Ream, nothing exemplifies the chaos of the 2018/19 relegation season and the defensive issues within it than Le Marchand and Ream playing alongside each other fairly regularly despite both being hugely left-footed. Le Marchand definitely wasn't the worst player to wear the shirt across his time at the club and left us with one of the great Fulham chants of modern times.
10. Richard Stearman
Stearman was a really solid Championship player, which we arguably needed more of in the years where we really struggled after the 2014 relegation. The England U21 international was the most predominant face to the right of Tim Ream in the 2015/16 season as the pair formed a steady partnership as Fulham transitioned into the Jokanovic era.
9. Michael Madl
Talking of that transition, introducing Michael Madl. Signing from Sturm Graz, originally on loan in 2016, Madl went onto gain cult hero status for his partnership with Ream. Two players who played the ball out well from defence and provided us with a sense of trust in our backline for the first time in forever.
8. Calum Chambers
It was difficult to place Chambers in this list. He was a rare shining light in the 2018/19 season and won the club's player of the season vote that year, and deservedly so, he was genuinely brilliant at times. However, he did play across every position in the backline as well as in midfield, so placing him higher than eighth for a list of centre-backs would've been a bit bold.
7. Alfie Mawson
Mawson is just another 'what could have been?' question. The huge money outlaid for his signature could've genuinely been semi-worth it had he stayed fit in his time at the club. Any time he and Ream played together, most regularly under Scott Parker, the two played well and formed a partnership which saw a lot of the ball in the 2019/20 promotion season, resulting in constant chants of 'To Mawson…to Ream' at many an away day that season.
6. Issa Diop
While Diop was very much a rotational piece in the 2022/23 Fulham puzzle, he and Ream proved on a number of occasions what a capable Premier League partnership they can be. Diop thrived most when playing alongside Ream in his natural right centre-back position, rather than on the left side where he often struggled. If Tosin leaves, it may be a partnership we rely on going forward, and hopefully with confidence.
5. Tomas Kalas
The Czech defender played 76 times across an extended loan spell at Craven Cottage, thriving under the guidance of Slavisa Jokanovic as the Whites made the play-offs in consecutive seasons. Kalas joined Ream, Madl, Odoi and co in the group of centre backs that played confidently from the back in that time as we witnessed some of the best football we have seen in recent times at the Cottage. His run and assist for a goal at Millwall away in the 2017/18 season will forever be remembered.
4. Michael Hector
The fact Michael Hector has made fourth in this list based basically on a four-month spell shows how good he was in that time. Joining later than planned in January 2020, Hector was insanely good alongside Ream in Scott Parker's promotion side, dominating at the back and earning the nickname 'Virgil Van Mike'. Despite his lack of appearances over the following couple of seasons, Hector remained a positive and popular presence in the dressing room and will always be fondly thought of by the Fulham faithful.
3. Joachim Andersen
On pure ability, Andersen is probably the best centre-back in the list. His ball playing ability from the back is outstanding, especially the ability he has to play accurate long diagonal passes to either wing. His reputation has only grown as a Premier League player in his time at Crystal Palace over the last two seasons. The reason he doesn't find himself even higher than third place on this list is due to his singular season at the club resulting in relegation from the Premier League with the team conceding twice as often as they scored, certainly not a reflection of the Dane's quality.
2. Denis Odoi
Everyone needs a Denis Odoi as one of their defensive options. A proper manager's dream, willing to play in any position for any manager at any level, Odoi was loved by all at Fulham and still is. His winning goal against Derby to send Fulham to the 2018 play-off final is one of the greatest moments Craven Cottage has ever witnessed and the resulting scenes were just as iconic, with Denny riding crossbars from Putney to Wembley. Even if he did quite often play at full-back, his contribution to the club across the defence deserves all the recognition in the world.
1. Tosin Adarabioyo
Based on a mix of performances for the club, ability and performances specifically alongside Tim Ream himself, Tosin finds himself top of this list. This is the partnership that took Fulham to the Championship title in 2022 under Marco Silva and translated to a quality pairing in the Premier League. Tosin is a proper defender who loves hoofing balls into the stands and stopping opposition attackers at all costs. His ball playing ability has developed tremendously under Silva and has been evident especially in the final games of the 22/23 season. Hopefully we see at least one more season of Tosin in the black and white as he continues to develop into a wonderful centre back in the Premier League.