Building for Premier League stability, part 4: forwards
Written by George Rossiter on 28th June 2023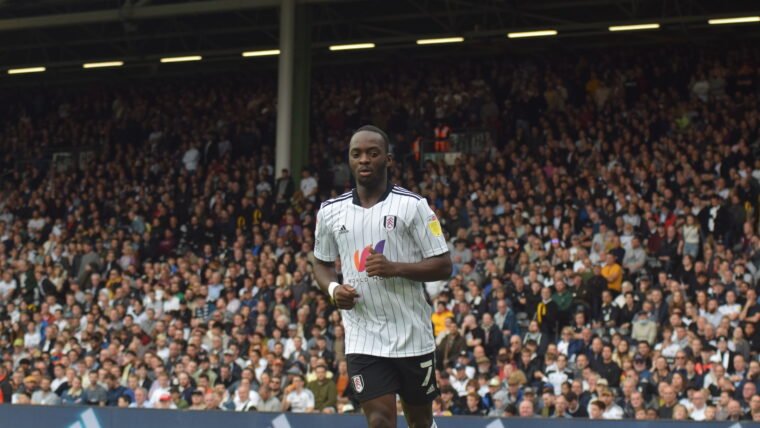 In a four-part series analysing Fulham's options going forward, George Rossiter assesses our squad as we look to build on a brilliant first season back in the Premier League. In the final part, we look at the attack.
What do we have?
The attacking players Fulham will currently be going into pre-season with is a very different bunch to the ones that ended the season in the first team squad. Currently contracted to the club are wingers Harry Wilson, Bobby De Cordova-Reid, Ivan Cavaleiro and Anthony Knockaert, as well as strikers Aleksandar Mitrovic, Carlos Vinicius and Rodrigo Muniz.
Eyes will be on what happens to those who, as things stand, aren't contracted at the club. New contract offers have been made to wingers Neeskens Kebano and Willian, and the majority consensus within the fanbase is that we want both to stay. Dan James and Manor Solomon's loans have come to an end, an Solomon's future looks set to turn into a summer-long saga.
What do we need?
Right now we need depth – and quality in depth. There's every chance that the options we start with in August actually look more similar to last season than what we currently have, which is promising, but steps have to be taken to get there. That starts with cutting the dead wood. Those returning from loan deals elsewhere don't seem to be in the plans going forward, so recouping their wages and potentially some transfer fees wouldn't go a miss.
Once those decisions have been made, quality needs to be added. Even if Willian and Kebano accept their deals, we need more. Solomon has obvious ability, and over a month spell where he scored in five consecutive games he showed that in abundance, so adding him permanently would no doubt be a positive decision. But it still feels like we would need one more addition on top of those three. Whether that be a standout wide player or a new alternative to Mitrovic up front.
Who's coming back from loan?
Anthony Knockaert has had two loan spells this season, having played nine times for Greek side Volos and then five times for Neil Warnock's Huddersfield. There seems to be little to no chance that a 31-year-old, out-of-favour Knockaert makes his way back into Marco Silva's plans. The same can be said of Ivan Cavaleiro, who scored twice in 20 games for Turkish club Alanyaspor. Rodrigo Muniz too would have liked a more productive loan spell with Middlesbrough, but the Brazilian struggled for game time under Michael Carrick. You would imagine another loan spell is in the pipeline for Muniz.
Jay Stansfield is perhaps the standout name returning from loan this summer after a brilliant first senior loan with Exeter. Whether he can push himself into first-team contention at Fulham is to be seen and was something I spoke about in a previous article. Kieron Bowie comes back to the club on the back of a promotion with Northampton Town to League One where the Scottish forward scored five in 35. Another loan is surely in the offing there. Jean-Pierre Tiehi scored three times for Hamilton Academical as they were relegated into the third tier of Scottish Football and has since been released by Fulham.
Academy prospects
Stansfield and Bowie are the two standouts. Stansfield has done wonders for Fulham's youth teams in the past and gained himself a wonderful reputation, which has only been enhanced after his 16 goal contributions in League One in 2022/23. His versatility and skill could offer a lot to Fulham, but whether he's ready to contribute to a full Premier League season is unknown.
Bowie was very highly rated when he arrived from Raith Rovers. After an impressive first year for the academy, he joined Northampton and was brilliant in their promotion from League Two. It's important that the club get his next loan move right to further his development. Terry Ablade and Martial Godo are two that featured in the matchday squad at the dreaded Crawley game, and who knows if further opportunities await them this season.
Final assessment
I think the first priority for me is keeping some key assets. Willian is just class and showed it on such a regular basis in the last 12 months. If he can play this well in his mid-30s, he won't be one to decline at a rate of knots, so if the stumbling block is a second year on his contract, then the club must give it to him. Hopefully Neeskens Kebano also stays on; his ability on the ball and influence in the dressing room is still vital to the club. Finally, as previously mentioned, keeping someone of the quality of Solomon should also be a priority. With some stability and consistency, Solomon's ability should shine more often than not if he came to the club on a permanent basis.
Next would be trimming the fat. Cavaleiro and Knockaert are simply not Premier League players at this stage of their careers and therefore removing their wages from the wage structure should be a priority to free money up for other signings this summer. Also important is the next steps for the talented Stansfield and Bowie. Especially in the case of Stansfield, if Silva decides this is a year too soon for the youngster to play Premier League football, the next loan, presumably in the Championship, has to be a perfect one. A decision will also have to be made on the contribution Muniz makes going forward. Will Fulham cut their losses and look to sell or persist with a talented forward and look for another loan? I believe it'll be the latter choice.
Once we know what we have, then we can add. One of the constant stories of the 22/23 season was the second striker saga. Vinicius proved himself to be a good alternative but doesn't quite have the aerial ability of Mitrovic or the ability to run channels like Dan James or even Bobby De Cordova-Reid did at times. A quicker option off the bench, whether to replace or partner Mitro when a change is needed, is probably a profile of player on the club's radar this window. Whether Fulham go big on signing a winger depends on the situations of Willian, Kebano and Solomon. If all three stayed alongside the in form Harry Wilson and versatile De Cordova-Reid, it probably won't be a position that the club prioritise.