Why we shouldn't begrudge Tosin a move away from Fulham
Written by Stephen Sheldrake on 23rd June 2023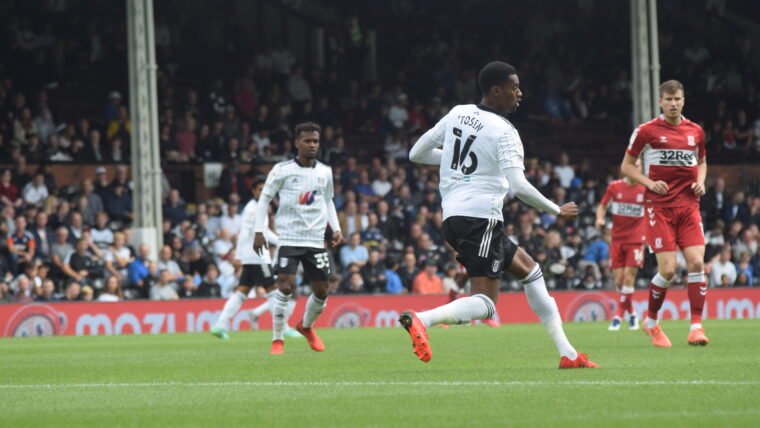 Amid reports that Tosin is ready to exit SW6, Stephen Sheldrake looks back at the centre-back's time in White.
It'd been a very long time since Fulham had a centre-back with a tall frame reminiscent of one Brede Hangeland, and when Abdul-Nasir Oluwatosin Oluwadoyinsolami Adarabioyo, known to us all as Tosin, stepped out onto the field donning the Fulham colours for the very first time in the autumn of 2020, we realised that lofted crosses into the box didn't have to be such a threat anymore.
A coup 
Rising through the ranks of City's academy with eight senior first team appearances under his belt for the Citizens, some of their fans were devastated upon hearing the news of his permanent departure. At the tender age of 23, this bright young prospect had already enjoyed two successful loan spells, playing first-team Championship football at Blackburn Rovers and West Bromwich Albion. And he showed very early promising signs for our club, a potential that's been fulfilled on the pitch for the Whites with three successful seasons for us – and all at a meagre fee of "up to £2m".

Yes, that's right. Read that again. It was £1.65m to be precise – yet another stroke of excellent business by the club with the player's market value now sitting at £14m. Was he worth it? You bet.
Already shown loyalty
Not only did this towering figure command the skies game after game, with an added ability to pick out a player from a long ball that would make prime Gerrard proud, his persona around the club was welcomed too. Not overly loud or obnoxious, he kept his head down and worked hard to prove himself on the pitch. He proved his loyalty to the club by staying put following a tough debut season for the club that saw us relegated to the Championship. Despite this, a strong individual showing in 2020/21 won him many suitors. He was a bright player who had now proven himself in the top flight with 33 starting appearances and nine clean sheets to his name, all in a team that finished 19th.
For that loyalty he was rewarded with a fortified place in an ambitious Fulham side that had Marco Silva at the helm with one thing on his mind: promotion. The 2021/22 season proved fruitful for Tosin, who not only enjoyed Championship title-winning success, it was also a season that saw the 24-year-old earn a place in the EFL and PFA Championship teams of the season, as he made 43 appearances, missing out on the perfect 46 due to a rare red card that saw him suspended him for three matches. With two goals, two assists and 15 clean sheets, a season highlight for Tosin had to be when he stuck it to Parker and Solanke with a colossal header to equalise against Bournemouth under the Cottage lights.
Can't blame him 
Tosin's ambitious. Like every good player he wants to start every game, and who can blame him? After being dropped down the pecking order to the likes of the £15m-rated Issa Diop, and Tim Ream hitting the form of his life maturing like a fine wine, Silva can't be blamed for playing the back line that he did, a possible cause for Tosin's discontent to sign a new contract. And with one year remaining, it seems as if another club will come swooping in, allowing Fulham to make what we assume will be a very healthy profit on a great player, having enjoyed his services for multiple seasons.
Despite feeling like third-choice centre back, Tosin actually made a solid 25 appearances for Fulham last season, the exact same amount as Diop himself with Ream topping the centre back charts at 33. This time out he earned a significantly lower number of clean sheets with three to his name, however this feels more like a reflection of Silva's attacking strategies in the Premier League as opposed to a drop in his individual form. Perhaps there's more to this story than meets the eye as to why he won't agree to a new deal.
With Ream's time at the top of his game always being challenged, fans have to wonder what the plan is if this natural decline does eventually happen. Was this Tosin's time to shine in the Premier League again? Or has Diop claimed that right-footed centre back role permanently? And while it's a shame to lose a key figure, football is a business, and the boy did so well.
Now only one question really remains: which club will Tosin join for this next step in his exciting career? Most likely a Premier League rival; he could comfortably slot into most other teams in the division, with Spurs being the current forerunners to get his name signed to pen and paper, they certainly need some defensive stability and Adarabioyo is just that.
So, if this is goodbye Tosin, then we'll not only miss your presence on and off the pitch, we'll also greatly miss the way most commentators struggle to correctly pronounce your surname.