Player Ratings: the 2022/23 season
Written by George Rossiter on 3rd June 2023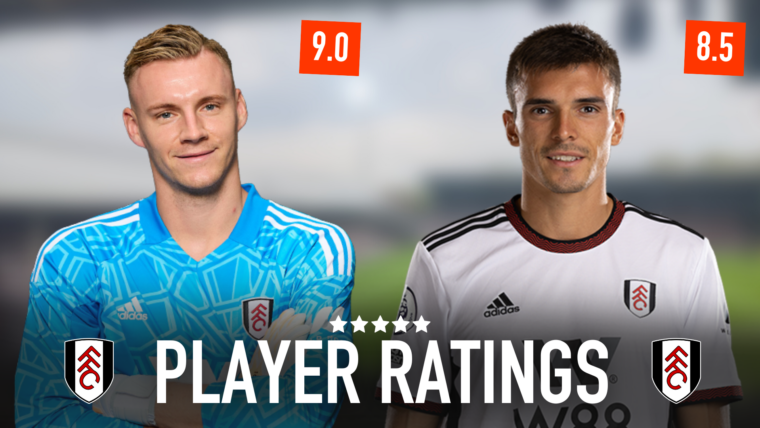 George Rossiter looks back on the season as a whole to give his final ratings of the campaign.
It's been an amazing season. Survival comfortably secured, an FA Cup quarter-final and a whole new wave of optimism for what this team, club, and manager can do in the future. After rating the players week after week, here's the overall ratings for the season, with some enjoyably high numbers included.
Goalkeepers
Bernd Leno
37 games played all competitions, 54 goals conceded, eight clean sheets.
A sensational first season at Craven Cottage for the German 'keeper. After slipping to number two at Arsenal following the arrival of Aaron Ramsdale, Leno needed a new challenge, and his cut price deal to come to the Whites was some of the best business we have completed in many years. His performances have kept Fulham in games time after time, none more so than games like Leicester away. He has paid back his minimal transfer fee and some, and it's an amazing feeling knowing we have a goalkeeper this good going forward. 9/10 – my player of the season
Marek Rodak
Seven games played all competitions, seven goals conceded, three clean sheets.
Just like in 2020/21, Rodak dropped to number two in the goalkeeping ranks at the club after contributing so strongly to a second promotion of his career. His performances when called upon were solid but sometimes shaky, probably down to a lack of match practice. Whether his future lies at Fulham now they have stayed in the Premier League is a big question. 6/10
Defenders
Kenny Tete
36 games played all competitions, one goal, five assists.
Another season where we are able to appreciate just how good King Kenny is, while the outside world fail to understand just how good he is. And that's fine by me. A first Premier League goal, 31 appearances in the league alone with little injury niggles, and an incredibly high and consistent level of performance have made Tete invaluable to Silva's side. His performance in the 0-0 draw at Stamford Bridge will go down as one of the best individual performances in a Fulham shirt in the Premier League era. How the man keeps going under the radar we'll never know, because he's an absolute superstar. 8.5/10
Kevin Mbabu
Seven games played all competitions, one assist.
Mbabu never got going at Fulham and subsequently fell out of favour with Marco Silva, leading to a January loan move to Servette in Switzerland. The obvious high point was the assist for Mitro's headed winner against Brentford. The lowest of lows was a left wing-back cameo at the Tottenham Hotspur Stadium. 4.5/10.
Cedric Soares
Eight games played all competitions.
Kenny Tete's lack of injury or fitness issues in the second half of the season meant that Portuguese loanee Cedric's game time was very limited for the most part. He added depth and versatility to the squad, but his impact on the pitch was often quiet and I don't imagine this is a deal we'll see made permanent. 5.5/10
Antonee Robinson
38 games played all competitions, one assist.
A real coming of age season for Jedi who really stood up and was counted as a Premier League player. The way his defensive game has developed has been brilliant to see. He has adapted superbly to the fast and furious nature of the Premier League, defending strongly on the front foot so often against difficult opposition. His attacking input may come into criticism at times and one goal contribution all season probably doesn't help his cause, but a defender's first job is to defend and he's been doing it brilliantly all season. 8/10
Layvin Kurzawa
Six games played all competitions, two goals, one assist.
Forget a tale of two halves – this was a story of two competitions. Kurzawa's three league appearances were a real struggle and he must have grown a real disliking to playing Newcastle after his ventures against them. In the FA Cup, however, three goal contributions in as many games is great value. His injury-prone reputation has sadly not changed in his time here though. 5/10
Tosin Adarabioyo
29 games played all competitions, one goal.
Tosin has really grown into this season. It would've been easy for him to get bogged down with being outperformed by Tim Ream and being rotated with new boy Diop, but his game has developed as the season has gone on undoubtedly. The biggest improvement in his game has clearly been his ability on the ball, which has seemed to have hit new heights in the run in after Tim Ream's injury, where he has added much needed stability to a defensive line missing its leader. If his end of season form goes into the start of 2023/24, a new contract will surely be one of the club's top priorities. 7.5/10
Issa Diop
29 games played all competitions, one goal, one assist.
A strong first season for Diop in Fulham colours. Most of his season was spent on the right side of a partnership with Tim Ream, a combination that conceded the fifth fewest goals of any centre-back pairing in the division this season. He is a strong presence in our backline with an eye for bringing the ball out of defence and progressing the ball into midfield whenever possible, which Silva will love. While his stint on the left side of the centre back pairing in the run in was shaky, he's shown more than enough for us to know he's a quality Premier League defender. 7.5/10
Shane Duffy
Seven games played all competitions, one assist.
Duffy's Fulham stint was restricted to the rarest of cup appearances and cameos off the bench in the league. A stint up front against West Ham will leave him with relative cult hero status if nothing else as he almost certainly moves on from the club this summer. 5/10
Tim Ream
35 games played all competitions, one goal.
What can we say about Tim Ream this season? Wearing the armband for the majority of the year, he embodied what it meant to be a leader for this football club. Defending with calmness, positivity and brilliance, he set the tone and the standard for the other ten players on the pitch every time he played. His consistency was incredible and would it not have been for an arm injury sustained against Manchester City, Ream would have almost certainly played every Premier League game. A remarkable season where the American has proven many fans wrong about his ability as a top division player. 8/10
Marlon Fossey and Joe Bryan played just one game each and therefore cannot be fairly rated.
Midfielders
Joao Palhinha
40 games played all competitions, four goals.
Simply put, one of the greatest players to grace the black and white at the Cottage this century. Players like Joao Palhinha don't cross paths with Fulham very often. The Portuguese international can change a game on his own. Whether it be an early crunching challenge that gets the crowd going or dispossessing his opponent on the halfway line and setting up an attack within seconds, the man makes things happen. We have to hope and pray that his five year contract gives us a good chance of keeping him at the club, because he is the player you build a whole team around while the club moves forward. 8.5/10
Sasa Lukic
13 games played all competitions.
In the least negative way possible, all we can really say is there are so many question marks over Lukic as we go into next season. What are his main traits as a player? What is his best position? Hopefully, after a summer of integrating into this squad and this club, those questions will be answered. He definitely has the quality and the ability to be a part of this squad going forward. 6/10
Tom Cairney
38 games played  all competitions, three goals.
How often can you say that somebody who has been so predominantly a substitute has had such a big impact on a team's season? Whether in a winning or losing position, TC has constantly been called upon by Marco as the man to get Fulham a result. His ability on the ball is as good as its ever been, his knee looks to be working well and his confidence looks sky high. This is the Premier League player we always knew we had but never got to see, and it's been an absolute joy to watch. 7.5/10
Nathaniel Chalobah
Six games played all competitions.
Unfortunately, any memories or highlights that come to mind regarding Chalobah this season were negatives. Whether it be the shocking performance at Crawley or the early red card that killed the game against Newcastle, it was an awful start to the season. The midfielder went to West Brom in January and things haven't improved if Twitter is anything to go off. 2/10
Harrison Reed
42 games played all competitions, three goals, four assists.
Similarly to Tete, it's a great feeling seeing one of your best players thrive at a level where opposition fans often dismiss them or don't give them the acknowledgement they deserve. Reed's consistency has shone once again with the added bonus of the development of his attacking game. His positional awareness as the right-sided number eight, his patterns of play with Tete and Wilson and his seven goal contributions all show the developments made in his game. For the second time he has taken the step from the Championship to the Premier league like a duck to water. 8/10
Luke Harris
Five games played all competitions
Hard one to judge, this. This was the 'breakthrough season' for Harris, which makes it hard to accept his lack of appearances. There have been quite a few moments where it seemed applicable to bring him on for more minutes but it just hasn't happened. He never looks out of place though, so hopefully more opportunities come next season. 6/10
Andreas Pereira
38 games played all competitions, five goals, six assists.
A really promising first year at the Cottage for the Brazilian. Often we got to see why he was a Manchester United player for so long with his ability on the ball, as his 11 goal contributions suggest. His pressing game is almost something we haven't seen before at Fulham, there were so many times this year where it felt like we were playing 4-4-2 out of possession with how high up the pitch Pereira would press. While his form and contributions maybe dipped as the season went on, the positives hugely outweigh the negatives for 2022/23. 7.5/10
Josh Onomah and Tyrese Francois played just twice each and therefore cannot be fairly rated.
Forwards
Bobby De Cordova-Reid
41 games played all competitions, four goals, one assist.
Every Premier League clubs needs a Bobby Reid. His roles in this squad are endless and all so useful. He'll fill in at full-back, midfield or in the false nine role if needed. He'll press from the front from the start or make an impact off the bench. He's the perfect squad man that every club dreams of and rarely underperforms. His importance to the side was exemplified most this season amidst Harry Wilson's injury when he filled in on the right and scored some really important goals. 7/10
Harry Wilson
33 games played all competitions, three goals, five assists.
It's almost a relief being able to write about how good Harry's end-of-season form has been. For much of the season things just wouldn't go his way. A lengthy knee injury was tough to come back from, and when he did returned he looked a shadow of the player we saw in the Championship, both in confidence and ability. Slowly but surely he earned his place back in the side and in the run in he was comfortably one of our best players, and I'm sure he will be again in 23/24. 7/10
Manor Solomon
24 games played all competitions, five goals.
What a strange loan spell. Quality sandwiched by the unknown. For a month or so, Solomon was the man. Scoring goals every week, winning points on his own, becoming a true fan favourite. Either side of those performances, a horrible leg injury and a period of small cameos off the bench with little effect. We know the quality is there and a cheap permanent deal is possible this summer. What happens next is anybody's guess. 6.5/10
Willian
30 games played all competitions, five goals, six assists.
When I said players like Joao Palhinha don't come around too often at the club, I wasn't lying. But Willian is another of them. Another player written off from the outside after worrying spells at Arsenal and Corinthians, the Brazilian was a winger reborn under Marco Silva. I can't remember ever seeing a Fulham player glide across the Cottage turf like an elegant gazelle, but Willian does. He finds space like many can't and makes things happen that others can only dream of. What a ridiculous player, I pray he comes back next season. 8.5/10
Dan James
23 games played all competitions, three goals, one assist.
Probably not the loan spell that Fulham, Leeds or Dan James would have wanted. The Welsh forward had his moments, notably a wonderful match-winning display at Goodison Park. He's also probably showed the club that a profile of player similar to his is worth investing in. But for his overall impact this season, it's probably not been enough to earn a permanent move. 6/10.
Carlos Vinicius
32 games played all competitions, five goals, three assists.
For all of Vinicius's doubters this season, he has proved more than enough that he can be a great back-up option up front for the club going forward. While it took a while for the team to start playing to his strengths and get the rewards for it, it did start happening later on in the season where Vini showed how good he is with his feet. His goal against Chelsea will give him near legendary status at this club for as long as we all live. 6.5/10
Jay Stansfield
Four games played all competitions.
While Stanno's season was primarily played in Exeter, we must remember how he played his part at the start of the season. Amidst an injury crisis on the wings, Stansfield came in and showed he's not out of his depth in three Premier League appearances, and nearly got a goal against Brentford. Who knows what lies ahead for Jay next season. 6/10
Aleksandar Mitrovic
28 games played all competitions, 15 goals, four assists.
Can he do it in the Premier League? Well, we already knew he could, but to anyone on the outside who said he couldn't last summer, I hope you've enjoyed the humble pie. Old Trafford saga and fitness issues aside, Mitro has dominated defences at this level like we knew he would, and who knows whether he may have toppled the 20-goal mark this season had he played every game possible. The man is and continues to be a legend at Fulham Football Club and will continue to wind up opposition fans in a Fulham shirt, hopefully until the end of time. 8/10
Terry Ablade and Martial Good played just once each and therefore cannot be fairly rated.