The last XI to survive in the Premier League: where are they now?
Written by Will Gardner on 25th May 2023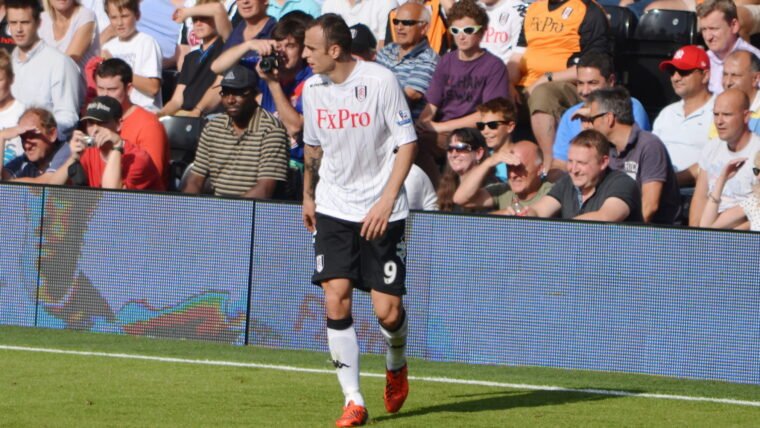 Will Gardner goes back in time to see whatever happened to the last Fulham side to survive in the Premier League.
We're in an unusual position; we're going into the final game of the season without the threat – or the shame – of relegation looming above us.
The last time that a Fulham team went into the last game of the season with nothing to play for was in 2013. It's taken us 10 long years to successfully retain our status as a Premier League team, and we can look to the summer not thinking of what could've been, but what can be. 
While there's no doubt that this current side will go down in Fulham folklore, etching their names in the hearts of many fans, sadly the same can't be said for the last team to keep us up. I wanted to take a look at the XI that took the field that day and see where those fateful few ended up.
The match was dead rubber in South Wales against a Swansea side who were too far from Europe to compete and still comfortably nestled in the top half – a bit like us going into our next match against United.
If you can cast your mind back, you'll remember that we won 3-0 and it was our first victory since beating QPR on 1 April. A series of defeats followed that derby win, and by the time the last game of the season rolled around we were on a seven-match winless run. But who walked onto the field that day and what happened to them in following 10 years?
Goalkeeper
Mark Schwarzer
In goal we had one of our greatest ever 'keepers. But this game would be Schwarzer's last in a Fulham shirt and he would be released at the end of the season, replaced by Maarten Stekelenburg – and we all know how well that turned out.
In hindsight, it was a terrible call, but at the time we were releasing an aging goalie who had previously handed in transfer requests amid interest from Arsenal, and we were replacing him with a current Dutch International. While Fulham felt that it was the end of Schwarzer's career, he ended up signing for the blue lot down the road for a year, and in his first four appearances he kept four clean sheets, shutting out the likes of Swindon Town, Arsenal, Bucharest and Arsenal again.
Mark continued to play a crucial part for the team by replacing an injured Petr Cech in the Champions League and keeping a clean sheet against Athletico Madrid, then a few days later keeping another clean sheet against Liverpool to keep Chelsea in the hunt for the title. 
He moved to Leicester in January 2015 in order to fill in for the injured Kasper Schmeichel and help the Foxes avoid relegation. He made eight appearances in the second half of the season and they proved to be crucial in Leicester's bid to beat the drop, and we all know the magic that happened the following season. 
While he didn't make any appearances in Leicester's title-winning season and subsequently didn't qualify for a winners medal, he did in fact become the first player since Eric Cantona to be apart of a title-winning squad at different clubs in successive seasons. And that seems like an answer that should come up in a pub quiz at some point in our lives. 
Schwarzer can now be seen plying his trade for Optus Sports, Australia's answer to Sky Sports, and occasionally you can see him popping up as a pundit on UK TV when Fulham are on the box.
Defence
Sascha Riether
What a first season the German had for us, signing on loan and even winning player of the season ahead of Berbatov, which just highlights the hard work and the skill he brought to a previously troublesome position.
Riether signed for us permanently that summer, and his drop in form correlated with the rest of the teams and not even reuniting with his former manager, the basket case himself Felix Magath, could see Sascha's form improve.
After our relegation, he made his way back to his native Germany and re-joined his first professional club, SC Freiburg. Back in the Bundesliga, Riether's fortunes didn't fair much better. In his first season Freiburg were relegated and he was hampered by a persistent knee injury. 
It turns out that Reither is clearly allergic to second-tier football, and after Freiburg found themselves in Budesliga 2 he made the move to Schalke 04 to fight for a place at right-back. He wasn't able to hold down a starting position for the side, and instead made do with bit-part roles across all competitions, performing strongly in the Europa League and even filling in at centre-back for Schalke against Bayern Munich and Borussia Dortmund, which seems a bit like chucking a pensioner into the ring against Tyson Fury, but at least he got a run out. 
In four seasons at Schalke he made fewer appearances than he did in one season for Fulham. In 2020, he moved into coaching with Schalke and first had the title of co-ordinator, where he would analyse player performance, before making the move to sports director, and despite the club announcing he actually wasn't the sports director, three months later he was fired as sports director. So who knows what's going on over there. It doesn't look like he's been up to much since, but I'm sure whatever it is, it's better than running laps with Magath screaming in his ear.
Phillipe Senderos 
I'll freely admit that I forgot Senderos played for us, let alone the fact that he did for four seasons – apologies, Phillipe.
After signing from Arsenal on a free transfer, life at Fulham wasn't smooth sailing for the Swiss international, as he was ruled out for six months before the season even started after rupturing his achilles in training. He would only make three appearances in his first season and make around 20 appearances in each of the following seasons, just highlighting the Aaron Hughes-shaped hole we failed to fill in our centre of defence alongside Brede (spoiler alert: he's up next.)
Senderos would only last at the club until January of the following season; we cashed in on him before his contract expired and he made his move to Valencia. This was after scoring what could only be described as a footnote in the game against Crystal Palace, which included of the greatest Premier League goal ever from none other than Patjim Kasami.
Senderos wouldn't make more than 15 appearances for a club for the rest of his career, and would stake his claim as a bit-part centre-back coming in to cover injuries to the first-choice pair. 
After leaving Valencia, he went on the most peculiar journey, playing a couple seasons in Birmingham for Aston Villa, a season in Zurich for Grasshoppers, over to Glasgow for a season with Rangers, across the Atlantic to Texas to turn out for Houston Dynamo, where he went on a run of scoring four goals in eight league games, before finally hanging up his boots in his native Switzerland with Chiasso, where he made his debut in November and announced his retirement in December. 
Playing career over, Senderos undertook the role of sporting director at his childhood club Servette but recently parted ways with the Swiss team despite them sitting second in the Swiss Super League. It didn't look as if the decision to part ways was due to his lack of effort as theres regular pictures of him undertaking Fifa accredited diplomas and rocking up at conferences. 
In conducting research for this piece it appears that I have been blocked by Senderos on Twitter. I would like to take this moment to formally apologise to anything that my bratty 18-year-old self said to you via the bird app, Phillipe, I hope you can forgive me.
Brede Hangeland
Leader, legend, and my password for a number of years (not anymore hackers, back off). There's been a lot of talk about the end of Hangeland's Fulham career and how he was dismissed by the club. For those who didn't have to live through the dark years of 2014 onwards, Hangeland was notified that the club would be releasing him via email despite him having one year left on his contract. I think Hangeland was happy to get away after having to endure Magath and his penchant for cheesy thighs. But the club essentially choosing Magath in the Championship over Hangeland proved that we were heading down a road of no return. 
Imagine if we had Brede, a true leader and a composed, secure presence at the back. Would we have been battling relegation on our return to the Chamionship, or we would we have had the steady chance to rebuild?
It wasn't to be and after receiving that infamous email Brede made his way round the South Circular to join Crystal Palace and signed a one-year contract with the Eagles. Scoring on his debut, against Arsenal again (they really couldn't handle him from corners) he'd go on to make 14 appearances for the team before being released, and then re-signed, making seven appearances the following season, before he retired. 
Since then Hangeland has worked as a pundit in Norway, helping cover the Premier League, before securing a role within the national team as a sort of liaison between staff and players, a credit to him being a great bloke, really.
In my opinion we need something to celebrate Brede at the Cottage; a bar, a block, a stand – anything to showcase the importance he played for us at the back for so many years. Sort it out Fulham, get his name up in lights.
John Arne Riise
Another Norwegian, but with all due respect, maybe we don't put this name up in lights. 
Riise came to the Cottage full of promise after his almost mythical left boot left 'keepers with PTSD from his seven years with Liverpool prior to joining Roma. He made his way to our corner of London to join up with his broth Bjorn Helge, who also struggled to set the world alight. 
Riise would be a part of the exodus of Fulham players following our relegation to the Championship. He moved from our grey shores and decided to set up shop in Cyprus, signing for APOEL – and who can blame him. Moving from a relegation with Fulham to the Champions League in Cyprus, Riise had an action packed season in the Cypriot First Division, playing 30 times and scoring six goals. He played in the Champions League, helped them win the Cypriot Cup, even scoring one of his trademark 30-yard screamers in a 4-2 win, and then helping them win the league with another 4-2 victory. 
Riise then made his way over to India to turn out for the Delhi Dynamos, and back to Norway to play for Aalesund, but after signing he stated a need to take a break from football after falling out of love with it. He returned to the game to sign for another Indian team in Chennai, before finally hanging up his boots.
He had a couple stints at management; first starting with a sporting director role with a Maltese club and then leaving after three months for personal reasons. He then managed Flint Tonsberg, a third division club in Norway but left after their relegation to the fourth tier. Most recently, it appears he is manager of Avaldsnes FC, a Women's team in Norway who are currently eighth out of 10 in the Toppserienz the highest Women's league in Norway. 
According to Wikipedia, Riise has had some trouble with bankruptcies, both personally and with his companies, and even appeared on a reality TV show in Norway that focusses on helping those in poor financial situations, which appears to be a far regular occurrence for footballers of a certain generation and hopefully these issues for JAR are now a thing of the past.
Midfield
Emmanuel Frimpong
Yeah that Emmanuel Frimpong, Lethal Bizzle's cousin, the guy who had a couple of songs in the in 2010s. 
Playing just six times for the Whites while on loan from Arsenal, Frimpong joined in January to provide cover and competition for our aging midfield that consisted of a tired Steve Sidwell, a broken Mahamadou Diarra, a veteran Karagounis and relatively fresh-faced Kasami. 
After receiving a few youth England caps and being a part of the Arsenal youth system, the future did look bright for Frimpong, but he never kicked on. After Fulham he moved on a permanent to Barnsley in the Championship and was sent off in the first half of his debut in a Yorkshire derby against Sheffield Wednesday. Following Barnsley's relegation at the end of the season, Frimpong was released after only making nine appearances.
He made the move to Russia next, signing a three-year contract with Ufa and played an important role in his first year, there making 19 appearances across all competitions. But in his second season, during the first game of the season, he was sent off after making an "obscene gesture" towards a fan of Spartak Moscow. The fan had been partaking in racist abuse with a number of other Spartak fans, and Frimpong received a two-match ban while no action was taken against the fans. Shocking.
After only his second season of the three-year contract at Ufa he was released by mutual consent and signed for another Russian team in Arsenal Tula. Unsure if the decision was to rekindle some sort of form that saw him breakthrough at the North London Arsenal, unfortunately that didn't quite work out for Frimpong and he only made four appearances before leaving Russia for good and playing 10 games in season before finishing up with a season in Cyprus and then finally retiring in 2019 at the age of 27 due to injury. 
It's hard to determine what Frimpong has been up to since, but it's clear that he still supports Arsenal and in a recent interview he stated that he's enjoying life away from football, and the persistent knee injuries that plagued him throughout his career, and spending time on the beach and relaxing with family living in Africa. 
Eyong Enoh
Starting alongside Frimpong in the centre of midfield was Cameroonian international Eyong Enoh, another January loan signing to aid our ailing midfield. This move made a lot of sense as it was a chance for Enoh to reunite with his former Ajax manager in Martin Jol, as during there time together in Ajax, Enoh was seen as a crucial cog in the middle of park, endearing himself to fans due to his high work rate. Similarly to Frimpong, Enoh suffered a long-term injury in the years before Fulham and this saw his career steadily decline thereafter. 
Fulham decided to not take up the option to make Enoh's move permanent at the end of the season, and he returned to Ajax, where he had fallen out of favour with Frank de Boer and was subsequently sent on loan of sorts to Jong Ajax, which is essentially Ajax reserves, after potential moves abroad fell through. He managed to secure a move to Antalyaspor in Turkey for the second half of the season, and received a two-year contract after the initial loan.
Curiously, as soon as the move was completed Enoh then made the switch to Standard Liege in Belgium on a permanent, signing for two years. On his debut in Belgium, he managed to receive a straight red card following a bad tackle 10 minutes into the game and he only appeared two more times after that. 
There were stints following this back in Holland and Cyprus (what is up with these lot and Cyprus?), before finally deciding to hang up his boots in 2019 and turn his attentions to business. He appears to be the founder of a number of businesses and appears at business and motivational conferences in his native Cameroon, while his social media is littered with motivational quotes. His work-rate has seemingly transferred from the middle of the park to LinkedIn.
Damien Duff
What a player Duffer was; constantly nipping inside on his left, using his pace and low centre of gravity to navigate his way around defenders, an endless supply of work-rate, he is loved by Fulham fans. The stranglehold he held on the right-hand side of the pitch through a number of managers just proves his quality.
Like a number of players on this list the season following this one, would be his last, and like Hangeland, in completely unceremonious terms. He stated that the would be leaving the club and that the club hadn't spoken to him and he hadn't spoken to the club, a great way to treat a player who had made over 150 appearances. 
He only made 15 appearances in the league in his final season and after leaving he decided to get as far away from Felix Magath as possible and signed for Melbourne City. On his debut he assisted none other than David Villa. At this point Duff was 34 and nearing the end of his career so he only last one season down under before finishing his career in his native Ireland, signing for Shamrock Rovers, playing nine games and donating his entire salary to charity.
Following his retirement in 2015, Duff moved into a prospering coaching career starting at Shamrock Rovers' U15s and then the Republic of Irelands U15s, before eventually moving to coaching roles at the first team set-ups of both sides respectively.
After initially signing as Celtic's reserves coach, he was then promoted to the first team after Neil Lennon joined Celtic and helped them win their third domestic treble in 2019. As I mentioned earlier, he then made the jump to become assistant manager for the Republic of Ireland and in conjunction with his role, he'd also work as the Shelbourne U17 head coach, presumably as a way to keep an eye on the next crop of youngsters coming through the League of Ireland. Just like his playing days, Duffer was keeping himself busy.
Now, and for the past two years, he is solely the manager of Shelbourne FC, who are currently sitting sixth (out of 10) in the League of Ireland and hopefully Duff can build on this experience and maybe we can see him as the head honcho in the dugout for his national side soon.
Bryan Ruiz
A source of excitement for Fulham fans during the summer of 2011 as the imminent arrival and incessant rumours of Bryan Ruiz joining from FC Twente. He had a mixed bag during his time at Fulham, clearly showing his immense skill and quality, but at times looking unable to fit in with the speed or aggressiveness of the English league. 
During our ill-fated relegation season Ruiz was back in Holland after a move in January, plying his trade for PSV Eindhoven. The move was destined for him to find his confidence again after falling out of favour under Rene Meulensteen, but little did he know at what he'd be returning too, a running regime in the Championship.
In his final season for the Whites he made more than 30 appearances in the second tier, scoring five times, and we then triggered a one-year extension clause in his contract, which determined we could sell him for a fee rather than seeing our £10.6 million disappear for nothing. Sporting Lisbon bought the then 29-year-old Ruiz for an undisclosed fee in 2015, and placed a £43m release clause in his contract. 
Life was pretty good during his time at Sporting, and while he wasn't able to recreate his goalscoring exploits of his time at FC Twente, he still managed to get a few past their fierce rivals in Benfica. However, in a league match in 2016, Ruiz missed an open goal in a must-win game that saw Benfica win 1-0 and go above Sporting at the top of the league. Brutal.
Ruiz made the move over to South America and signed for Brazil's Santos, unfortunately for him though things really didn't work out and after making only 12 appearances in his first season. He didn't make a single appearance in the second and he tore up his contract citing "moral damage". He returned to his boyhood club Alajuelense for a final season and retired last summer, to which the club marked the occasion with a friendly against FC Twente, which is bloody beautiful and Fulham should take note and learn how this is how you celebrate a player's career.
Alex Kacaniklic
After a couple years in the reserves following his move from Liverpool, Kacaniklic was finally staking his claim in the first team, linking up well with both the midfield and the attack, he really carved out a space for himself on the left wing. He even got the first goal in this end of season clash after using his pace to accelerate behind the Swansea defence and slot home past Michel Vorm.
He had cemented his place in the team for the following season and would go on to make 29 appearances in our relegation campaign. Kacaniklic then went out on a season long loan to FC Copenhagen, playing 13 matches, five of those in European competitions, and scoring twice, but around Christmas time we clearly realised we needed his expertise and recalled him from his loan for away days up to Preston, sorry Kaca.
He started strongly in his final season with us but seemed to fall out of favour under, Slav and he left in the summer of 2016, signing for French side Nantes on a free transfer. Things weren't plain sailing for Kaca at Nantes and he struggled with both injuries and game time, due to this he also dropped out of contention for the Swedish national team. 
After only two and half years through his four-year contract, Kaca terminated his deal with Nantes due to not make a single appearance during his third season. He would sign for Hammarby IF in his native Sweden, marking his first time living in Sweden for 12 years. However, he had what could only be described as a nightmare start by struggling for form and being sidelined with an injury for the first few months, leading to the Swedish press to describing him as a flop. 
He began to turn the tide, by scoring a hat-trick and bagging an assist against Falkenbergs, in a 6-2 win. It would be his first hat-trick in senior football. In his first season in Swedish football he made 26 appearances and scored 11 times – not quite flop territory. He had a similarly strong second season which seemed to earn him a move to the Croatian League and for European contenders Hadjuk Split for a fee of around £560,000. 
After a couple of seasons in Croatia, you'll never believe what league he has ended up in. Yes, Kaca was another player from this starting XI to give it a go on the Mediterranean Island, and after a quick look on Google Images, I can't blame him – I'm hopping on SkyScanner immediately. He's plying his trade for AEL Limassol alongside Kevin Mirallas and Saido Berahino scoring four goals in 11 games so far this season. 
Dimtar Berbatov 
This man needs no introduction, he oozed quality in a Fulham shirt, that touch against Villa is timeless; we'll forever celebrate the languid Bulgarian that lead the line for us. I also recommend, if you haven't already, listening in to the Fulham Fix and the interview they did with Berba, which gives a great insight to the man, insight that was previously unknown.
He scored in this final game, his 15th of the season, in what would prove to be his only full season at the Cottage. The following season, as we struggled towards the bottom of the table, Berba's goals dried up as well, only managing four in the first 18 matches of the campaign. Towards the end of the window, rumours started to circulate that Berba was joining Monaco, which was baffling seeing as we were in a relegation fight and needed goals. But lo and behold, on deadline day he signed for Monaco, on what appeared to be a free, after we allegedly released him early from his two year contract – baffling stuff. 
He played for two seasons in Monaco, which does seem like the type of place a player like Berbatov should play, however the goals did not follow and he didn't break double digits in both of his seasons there. 
Greece would be his next port of call, signing a year-long contract with POAK again only managing a handful of goals, before finishing his career in India with the Kerala Blasters. Remarkably, he mainly played as a defensive midfielder, during his time in India, which is all the then manager former goalkeeper David James's doing, and Berba called him a 'wannabe coach' in a departing selfie.
Despite not having a club it took another 18 months before Berba decided to announce his retirement and since then he looks to have been busy but I'm not entirely sure doing what. There's been appearances at Soccer Aid, branded content for the Europa League and Man United. As mentioned earlier he's recently appeared on the Fulham Fix podcast where he discusses how when he was at Fulham he wanted the club to think bigger and to not settle for mediocrity. He wanted a new stand to replace the Riverside, which is now happened, and the for the club to push to be as higher up the table than 14th, which, finally, has also happened.
Manager 
Martin Jol
After a rough second half of the season in charge of Fulham, Jol was spared the sack by new owner Shahid Khan, largely due to this final 3-0 win. Unfortunately, this win appeared to be more of an anomaly as opposed to the turning of the tide. After a run of six defeats in a row, and a 3-0 loss to West Ham, Jol was sacked in December and we were left to start again.
He would go on to manage in Egypt, taking charge of Al Ahly FC and managed to win the Egyptian Premier League in his first season in charge. Unfortunately, due to poor performance in the African Champions League, he was fired, but the club still hosted a leaving party to celebrate the team's league success. He didn't manage again after this, and appears to be enjoying retirement, while occasionally providing soundbites for the media to use in relation to Tottenham's current success.
This win was the beginning of the end for our time in the Premier League. The scoreline indicated that it was a comfortable win, but it was only comfortable due to Schwarzer's exploits in goal. After this, Jol was given another chance to rectify things and unfortunately the bad times continued. We went into the new season bereft of confidence, lacking any sort of ideas and skill, and Jol was gone in a few months into the new season and we had to start again. If we had lost the game 3-0, meaning we'd not won a game in eight, sacked Jol, hired a new manager to encourage the squad and implement a new strategy and have all summer to work on it, we may have never been relegated. 
For me, out of these 11, only three will go down as Fulham legends: Schwarzer, Hangeland and Duff, and that really has nothing to do with their exploits in this final non-relegation Premier League campaign. We were a team hampered by Al Fayed's purse tightening ahead of the sale to the Khans, and left with a mismatched squad of legends and panic loans. For all the praise we need to put on the Al Fayed, and we need to place a ton, we also need acknowledge the negative that coincided with the sale. 
It's the same approach we must take with Shahid Khan (or Mr Khan as everyone associated with the club seems to peculiarly call him). While we can – and need – to criticise the pricing out of the long serving and suffering Fulham fans, and the frustration of letting his inexperienced son run the club, we should also praise him for the hundreds of millions he's bank rolled into our club and the decision to sign Marco after the shambles that was Parker. Praise and criticism shouldn't be exclusive.
Today's team and manager will go down in Fulham history, the same way that the team who won promotion in 2001, and the team who reached the final of the Europa League, and the team who won promotion under Slav. Not every season will be as special as this, but I hope we learn to have a plan in place to ensure that messes like the 2012/13 season don't happen again. Like Berba said, lets not settle for mediocrity.