Celebrating Fulham's second-greatest manager, Marco Silva
Written by Drew Heatley on 17th May 2023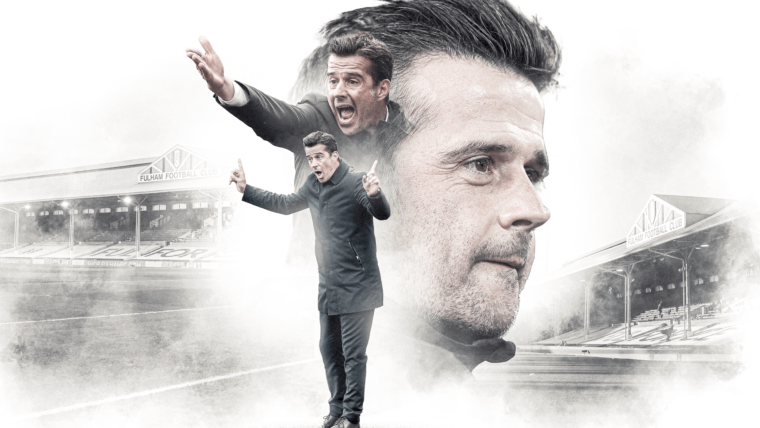 Drew Heatley says being second to Roy Hodgson in the list of Fulham's greatest-ever managers is nothing to be sniffed at.
This weekend is set to be special for a number of reasons. It's our final home game of what's been a season for the ages, we have a chance to exceed our record Premier League points tally, and we welcome Roy Hodgson back to the Cottage for what could be the final time as a manager.
It's crazy to think that, by almost every metric, this season could be our best campaign in 16 Premier League seasons. Records have tumbled, and there's just the one aforementioned statistic left we can rewrite.
In just two full seasons, Marco Silva has indelibly etched his name into the list of Fulham's greatest ever managers. Just ahead of his name is Roy's. Asking who has had a "better" time at the club is reductive. Roy pulled off the greatest of great escapes, led us to our highest top-flight finish (and to date record points total) just a year later, then took us to a Europa League final. The latter achievement is unlikely to be replicated. 
But both men have delivered so many highs in relatively short times, and can easily be ranked one and two. Here, simply for the purposes of nostalgia and appreciation, is why I think Marco's comfortably nestled on the podium of Fulham's greatest gaffers.
Surpassing Jean
For years, Jean Tigana was touted as the greatest manager Craven Cottage had ever seen. We swept the First Division aside, amassing 101 points, winning nearly two-thirds of our games, led by our vibrant attack of Barry Hayles, Luis Boa Morte, and the King – Louis Saha. 
Marco's Championship-winning boys fell 10 points short of three figures, but they registered a record 106 goals – 16 more than the class of 2001. You'd need to extend pub opening hours across the land if you wanted to debate which title-winning season was better, but it's Premier League consolidation where Marco pulls away. 
Yes, establishing a side that's never been in the Premier League before, and one that was playing Division Three football just five years earlier, is an incredible achievement from Tigana and his team. But the level of competition in today's Premier League means survival for a "promoted "yo-yo" side is just as tough. 
Our record-breaking 15th win of the season at St. Mary's pulls us five ahead of the 10 Tigana's boys registered in our maiden Premier League campaign. At time of writing, we've lost a game more, but that's due to our attacking style under Silva. It's also why we've drawn just six games this season, compared to 14 in 2001/02. And an honourable mention has to go to seven away wins. Many of us are of the generation when we got one Premier League win on the road per season – if we were lucky!
But perhaps most impressive of all is this stat I found on a fun Twitter account this week: we've only spent two game weeks outside the top 10 all season. That's incredible. 
The emotional connections 
So, who else could be "up there" as the greatest we've had? It's not just about stats. There's the emotional connection. Micky Adams, for example, started it all. Honoured this month at the Leicester game, the affection that the Cottage still has for him 25 years later is clear. 
It's not surprising. Adams took us from 91st in the Football League to Division Two in just 15 months, using a bunch of free transfers and players signed for nominal fees. This was pre-money – just pure desire. But, rightly or wrongly, Micky was never given the requisite time to push his management tenure in the podium places, as he was cruelly replaced by the late Ray Wilkins just weeks into the 1997/98 season.
Then there's Slavisa Jokanovic. Not much more needs to be said other than "23, 23, undefeated". Having stabilised us upon his arrival in December 2015, we narrowly missed out on the play-off final in 2016/17 before our remarkable run the following season. 
Slav gave us perhaps our greatest day, as the White Wall roared us on to victory at Wembley. It's crazy to think that we finished with just two fewer points in 2017/18 than we did in our title-winning campaign four years later. But he was given just a dozen games in what was a torrid and unforgiving top flight campaign the following season, before he was replaced by Claudio Ranieri. What a clever idea that was.
Exactly 40 men have had the honour of being permanent Fulham managers in the club's 144-year history. I truly believe that Marco Silva is the second-best one we've had in that time. We're witnessing history – I just hope that the story isn't nearly over.