Why we should give Neeskens Kebano a new contract
Written by Malcolm Eisenhardt on 11th May 2023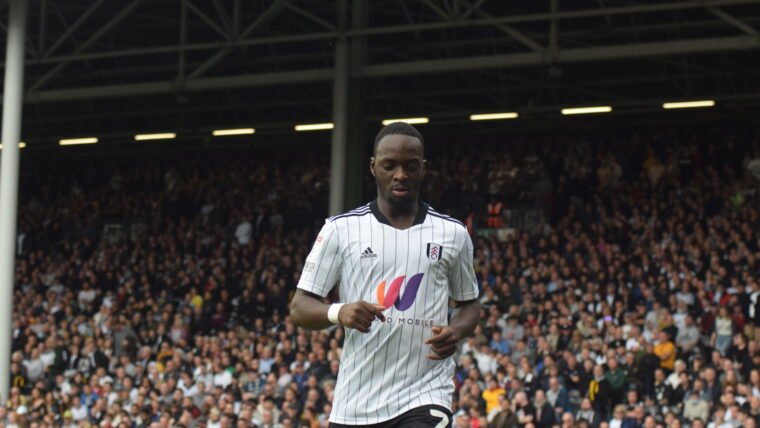 Malcom Eisendhardt says re-signing our Congolese winger is a a no-brainer.
Neeskens Kebano has become part of the Fulham furniture. The 31-year-old from the Democratic Republic of Congo – much loved amongst the Fulham faithful – will see his contract expire this Summer after his one-year extension comes to an end.
The exuberant winger has been with the Cottagers since 2016 but has missed several fixtures this season after suffering a horrible achilles injury in November. Neeskens returned to full-time training in late March and has since made four appearances off the bench. A crucial figure in Fulham's dominance in the Championship season, I believe he warrants at least another year in black and white.
Sign the contract
Neeskens made 40 appearances for Fulham in the 2021/22 campaign, scoring nine goals and contributing six assists. The tricky forward was fouled 39 times last season, creating important set piece opportunities from which we scored 19. Now, in the Premier League, 17 of our 50 goals have come from set pieces (second most in the PL). I believe Kebano's flair and footwork can create even more opportunities for Andreas Pereira to flourish in dead ball situations. Also, Neeskens is a very useful impact player as games start to open up.
Despite injury, Kebano has contributed three assists so far this term – the same as Harry Kane, Darwin Núñez and our very own Willian, despite playing far fewer games. He has an excellent, long-term relationship with our master marksman Aleksander Mitrović and was involved in eight of the 11 games in which our Serb has scored this season.
Thinning options
Dan James, Manor Solomon, and Willian all see their contracts expire at the end of the season. After a disappointing season, Fulham are unlikely to extend Dan James's high-wage contract. Furthermore, Manor Solomon could easily be swept up by a top six club, and Willian turns 35 in August. There is a very real possibility that we could be left with only Bobby De Cordova-Reid and Harry Wilson as winger options next year.
Neeskens has a contract worth £700,000 a year – one of the lowest wages at the club – a bargain compared to Dan James's £2.6m.
As I previously mentioned, Neeskens is a much-loved figure in the Fulham world, and has a great relationship with players, fans, and staff. I am sure he has a very important presence in the dressing room.
Perfect scenario
I would love to see Manor Solomon, Neeskens Kebano, and Willian to all extend their contracts with Fulham. Kebano's injury may set him back but with such a low wage, I think he is a no-brainer. We can thank Dan James for his service and wish him well, but our other options are of a higher quality and more financially effective.