Player ratings: Fulham 5-3 Leicester City
Written by George Rossiter on 8th May 2023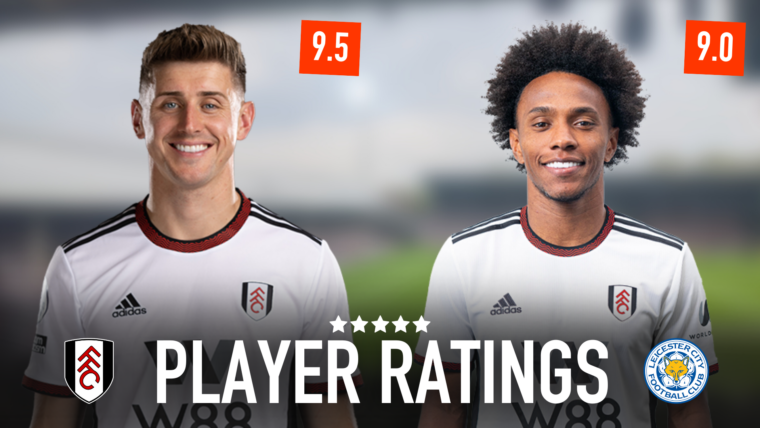 George Rossiter has the ratings after an eight-goal thriller at the Cottage.
Five goals against a team John Terry helps to coach the defence for, that is very funny. The whites blitzed Dean Smith's side for much of the game, and the two-goal gap in the scoreline flattered a Leicester side who found themselves opened up every time Fulham came forward. A much needed morale boast for Silva's side who head to Southampton next for the penultimate away game of the season.
Bernd Leno
While Fulham ran rampant in the first half, Leicester did have the occasional moment, including a Robinson mistake that allowed Vardy to run through one-on-one, Vardy shot was saved brilliantly by Leno, followed by another great save from Barnes just after half time. While Leno gave a silly penalty away, bringing down Vardy, I guess he is forgiven as he saved it. Leicester's third was unnecessary though, and it was Leno's lack of communication that seemed to cause it. One or two poor moments in an otherwise good performance. 7/10
Kenny Tete
Tete started the game strongly, making a brilliant interception at the back post in the first quarter of an hour to prevent Barnes from following home. He could not however prevent Barnes from scoring in the second half, potentially reacting a bit slowly to the ball falling to Leicester's forward in the penalty area. A fairly quiet game defensively for Tete's standards, with an up and down performance against one of the division's best left wingers. His attacking play was brilliant, on the plus side, with incredible energy down the right to help create Cairney's second. 7/10
Tosin
In a game where his centre-back partner was finding a way to defend at a million miles an hour, Tosin was the calm influence needed in a game Fulham often dominated but sometimes left gaps in. His performance perhaps followed a trend with our centre backs this season, where individually players seem to perform at a good level, but as a unit goals are conceded. It's a strange thing to analyse, but overall Tosin did well. 7/10
Issa Diop
In a game where you score five, you could do without one of your defenders being madly chaotic at times, even if he didn't actually play badly at all. His runs into midfield and passes into forward areas were brilliant for starting Fulham's attacks from the back, but there were a few occasions where he lost it quite high up the pitch. Defensively solid for the most part though, even if he still doesn't look 100% comfortable on the left side. 6.5/10
Antonee Robinson
It was a really silly error to allow Vardy through on goal at a time where all the ball was in Fulham's possession, and was lucky that Leno bailed him out with a brilliant save. Beyond that Robinson was decent enough, he maybe struggled a bit when the fresh legs of Tete came on for Leicester, but nothing majorly worrying there. His delivery did look better than in the past today, which is certainly a positive to take forward. 6.5/10
Joao Palhinha
This may be harsh, but there has to be criticism where it's due. In recent weeks, Palhinha's tackling has often looked lazy and clumsy, lacking the regular conviction and quality that had been shown earlier in the season. It's happened a lot recently, and occurred again today for Leicester's second penalty. His passing has been solid recently and he did well to win the ball back to start the attack for a couple of our goals, but the elements of his game that made him so good before the World Cup have recently been slightly below the bar he's set himself in his time at the club. 6.5/10
Harrison Reed
Once again Harrison was showing how much he's improved in getting into forward areas and contributing positively to Fulham's attacks. He came close to scoring one and setting up another in the first half, if not for a Soyuncu block at the near post from his own shot, and an Iversen save from a Willian strike that he had set up. He eventually got his reward with an assist for Fulham's fifth. In a game where Leicester's midfield often looked lifeless, he was first to everything, as he often is. 7.5/10
Tom Cairney
Just incredibly good. So, so good at controlling the pace of the game in the middle, as he has been for years in the black and white. Seeing this fit, hungry and in-form version of the skipper in the Premier League is a blessing and a reward for all the injury issues and promotions he's gone through in recent years. His first goal a wonderful effort with his lesser-seen right foot, the second a brilliantly composed touch and finish on his left. After Pereira's performances had stagnated for a while, the captain has been a breath of fresh air in the side. 9.5/10 – Man of the match
Harry Wilson
It's been said for weeks but I'll continue to say it because it's taken a while to get here after a big injury and limited minutes. Seeing this version of Wilson that's confident in creating chances and consistently beating his man is an absolute joy. His ball to Vinicius for Fulham's second was perfectly timed and the sort of pass we saw over and over again in the Championship last year. Long may this form continue. 7.5/10
Willian
I've lost count of the number of times I've asked for Willian to get another year at the club, but I must apologise, I shouldn't have said this, I was wrong. He needs to be given two more years, if not three. What a joy he is to watch, genuinely one of the most technically gifted to wear the colours of Fulham in recent memory. His first was a deliciously whipped ball in with a hint of luck. There was no luck for his second, a gorgeous finish to cap off a mesmerising display. 9/10
Carlos Vinicius
This is a run of performances you can get from a striker when you play to his strengths and fill him with confidence. His run for his goal was perfectly timed and the finish was brilliantly placed beyond Iversen into the corner. His link-up play to provide the assist for Cairney's first and Fulham's third was exquisite and a sign of how good he can be with his feet. Marco Silva has a tough choice for who starts up front against Southampton with the inform Vinicius and the returning Mitrovic. 7.5/10
Substitutes
Shane Duffy (77' for Issa Diop)
Gutted his back post header didn't add a sixth for Fulham, and a shame a breakdown in communication allowed Leicester to score a third. 6/10
Sasa Lukic (77' for Harrison Reed)
Maybe a little surprised that a midfield player with limited minutes coming into a comfortable game situation wasn't getting on the ball much when he clearly has ability on the ball. 6/10
Manor Solomon, Neeskens Kebano and Bobby De Cordova-Reid (82' for Willian, Harry Wilson and Tom Cairney) all subbed on too late to be fairly rated.