Player ratings: Liverpool 1-0 Fulham
Written by George Rossiter on 4th May 2023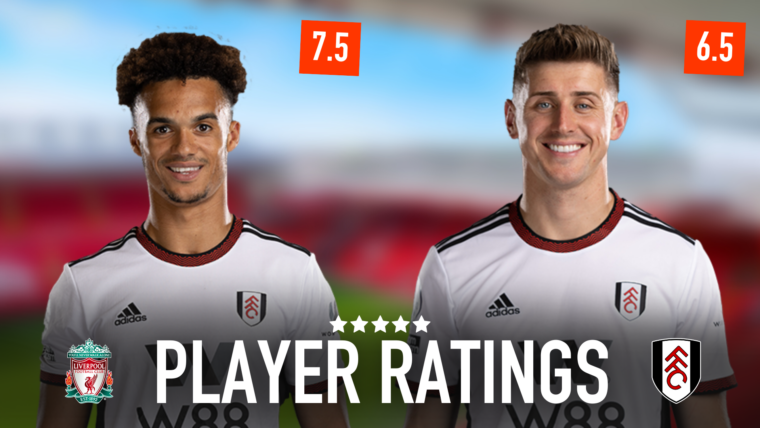 Fulham fell to defeat at Anfield, with Mo Salah's controversially given penalty the only difference between the sides. In a game lacking real quality, Fulham did at least show again their ability to compete with the best sides in the division, and on another day would've taken their share of the spoils. A less-than-traditional 3pm Monday kick off against Leicester is next up for Marco Silva's men.
Bernd Leno
While Leno's shot-stopping ability has been championed for a number of months now, what was evident at Anfield was his ability to sweep from the back so effectively. On a number of occasions he showed brilliant awareness and anticipation to come out of his area and clear a ball being chased down by a Liverpool forward. Unfortunately no goalkeepers want to look silly by standing down the middle for a penalty, so Leno had no chance for Liverpool's winner. 6.5/10
Cedric Soares
Throughout the game, Cedric was struggling to keep up with the rest of the defensive line and was prone on multiple occasions to playing Liverpool forwards onside in dangerous positions. Perhaps understandable that he has a lack of understanding with players he'd not played much with before, but they're errors that would need cutting out in future appearances. 6/10
Tosin
It's very handy that Tosin has turned into Mr Reliable recently with the injury to Tim Ream. His performance level over this run of six starts in a row has been really promising. His cross-field passing was at its best and his improvement on the ball in general, which has been so notable in recent weeks, is probably a big reason why Silva is again trusting him week in week out in that back four. 7/10
Issa Diop
A really difficult performance to judge. On one hand, Diop's general defensive performance was nothing to be upset about for the most part. And while the contact with Nunez for the penalty was minimal, it's disappointing that a player of Diop's ability has got himself into that position instead of lumping the ball out of his own box. His timidness on his left foot as the left sided centre back, similar to the City game, was also slightly worrying. 6/10
Antonee Robinson
Slowly but surely Jedi's performance level seems to be returning to that of his pre-World Cup form. He was tireless in getting up and down the left-hand side in a game where Liverpool were consistently trying to overload that flank. His anticipation and recovery speed when Liverpool looked to counter attack saved us on a number of occasions in a really solid defensive performance. 7.5/10 – Man of the match
Joao Palhinha
Another slight step in the right direction performance wise from Palhinha. He seemed more focused, more precise in his tackling and his passing, which has often been criticised this season, was at a really good level. He also looked to form a really good relationship in midfield with Lukic, even if it is just a small sample size. It still feels like with another number 6 in the squad that a small rest could do Palhinha some good. 7/10
Sasa Lukic
Looked really strong against quality opposition and a really well-established midfield. As mentioned before, a good relationship was forming with Palhinha and Lukic was as strong in the tackle as his peer at Anfield. He continues to show quality and strength on the ball, all the signs of a good ball progressing number eight. He'll have a lot to offer this side in the future. 7/10
Tom Cairney
Unsurprisingly the skipper looked good on the ball throughout and didn't look out of place in a midfield with two well established top division midfielders, which is reassuring after years of injuries and missed Premier League opportunities. He even looked quite quick on the counter attack, which was handy on a number of occasions. While Cairney saw less of the ball as the game went on, that's to be expected after being a substitute all season. 6.5/10
Harry Wilson
Wilson's big moment came so early in the game that he almost looked surprised to be in the position he was in, scuffing a ball across the face of goal with his weaker right foot after a long diagonal pass from Tosin left him with a world of space in the box. While Wilson generally found more space throughout than Willian on the left, he struggled to use the ball effectively for most of the game. 6.5/10
Willian
Liverpool's overloads on their right-hand side meant our left winger spent a lot of the game pinned back into his own half and unable to effect the game. Willian saw very little of the ball in the first half and only started seeing the ball in Liverpool's defensive third as the game opened up in the second period. A late pass into Vinicius's feet the only real noteworthy chance created. 6/10
Carlos Vinicius
Another really solid performance from a striker who will clearly benefit from having the ball played into his feet and the team playing to his strengths. He showed great ability to turn Van Dijk 14 minutes in and force a good save from Alisson, and nearly scored late in the game as Alisson again saved from a tight angle. Vinicius is a good back-up striker, but like anyone, you have to play to their strengths. 7/10
Substitutions
Bobby De Cordova-Reid (71' for Tom Cairney)
After struggling to see the ball for 20 minutes, Bobby came so close to equalising with the last kick of the ball as his effort went just over the bar. 6.5/10
Neeskens Kebano (71' for Harry Wilson)
Saw very little of the ball in his cameo and therefore wasn't able to have an impact on the game like we know he can. 6/10
Harrison Reed (71' for Sasa Lukic)
Added some energy to a midfield that had started to lack it as the game went on. 6/10
Dan James (80' for Carlos Vinicius) and Manor Solomon (80' for Willian) subbed on too late to be fairly rated.