Positives and negatives: Fulham 1-2 Manchester City
Written by Jack Stroudley on 1st May 2023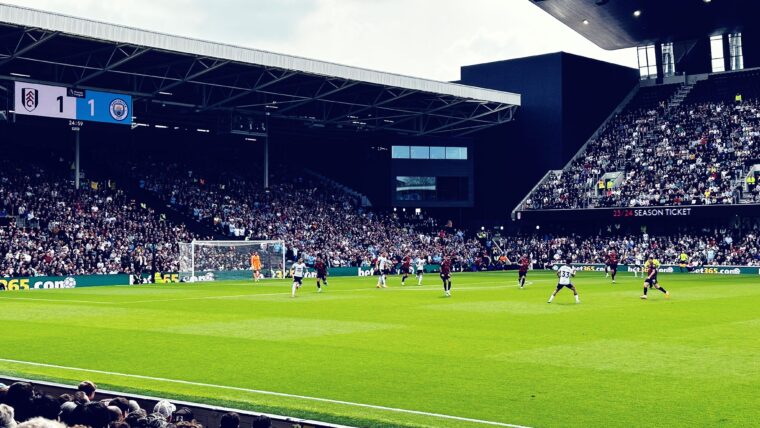 Jack Stroudley looks back at Fulham's narrow defeat to current Premier League champions Manchester City
Another match and unfortunately for Fulham another defeat, making it six defeats out of the past eight Premier League matches, however, this one will leave Fulham fans with no shame. We more than held our own against the current (and potential next) Premier League champions losing narrowly to an Erling Haaland penalty and an Julian Alvarez wonder-strike, with a goal from Carlos Vinicius sandwiched between both goals for the eventual winners. Nevertheless, here we are after another week still in the top half and with some positives and negatives to dissect.
Positives
Carlos Can Finish-ius
Awful pun aside, Vinicius was fantastic on Sunday afternoon against Manchester City and for large chunks held his own against the likes of Manuel Akanji and Ruben Dias. Winning over half of his duels against the City defence, bringing others into play and was rewarded for his good performance with a well-taken finish against Ederson to level the game within the opening fifteen minutes at Craven Cottage.
The Brazilian forward has been criticised from many of the Fulham fanbase (myself included) and after a pretty dire performance at Villa Park, I was pretty sure that his days in a Fulham shirt were numbered. I've happily been proven wrong and after his solid game against the league leaders, he will more than likely be a starter at Anfield in midweek.
Super Bernd Leno in goal!
The German has arguably been the player and signing of the season for Fulham this season and his performance over the weekend encapsulated his overall performance level this season. For starters, Leno wasn't at fault for either goal with Haaland's penalty right in the bottom corner and Alvarez's strike bordering on unsavable. Leno made some pivotal saves in both the first and second half and over the course of the weekend made the most saves out of any keeper (seven) and was the main reason that Fulham were within arms reach for the duration of the game.
Negatives
Injury strikes for the Whites
The medical department at Fulham had their hands full on Sunday afternoon with two pivotal members for Fulham's side going off injured. First off, Tim Ream was substituted after twenty minutes following a collision and according to Marco Silva has a broken arm and will be out for the remainder of the season. It's such a shame that's the way that Tim Ream's season comes to a close, but at least Fulham have recruited well enough and Diop can slot right in (who was solid when he replaced Ream in the opening twenty minutes)
The next injury fell in the second half to Andreas Pereira who following a head collision with Manuel Akanji, landed on his foot awkwardly and was stretchered off for Tom Cairney on the hour mark. Following the game, he was sent to hospital and at the time of writing has a 'suspected broken ankle' and will more than likely be out for the season. Similarly to Ream, Pereira has been fantastic this season so for this to be the way it ends is really disappointing. Cairney has been solid off the bench all season so for him to get a run of games feels justified it's just a shame it's at the disposal of Andreas Pereira.
Sluggish Solomon
Following a fantastic goal scoring run in February and early March, Solomon has really dropped off in performance levels and Sunday was a summary of that. The Israeli struggled to get into the game, created nothing, lost possession three times during his fourteen minute stint and barely pressed when Ederson/ the City defence had the ball.
Hopefully this is down to his limited minutes and playing against arguably the best team in the world but his recent drop in form is concerning and hopefully the Israeli will be able to put any wrongs right in the coming weeks.