Player ratings: Fulham 1-2 Manchester City
Written by George Rossiter on 30th April 2023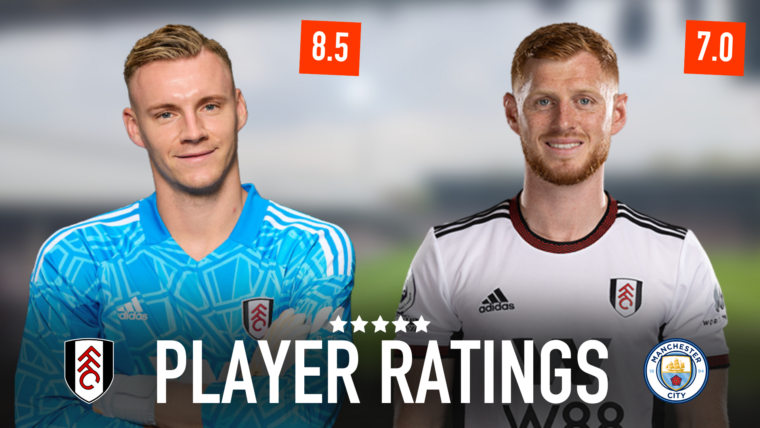 George Rossiter reflects on a narrow defeat at the Cottage to the Premier League champions.
Marco Silva's side did themselves proud against the champions of England for the second time this season, as Fulham fell to another narrow defeat at the hands of Pep Guardiola's Manchester City. An early penalty from Erling Haaland and a screamer from Julian Alvarez gave City all three points, but it was by no means a comfortable victory. It's Liverpool up next for the whites.
Bernd Leno
While Fulham fought well and did well to give City a game, Leno was a big reason why they only scored twice. For a start, he was helpless for a penalty that found one corner, and an Alvarez corker that found another. Away from that, our keeper made a string of incredible saves. First came a huge save form Grealish onto the bar. Just after half-time was a save at the front post from a Haaland effort and then not long after Alvarez was stopped at the other post after Diop was slow to react to a loose ball in the box. Leno was magnificent, and has been all season. 8.5/10 – Man of the match
Kenny Tete
Definitely a game of two halves for Tete in a game-long battle with Jack Grealish that got more intense and fiery as the game went on. In the first half, our right back afforded his man far too much space far too often, which allowed Grealish to cut in and find space on a number of occasions. He got much tighter after the half-time break and stopped the England forward from having as much of an impact on the tie. 7/10
Tosin
Another really solid performance to continue his good run of form in the side, which will surely be extended now with injury to Tim Ream. His increasing ability to be calm and progressive with the ball, as I've mentioned multiple times in recent weeks, continues to impress. Dealt well with City's dangerous attacking force in almost every scenario he was faced up to. 7.5/10
Tim Ream
Really clumsy tackle to concede such an early penalty, and really unlike Ream this season. Looked to be struggling a bit early on but it would be unfair to rate him for 20 minutes of play. Really gutting way to end such a brilliant season if that is the last time he plays. N/A
Antonee Robinson
Really good defensive display against some of the country's best attacking players. Robinson never once looked panicked. Any time the ball was in a position that might be dangerous on our left side, his use of speed and strength to win it back was admirable. It's not often you see someone match or even beat Kyle Walker for pace… 8/10
Joao Palhinha
I think this was definitely a step up in performance compared to recent weeks Whether it be the level of opposition or the intensity in the atmosphere in a feisty game, Palhinha looked much more up for it today. His ball-winning looked somewhat back to what we've seen for most of the season. Hopefully can take that intensity and base level of performance into the remainder of the season. 6.5/10
Harrison Reed
I think it's been quite noticeable how confident and free-flowing Harrison's game has been in a couple of recent games. He seems to be thriving from renewing his connections with Harry Wilson and Kenny Tete, just like he did in our title-winning year, playing in that more advanced right-sided eight role in the midfield. Another very solid performance against quality opposition. 7/10
Andreas Pereira
We'll start with the performance, which against wasn't great. It just doesn't feel like Pereira has been able to create much from the middle for a while now unfortunately, and a lot of his passing has seemed weak and inaccurate. More important and unfortunate, however, was the injury he sustained, which seems to be quite a serious one. Here's hoping for a quick recovery. 6/10
Harry Wilson
Good to see Wilson back in the side after illness bought his game against Villa to an early end. The Welsh Wizard showed great composure to knock the ball down for Fulham's goal, another goal contribution for him. Other than that, a relatively quiet game, but his link-up with Tete and Reed was solid throughout. 6.5/10
Bobby De-Cordova Reid
Bobby's ability to link the play in the first half didn't look as strong as normal in the first. Playing on the left and without the regular presence of Tete and Reed on his side, the combinations with Pereira and Robinson weren't quite the same. He took the game to City more in the second half, getting into better attacking positions and taking more risks, but couldn't quite leave his mark on the game. 6/10.
Carlos Vinicius
Superb strike from the Brazilian to level the game at 1-1, showing brilliant composure and precision with his finish. Often his first touch was superb, whether played into his feet on the floor or whether he's controlling the ball from the sky. There's more than enough to suggest that if we play to his strengths and don't just lazily make him a scapegoat in poor attacking performances, that he can be a decent alternative to Mitrovic in some games. 7.5/10
Substitutes
Issa Diop (22' for Tim Ream)
If I'm honest, I think Diop struggled to adapt to the pace and intensity of the game when he came on, and never looked entirely comfortable playing on the left side of the centre-back partnership. There were a couple of occasions where he was slow defensively, including one occasion where Alvarez nearly nipped in to score at the start of the second half. You'd assume Diop plays a lot between now and the season's end after Ream's injury. 6/10
Tom Cairney (58' for Andreas Pereira)
Looked brilliant when he came on. The skipper was immense on the ball with a varied passing range and good intensity to his game. City's press didn't seem to bother the midfielder who continues to impress even if only an impact player this year. 7.5/10
Sasa Lukic (76' for Harrison Reed)
Looked okay. Strong and slick on the ball, quick to adapt to the tempo of the game. Certainly think he's more of an 8 than a 6 in this Marco Silva system. 6/10
Dan James (76' for Harry Wilson)
Chased balls into the channels as we've come to expect of him, but nothing really went his way in the attacking third in the closing stages. 6/10
Manor Solomon
The Israeli cut a hugely frustrated figure. Struggled every time he got the ball and the resulting body language was worrying. His future at Fulham has never seemed so up in the air. 5.5/10