Player ratings: Aston Villa 1-0 Fulham
Written by George Rossiter on 25th April 2023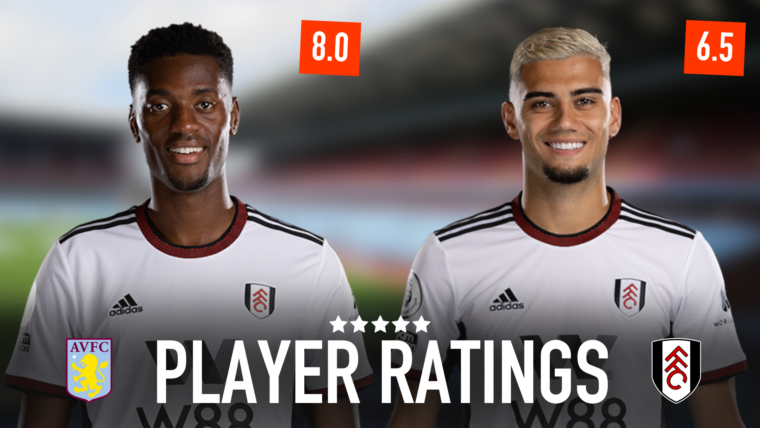 George Rossiter rates the Whites after the game at Villa Park.
It was defeat on the road for Fulham on Tuesday evening after a drab performance which saw just one shot in the entire game, which came after a mere 20 seconds from the boot of Andreas Pereira. After the previous two wins on the bounce, Marco Silva will likely be expecting a huge response at the Cottage on Sunday, as we face Northern minnows Manchester City.
Bernd Leno
Not really sure how to assess Leno's performance. The only memorable moment near his goal was a Tyrone Mings that looped over his head, opening (and closing) the scoring for Aston Villa and the game as a whole. Bar a couple of long range efforts that fell into his hands with little threat, that's as exciting as it got, at either end. 6/10
Kenny Tete
Tete cut a frustrated figure throughout. The threat offered by Moreno bombing down his outside with Watkins on his inside, with little cover at times from his winger, would've been a struggle for any full-back. Offensively, when he got into good positions, there was rarely options in the box with such a small attacking trio from the off. 6/10
Tosin
Comfortably Fulham's best performer, and a man who has found some really promising form in recent weeks. His new found composure on the ball, exemplified by his calmness on the ball when pressed in his own area in this game, gives him another arrow to his bow in his battle with Issa Diop for a spot in the side. He defended brilliantly in one-on-one scenarios, especially in one instance when Ollie Watkins looked to be through on goal. 8/10 – Man of the match
Tim Ream
Made a good block early on from a dangerous Douglas Luiz effort which could've put Fulham in a really worrying position early on. While Tosin and Robinson's slight extra pace either side of him was the more effective approach to nullifying the threat of form man Ollie Watkins, the American was still strong defensively if not having to be spectacular too often. 6.5/10
Antonee Robinson
Not a particularly standout performance but there was definitely more positives than negatives, especially defensively. Going forward was a struggle with Villa's set up and our lack of height to cross into. Defensively, Jedi was solid in his battles and his pace was massively effective in recoveries against the likes of Watkins. 6.5/10
Joao Palhinha
There's been a run of games now where Palhinha has started games very sluggishly and rarely managed to pick his intensity up as the games go on. Similarly to Pereira, he may be in need of a rest, but we may not have the profile of player to come in that allows him such a break. His passing, which has been criticised at times, was decent tonight, but bar that not much to report, other than a 12th yellow card of the season. 5.5/10
Harrison Reed
In all honesty this might've been a performance that went under the radar. Nothing spectacular, but it's worth noting the 'heavy lifting' from Harrison on a day where Palhinha underperformed. He was strong in tackles like you'd normally expect from his midfield counterpart, and his runs in the right channel were really effective, and nearly provided a late equaliser had his run that resulted in Dan James putting the ball in the net not been called for offside. 7/10
Andreas Pereira
The man literally nearly scored an overhead kick after 20 seconds, that would've given us a completely different game. While Pereira was one of the better players in the first half, recognising the need to come deep to pick the ball up and get the team possession, midway through the second half he once again looked knackered and was sensibly subbed off. 6.5/10
Harry Wilson
How is your luck. Finally finding form after a long-term injury and then subbed off within 20 minutes of the game. N/A
Manor Solomon
The Israeli winger was a late call-up to start and it looked that way. His dribbling that is normally so dangerous to Premier League full-backs looked rusty and ineffective, losing the ball far too often in the first half. Just in general, the quality he showed when scoring every week not so long ago seems to have faded in a period where his minutes have also diminished. 5.5/10
Dan James
Really don't think he was bad. Like the Everton game, he was looking to run into the channels to chase balls and effect the game, but the service just wasn't quite there. As the game opened up and he ventured out wide, he saw the ball more and had more of an impact. There was definitely enough to suggest again that this is our best Mitrovic alternative for now. 7/10
---
Substitutes
Bobby De Cordova-Reid (17' for Harry Wilson)
In all honesty I thought he'd offer good cover for Tete in a game where Moreno and Watkins proved such a unique threat down the left but Bobby probably didn't quite cover enough defensively. Going forward I do think it was more a game for Harry Wilson to cut inside and cause Leeds danger, more danger than came from our right hand side once Bobby came on. 6/10
Cedric (68' for Kenny Tete)
Actually quite an impressive cameo. Instantly showed more of a willingness to put the ball in the box, mainly because he then had Vinicius to aim for, but it's worth praising the positions he got into out wide and the amount of times he got on the ball and moved the team forward late on. 7/10
Tom Cairney (68' for Andreas Pereira)
Cairney did what he does and got on the ball as much as possible as soon as he entered the pitch. Unfortunately, as much as he looked to change the game for Fulham, he just never got on the ball far enough up the pitch to make that difference. 6.5/10
Carlos Vinicius (68' for Manor Solomon)
While he gave the wide players an outlet to aim at, he just looked as frustrated as the fans felt watching how unable he was to effect the game. I'm not one to buy into Vinicius as a bad player or to scapegoat him, but this was a really poor cameo. Being offside in the 94th minute so unnecessarily as Fulham desperately searched for an equaliser didn't help the mood. 5/10
Neeskens Kebano (83' for Harrison Reed)
Came on too late to be fairly rated.