Four ways Fulham can build on this season
Written by Dan Cooke on 27th March 2023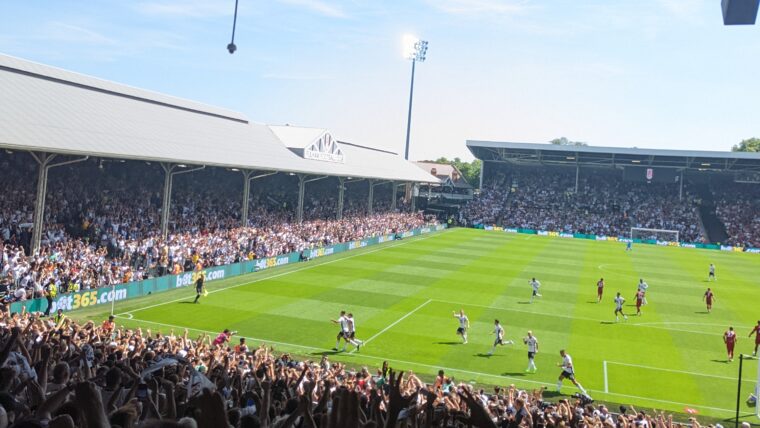 Dan Cooke attempts to drag us away from our FA Cup woes by looking forward to a brighter future, as long as we are wise this summer…
Everyone has their own way of dealing with grief. Some choose denial, some go with anger, some will crash straight into depression. In the hours proceeding that afternoon at Old Trafford, I found myself quite rapidly going through all three of those emotions. However, since then, I've been bathing in a pool of acceptance. Yes, we imploded on a monumental scale, embarrassing ourselves and likely jeopardising our upcoming run of fixtures through suspensions in the process; but my God, we were good. We bullied the third best team in the country, outfighting them out of possession, and outplaying them in possession. That excites me.
I think what has caused an overspilling of optimism, after the worst day of our season, is that we aren't the finished article. All we wanted was to finally stay up; to stop being the butt of jokes made by ill-informed, band-wagon jumping media outlets and 'pundits'. We've done that (all but mathematically), but most impressively we've done it with a first-choice squad of, at most, 14 players. It's a mishmash of hardened veterans, Marco Silva's Championship-winning stars, and newbies, and Marco has worked wonders with them. 
It's got me thinking: what should Fulham do in the summer to capitalise on this magnificent season?
1. Flesh out the squad
There have been times when we've needed to change a game this season, where Marco has to turn to his bench, to go and make something happen to swing a game in our favour. In recent weeks, what Marco will have seen is: two goalkeepers, a couple of defenders, about 15 wingers, and Carlos Vinicius. We're limited in the ways that we can impact a game (positively) from the bench and we lack squad balance.
This summer is a perfect time to try and build a proper squad; one that can withstand the trials and tribulations of a 38-game league season, such as injuries, suspensions and fixture congestion. Marco needs to be able to trust all of the players in his squad, to have confidence in them to get the job done when key players are missing; that hasn't been the case this season (see: Mbabu, Chalobah, Duffy). 
Harrison Reed and João Palhinha have been vital in the middle of the park, but there is no world where we can feasibly expect them both to play 90 minutes in every game across a whole season. In Lukić we've added some depth, but we need more. Layvin Kurzawa has brought great vibes, memories, and more than one memorable This'll Catch On, but what he hasn't brought is cover when Jedi is injured or suspended. 
It sounds obvious, but if we can add quality that extends beyond our starting XI, we put ourselves in a much more stable position. We could all do with feeling a lesser amount of existential dread when João approaches his 10th yellow card of next season.
2. Trust/invest in youth
Fulham have the oldest squad in the Premier League with an average age of 27.9. This isn't necessarily a bad thing; the experience of Ream, Willian, Leno, and Cairney has been one of the reasons for our success. However, if we want to be a stable Premier League club for the foreseeable, we need to inject some youth into this squad.
Embed from Getty Images
This can (and should) happen in two ways. Firstly, we need to start placing some trust in our younger players, who are consistently proving themselves at academy level. I think a lot of us hope that, as we enter the twilight of this season, players like Luke Harris and Charlie Robinson start to get blooded into senior football. However, we also have to look forward. Can we create a first team spot for Jay Stansfield? Is Luke Harris ready to be the understudy for Andrea's Pereira? If we put our faith in these players now, and make sure that their contracts are properly tended to, we've got some potential stars on our hands.
Secondly, our recruitment should look to reduce the average age of this squad. We've not had a huge amount of success when it comes to picking up future stars. Out of necessity, we've tended to pick up players who are instantly ready to come into the first team squad and have an immediate impact.
However, I think the we should look at trying to secure some players who still have their best years ahead of them. As this current squad continues to age, we will have to gradually start replacing them. By planning ahead, and preparing for that eventuality, we can have players who joined us at a younger age, who have spent a couple of years in the squad, ready to grab the opportunity left by a departing player. We will need to replace some of these old players, the earlier we plan, the less upheaval we will end up going through, and hopefully, the lower the risk.
3. Make some tough decisions
We love this team. It has been years since I felt this connected with a squad and its individual players. We've got wonderful redemption stories, long-term heroes, and new arrivals who have perfectly ingratiated themselves to the faithful.
However, to strengthen as a club, to grow and capitalise on this season, we may need to say some difficult goodbyes. Given the resurgence of certain players, I'm reticent to write anyone off, but we have to be prepared for the eventuality that Tim Ream can only have, at most, one more fantastic season in him (surely?). 
Embed from Getty Images
The injury to Neeskens Kebano earlier this season was heartbreaking. He hit his best levels under Marco, but given the scale of the injury, he may never return to the player we saw last season. Neeskens appears to be the most wonderful human being, but the Premier League is brutal, and sentimentality is dangerous. 
Unfortunately, we can't afford to retain players based on how much we love them, and so this summer might require some tears to be shed.
4. Don't sell João Palhinha
Embed from Getty Images
£60m might be the price tag on him, however, his value to Fulham is vastly greater than that. He loves being a Cottage's, and is a player we can build an entire squad around.
Really this fourth section should just be titled "Don't Sell", because it's not just J-Pal. We need to retain as much of the core of this squad as possible. Bernd Leno, Kenny Tete, Antonee Robinson, Harrison Reed, Aleksandar Mitrović, these are Premier League quality players who can form the base of this squad for several more years. The temptation is there to make a quick buck, to sell a player at potentially a greater amount than their "true" value. However, can you replace the defensive rock that is Kenny Tete? Can we find anyone who will run further, and try harder than our Ginger Iniesta? And no-one, even accounting for his recent actions, embodies Fulham FC more than our Mitro. 
In summary
This is such an exciting time to be a Fulham fan. This summer provides the opportunity to build on this wonderful season. In Marco Silva we have a manager, who with the right tools, could forge unforgettable moments, cup runs, and seasons. Fulham fans especially feel like we always need to have an air of pessimism, always looking down, and planning for worst case scenarios.
That FA Cup game at Old Trafford embodied Fulhamish, but let's use it as a springboard. But for that single minute in the second half, that game screamed everything good about this new Fulham, we had pundits and football fans purring about the team we've become. So, for once, let's allow ourselves to be optimistic, and forget about the yo-yo label – that's in the past; we're a club on the up.
Oh, and suggestion number five. Please, for the love of God, sign Manor Solomon.