Player ratings: Manchester United 3-1 Fulham
Written by George Rossiter on 20th March 2023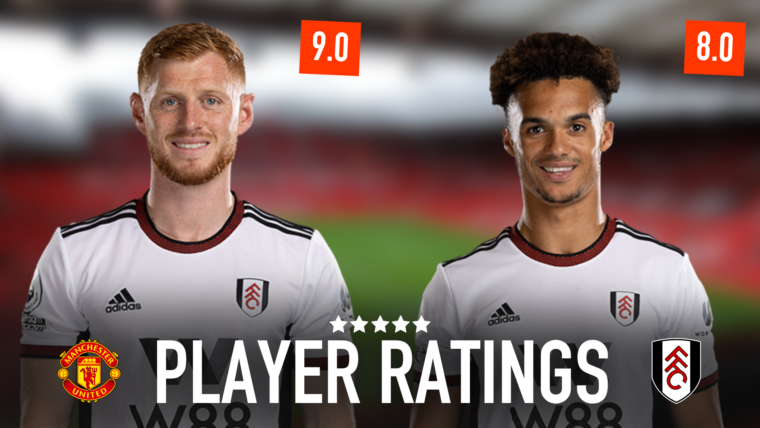 George Rossiter reflects on a devastating end to Fulham's FA Cup run at Old Trafford.
You think you've seen it all, but you haven't. For 75 minutes, this game was in Fulham's hands and they'd done themselves proud. In a matter of minutes, certain individuals threw that pride in the bin and lost their heads doing it. A game against Brighton would've been an unbelievable opportunity at a first FA Cup final in nearly 50 years, but alas, our dreams live on as just dreams. This performance was a huge improvement on recent weeks – and that should not be forgotten – but it certainly won't be what this game is remembered for. Here we go…
Bernd Leno
Played well, which on the surface seems strange in a defeat where we've conceded three. Leno was quick off his line on a number of occasions when Rashford looked through. Every cross was dealt with well. The three Man United goals were never the fault of the German goalkeeper, who justified his inclusion when Rodak may have hoped for a chance in the cup. 7.5/10
Kenny Tete
It was mightily impressive how Tete coped with United's left side, which was constantly changing. Sancho and Rashford swapped wings on a number of occasions and got so little joy. Tete was strong in the tackle, put in a number of dangerous crosses and got up and down the right hand side all game long. We're so lucky to have him. 8/10
Issa Diop
When United attacked through the middle, Diop cut everything out. When they resorted to going wide and crossing, Diop headed everything out. United were dangerous on the counter but the Frenchman was calm and collected throughout and rarely looked phased by his opposition. 7.5/10
Tim Ream
I've said it before when writing these ratings, but I'll always respect for what Ream stands for. He's a leader and he shows it. He was evidently furious at the way some lost their heads and did his best to defuse the situation. His presence as calming in situations like that as it is in open play. He's a credit to our football club and always has been. He showed at Old Trafford how a real leader at this club should behave. 7.5/10
Antonee Robinson
Genuinely so impressed. It would be so easy to only find negatives but I'm trying to see the positives here. Against Arsenal, Robinson was shocking and didn't look focused at all. Against Man United and their switching wingers, he won so many duels, never stopped running and showed such an improved performance. Slightly better crossing and he could've contributed brilliantly going forward too. 8/10
Joao Palhinha
I still think it's relatively unfair to say that two bad performances while Palhinha was suspended followed by a better performance when he's back is all down to Palhinha simply being in the side, but it's probably not a huge coincidence. His presence in the midfield against an opposition missing Casemiro was so evident, thank goodness he's back. No more suspensions please Joao, I beg you. 7.5/10
Harrison Reed
Genuinely outstanding. I'm still coming to terms with writing so much praise for a 3-1 defeat, but here we are. Genuinely an 11/10 in the first half wouldn't have been unfair for Reed who was everywhere and playing at twice the intensity of any United player. Brilliant again second half, even if less noticeable due to events panning out the way they did. This version of the ginger Iniesta is what everybody loves to see. 9/10. – Man of the match
Andreas Pereira
Don't think Pereira stood out, but there were so many positive signs. In recent weeks he looked a shadow of the player he can be. Not coming for the ball, not playing at 100% intensity, not creating much. That wasn't the Pereira we saw today, which was really promising. Maybe playing at his old stomping ground inspired him, but his delivery was better and his intensity impressed. 7.5/10
Bobby De Cordova-Reid
I don't think Bobby played badly at all. Like Pereira, it was nice to see some of his well-known traits back on show. Linking well with Tete, helping his defender – he was back to his best in that regard. I think in the first half he could've done better with his attacking opportunities with the space Shaw left down his side, but it probably doesn't warrant major criticism. 6.5/10
Willian
There are some people who let us down massively and will rightly be given their due criticism. I don't think anger should quite be aimed at the Brazilian. It's probably a penalty and a red, it's not worth arguing that with the modern way of officiating. Bar that, he was fantastic. Glided round Old Trafford, played some beautiful passes and looked at his best. Probably would've been an 8.5 if not for the red card. 7.5/10
Aleksandar Mitrovic
Let's start with the performance. Mitro was good. Really good. He held play up well, linked play well, got his head on so much in the box. He broke his duck with a good instinctive finish and came so close to a second if not for a wonderful save from De Gea. It's clear 8/10 for his performance. Unfortunately his actions that resulted in his sending off were nothing short of disgraceful, he's let himself, the fans and the club down. We adore the man, but you can only have so much credit in the bank. His actions bring his score down massively here, unfortunately. You cannot lay your hands on the referee. 4/10.
Substitutes
Dan James, Manor Solomon, Cedric Soares, Tom Cairney (89′ for Harrison Reed, Bobby De-Cordova Reid, Kenny Tete, Andreas Pereira).
All came on far too late to be rated, but fair play to them for attempting to keep a sinking ship afloat.