14 players who rolled back the years at Fulham
Written by Drew Heatley on 14th February 2023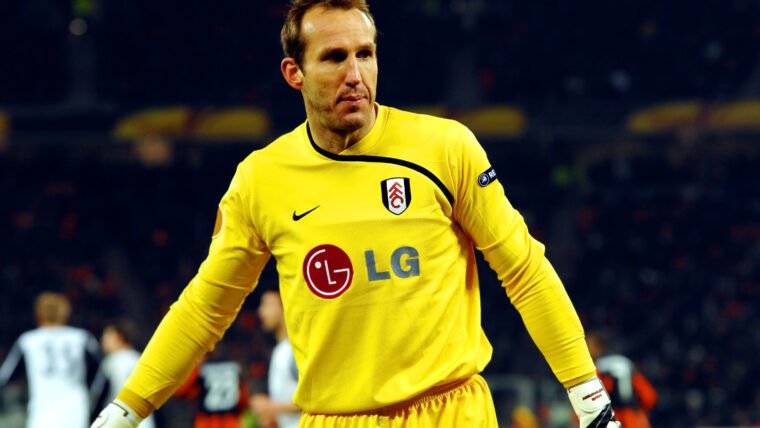 Drew Heatley looks at some of the best players to arrive late at the Cottage but flourish. 
Some players head to MLS when they're in the twilight of their careers. Others head to Craven Cottage. Saturday's game against Nottingham Forest saw 34-year-old Willian score one of the goals of the season, reminding us that age ain't nothin' but a number if you have the will to win and the right coach. 
It's a tale as old as time. You can go way back to George Best and Rodney Marsh knocking the ball about at the Cottage in the seventies (I said the seventies, not their seventies). Even former England captain and World Cup winner Bobby Moore turned out for the Whites at the age of 33. 
Here are some of the best players from the past 25 years to enjoy an Indian summer in SW6. 
Glenn Cockerill 
Let's start back when I became a Fulham fan. Rod Stewart lookalike Glenn was the elder statesman of the 1996/97 promotion side. Brought in by his former Southampton teammate – and now Fulham gaffer – Micky Adams, Cockerill not only added creativity to the middle of the park, he helped create an off-pitch camaraderie that helped the Whites to their first promotion in 15 years. Not bad for a 37-year-old with more than 700 games under his belt. 
Peter Beardsley 
Peter was arguably the first big-name signing of the Al Fayed era. He arrived, initially on loan, at the latter stages of the 1997/98 season, as Ray Wilkins attempted to guide us out of the Second Division. Ray would soon make way for Beardsley's old Newcastle gaffer, Kevin Keegan, but neither could help get the job done, as we fell to Grimsby in the play-offs. Beardsley would score in the first leg, though.  
The following season we won the league with 101 points, but Peter had left to join Hartlepool midway through, despite scoring four goals in 18 appearances, including in a 3-0 demolition of eventual runners up Man City. ""Kevin was honest with me and told me that I wasn't going to play every week. I could have stayed, but to be honest I would have felt like a fraud", he later said. 
Karl-Heinz Riedle 
When a Champions League and World Cup winner becomes available and you're a club in the second tier of English football, you don't pass it up. Riedle arrived in SW6 in September 1999 as a 34-year-old midfielder who'd done it all – but even at Craven Cottage he found himself trying something new. He, alongside former Liverpool boss Roy Evans, ended up in the dugout as joint-caretaker manager following the dismissal of Paul Bracewell towards the end of the 1999/2000 season.  
That campaign he scored five in 21 appearances, and the following season he appeared 14 times as he helped Jean Tigana's Whites to the First Division title – and to the Premier League. A great way to bow out, whatever achievements came before.  
John Collins 
Collins was Tigana's Glenn Cockerill – but this time with European pedigree (no offence, Glenn). He arrived in SW6 at 32 years old, having never played outside the top flight. But the lure of linking up with his old Monaco boss and playing "total football" again was too tempting to pass up. 
Collins told me of his role: ""Initially, Jean's English wasn't great so he depended on me a lot of the time to transmit his messages to the players. I helped them in those early stages and I enjoyed taking on that responsibility. We brought the French teacher I had at Monaco to help the French boys learn English and integrate them into the dressing room."
Collins played 27 times as we reached the Premier League. And then made 32 appearances in the top flight as we laid the foundations for our 13-year stint. Class personified.  
Brian McBride 
When you think about the impact McBride had on Fulham Football Club, it's crazy to think he arrived at the club as a 32-year-old. He was only two years younger than boss Chris Coleman!
It wasn't just his goals (33 in 140 apps) that endeared Brian to the Fulham Faithful, it was his doggedness, his tenacity and the effort he put in every time he donned the white shirt. The term cult hero has never been more apt. 
He described his relationship with the fans to me. "It's unique. Not that other clubs haven't been supportive, but to take so quickly to me, and for the feeling to be mutual. It's hard to put in words, but it is definitely mutual."
Andrew Cole
Cole still makes this list despite a short loan spell as a 19-year-old on the books at Arsenal. He signed for the Whites permanently in 2004, arriving from Blackburn Rovers at the age of 32. But Cole – now going by Andrew not Andy – rolled back the years, netting 12 times in 31 appearances during his first season. 
Despite the impressive return, Cole left that summer, halfway through his two-year deal. He later told me he had mixed emotions about the decision. 
"I ended up scratching my head and wondering why I left Fulham. My family had stayed up north at the time; it was tough commuting. But my wife's from London anyway. If the situation had reversed itself, I probably would've stayed at Fulham and ended my career there. But that's football."
Embed from Getty Images
Mark Pembridge
Former Fulham manager Chris Coleman was partial to signing an old hand or two – and Pembridge was no exception. He arrived just shy of his 33rd birthday in 2003 – and would stay for 18 years! His best campaign came in 2004/05, as he played 28 times in the league, helping us to 13th in the table. 
Despite an injury-hit 05/06 campaign, Mark did start in our 1-0 win over Chelsea. He recalled to me: "It's up there with my favourite Fulham memories. It was disappointing at the back-end of my career not playing as many games, but it wasn't for want of trying."
Once he hung up his boots, Pembridge spent 14 years coaching at all levels of our academy system, before leaving the club towards the end of 2021. 
Vincenzo Montella 
It was short, but boy was it sweet. 
We signed Italian legend Montella on a short-term loan from Roma in January 2007. Despite being 32, he showed he class, scoring four goals in his first three games, including a brace on his debut against Leicester in the FA Cup. We immediately took 'L'Aeroplanino' into our hearts, and he scored some important goals, earning a point each against Spurs and Blackburn. But he couldn't work his way into Chris Coleman's heart; Cookie just wouldn't start him. 
Danny Murphy
The poster boy of career rehabilitation at the Cottage, Danny Murphy was brought in on deadline day 2007. The 30-year-old had endured a tough season with Tottenham and was looking to kick-start his career as it entered its final stages. It didn't start too well, with the Whites firmly ensconced in the Premier League relegation zone. But, of course, the arrival of Roy Hodgson changed all that. Murphy not only scored the goal that kept us in the top flight, but he captained us to a European final. More than a decade on, it still feels weird to say that. 
Reflecting on his great escape-sealing header at Portsmouth, Murphy was typically forthright when he told me: "It was the most important [goal of my career]. When you travel the world, you tend to get recognised more for your goals for Liverpool than for saving Fulham. But the importance of it was enormous, in terms of protecting budgets and saving jobs. And for the platform it gave us to go on and have the success we had."
We should've been his last club, but sadly Murphy left in 2012 for Blackburn, having just played 48 games in all competitions at the age of 35. Incredible stats. 
Mark Schwarzer 
If I told you in 2008 that we'd sign a 36-year-old in the Premier League and he'd go on to make 172 appearances in all competitions, you'd say I was mad. But goalkeepers are a different breed – and Mark Schwarzer was no ordinary goalkeeper. 
Mark came in once the great escape was secured, and it was no coincidence that our ascent up the table began. He was nearly ever-present in all his five seasons at the club, never playing less than 30 league games in a season. And, of course, he (incredibly) went on to play for Chelsea and Leicester City, before finally retiring aged 43.
Georgios Karagounis
"We're on the piss with Karagounis" was a chant that lit up the Hammy End a decade ago. The Euro 2004 winner arrived at Craven cottage in 2012 at the tail end of a glittering career that'd seen the Greek midfielder turn out for the likes of Benfica and Inter Milan. 
At 35 years old, Georgios showed he still had it, playing 28 times in all comps during his first season, and 19 the following campaign, at the ripe old age of 37. 
Dimitar Berbatov
It was quite the coup when we swept for striker Berbatov in 2012 – despite him being on the wrong side of 30. You see, you can't lose your pace if you never run in the first place. And when you had a touch and vision like Berba, you never had to get out of second gear. 
The man was a human YouTube compilation, worth the price of admission on his own. And he scored goals – 15 of them in his first season, pretty much a goal every other game. He blotted his copybook a bit in 2013/14 (who didn't?) by jetting off to Monaco instead of helping our battle against relegation, but nearly a decade on we only think about the good times – like this disgraceful trapping of the ball against Aston Villa. 
Scott Parker
Let's put Scott Parker the manager firmly to the side for a moment. There can be no argument that Parker the player did the best he could for the club at a time where, frankly, many players could have – and did (ahem, Berba) jump ship. 
We signed Parker a couple of months before his 33rd birthday at the start of the ill-fated 2013/14 campaign, and he stayed for the next four seasons, racking up more than 125 appearances and even scoring six goals. He took the captaincy on and led us through some pretty murky days in the lower reaches of the Championship. Where he was a cut above, by the way. It might not be on par with Willian in the Premier League, but he was good enough to help keep the wolf from the door and buy enough time to help us get our house in order. 
Ryan Babel 
Another January short-term deal, 32-year-old Babel gave us glimpses of hope in an otherwise awful campaign. 
He came fresh from helping Besiktas win the league in Turkey, and immediately began reminding us all of the chops he had while playing for Liverpool a decade earlier. The winger bagged five goals in 16 appearances, though annoyingly the two winning goals he scored came after relegation was confirmed. Unsurprisingly, he didn't fancy the Championship and returned to Turkey. 
So, there we are: proof that age doesn't always matter in football – but playing for Fulham can still age you!