Where Does Saša Lukić Fit at Fulham?
Written by Jack J Collins on 7th February 2023
Jack Collins digs deep into our new midfielder's numbers to figure out just what we can expect.
Fulham's main Deadline Day addition came in the form of 26-year-old Serbian midfielder Saša Lukić, who joined from Torino for a fee of around £8m. With a lack of options to rotate with in midfield, it felt like the position that Fulham needed most cover in, but how does Lukić fit in to a midfield which contains two very different profiles of player in Harrison Reed and João Palhinha?
Lukić's background and strengths have already been covered in Jack Stroudley's excellent piece, so I don't want to retread ground here – rather to use the numbers provided by Twenty3's Toolbox feature to take a look at which profile he fits into and how we might see the Serb utilised in Marco Silva's midfield.
How Does Fulham's midfield operate?
When João Palhinha signed in the summer, it validated a theory from last season that Marco Silva wanted to utilise Harrison Reed not as the deepest lying midfielder as the number on his shirt might indicate, but as a more dynamic number eight, given the freedom to bomb around and put out fires while Palhinha patrolled behind him.
We've seen more of this as the season has gone on, and against Chelsea on Friday night, Reed was not only doing his best roaming sentry work, but combining with Bobby De Cordova-Reid in order to facilitate attacks down Fulham's right flank going forward.
His goals this season have also showed the slight change in role that Reed has been asked to do, but while he remains a phenomenal player, it is I think fair enough to acknowledge that his best work still comes within the defensive phases.
So what?
With the discussion over Fulham's slight over-reliance on our front four to create pretty much all of the open-play goal threat in full flow, Marco might be taking a look at whether there is an opportunity here to change that.
Lukić is a far more similar player to Harrison Reed than he is to João Palhinha, although he has been utilised in a number of different midfield roles during his time in Turin, and the numbers back this up quite convincingly.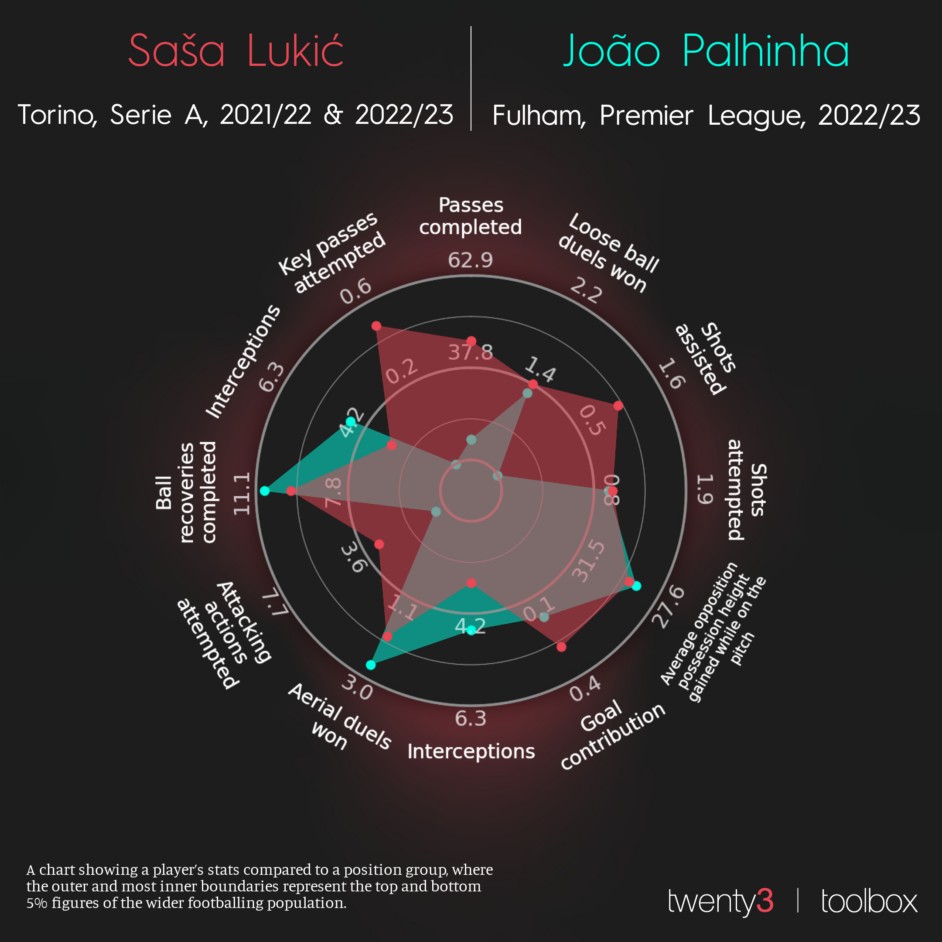 As you can see here, there are stark differences in the way that Palhinha and Lukić operate. If Palhinha's graph looks a bit sparse for the quality he brings to the table, don't worry – these stats are selected in order to highlight the things that the Serbian is adept at, rather than our Portuguese enforcer.
But even from this, it's clear that Lukić isn't as dominant aerially or as good at cutting out attacks with interceptions, and lags behind João in terms of ball recoveries. What his skillset focuses on is winning second balls and then looking to make attacking phases happen – his goal contributions, actions attempted going forward and looking for key passes and assists rank much higher than Palhinha.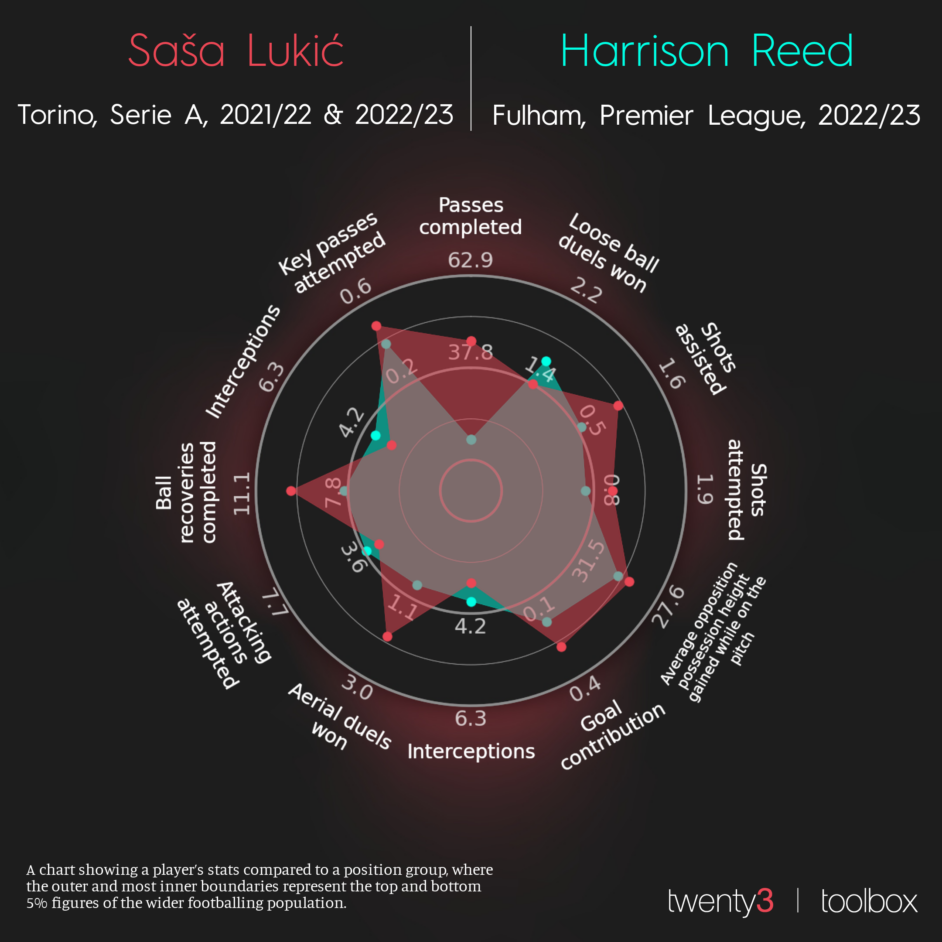 It should be no huge surprise that a comparative graph with Reed looks far more similar considering that we have seen Harrison in a far more forward-thinking role than his current midfield partner this season.
You'll notice from this though that Lukić's goal contributions, assists, key passes attempted, passes completed and shots attempted outstrip Reed's considerably – which leads us on to how he might be deployed by Marco Silva in the weeks and months to come.
What can we expect?
Well, to take it back to the question of how Fulham become less reliant on individual brilliance in the final third, I think we can expect to see Lukić alongside Palhinha in games where Fulham are expected to dominate and create more chances than the opposition, or in situations where Silva's Whites are chasing a goal.
For lovers of our current partnership though, I don't think there's a huge amount to worry about. Harrison's been used extensively this season, and rotation should allow him to be the explosive presence that we know and love more consistently – there have been periods this season where he has looked leggy, and that well may come down to the fact that he's been used so heavily and so regularly across the Premier League.
A pass map comparing where Lukić operated for Torino and where Reed has operated for Fulham this season should lend weight to this theory.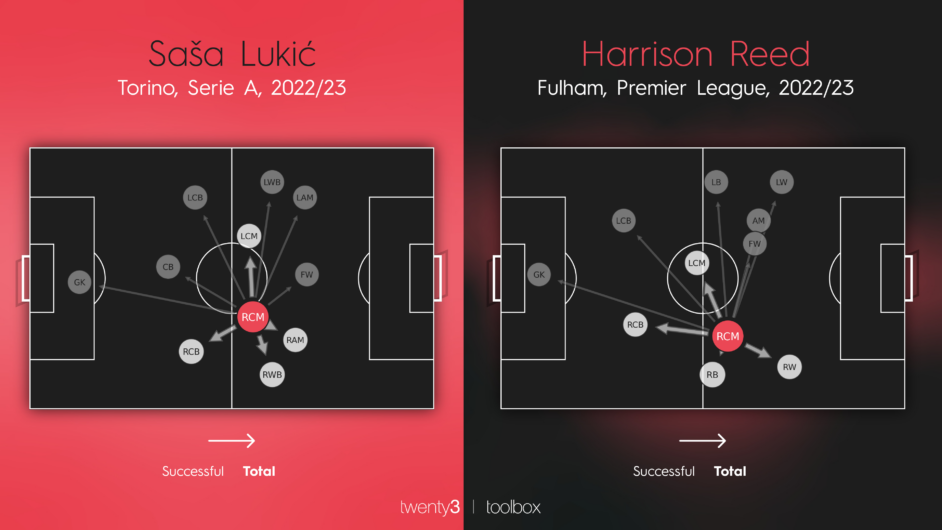 Although Torino have been playing with a back three, their positions within these diagrams suggest that the Serb will have little difficulty settling into a new system, where he will be asked to make many of the same link-up plays that he has been doing in Serie A.
We will not see him in action in the Sunderland game due to the rules of the FA Cup, where a player who was not registered for the original tie is not eligible to participate in the replay, but I have little doubt that Lukić will feature in the Nottingham Forest game, either from the bench or from the offset.
Fulham have acquired a midfielder who will be able to shoulder a little more of the attacking load than the crop Marco Silva had at his disposal before the transfer window, and that can only be a good thing. It makes this squad more flexible and more rounded, and I can't wait to see the new man strutting his stuff at Craven Cottage. And if all this hasn't convinced you, take solace that at least he's proven to be good from the penalty spot!