How do Fulham avoid an FA Cup upset?
Written by Jack Stroudley on 27th January 2023
Jack Stroudley looks ahead to the fourth round as Sunderland make trip to Craven Cottage.
The FA Cup rolls around once again this weekend, as Sunderland make the long trip to Craven Cottage with a fifth round place up for grabs. Despite currently being separated by 22 places in the football pyramid, we have faced each other at this stage in recent history. It was back in 2015 where, despite Hugo Rodallega giving Fulham the lead, the then-Premier League outfit ran out 3-1 victors to secure a place in the fifth round. The roles are reversed this weekend as Fulham are the side looking to avoid an upset – but how do we do that?
The opposition
The Black Cats have adjusted to life back in the Championship fantastically following their promotion from League One last season. They sit just outside the play-off places, with back-to-back promotions not out of the question. I can't claim to know an awful lot about this current crop of Sunderland players, but thankfully UCFB student and Sunderland season ticket holder Kyle Garrett does, and this is who to look out for.
"Amad Diallo on loan from Manchester United has been incredible this season. How he's playing in the Championship is beyond me; some of the things he does are ridiculous. Him and Patrick Roberts (I'm sure you know all about him) bully defenders on the right side of the pitch. Ross Stewart has scored 11 goals in 14 games this season; he was out injured for three months and God knows where we'd be if he was fit the whole season!"
Sunderland will be travelling down in numbers this weekend, with 6,000 tickets being allocated to them, and while they will want to keep their league form up this is an opportunity to face off against a Premier League side and see how they match up. When asked for the fan's expectation for this Saturdays' fixture this is what Kyle had to say:
"I think we have a real chance of causing an upset. If Fulham don't take us seriously, we could take you back to the Stadium of Light at the very least. We've been really good away from home this season, it should be a good game."
How do we prepare?
It would be naiive and disrespectful of me to imply that Fulham should play a weakened squad for this tie. There's no pressure on Sunderland this weekend mixed, and with a packed out Putney End, it does have all the makings of a potential banana skin for Fulham.
I think Silva will be aware of this and with our survival all but guaranteed it wouldn't shock me if Fulham played a strong side for this fixture. In terms of a starting XI, I would go with the below: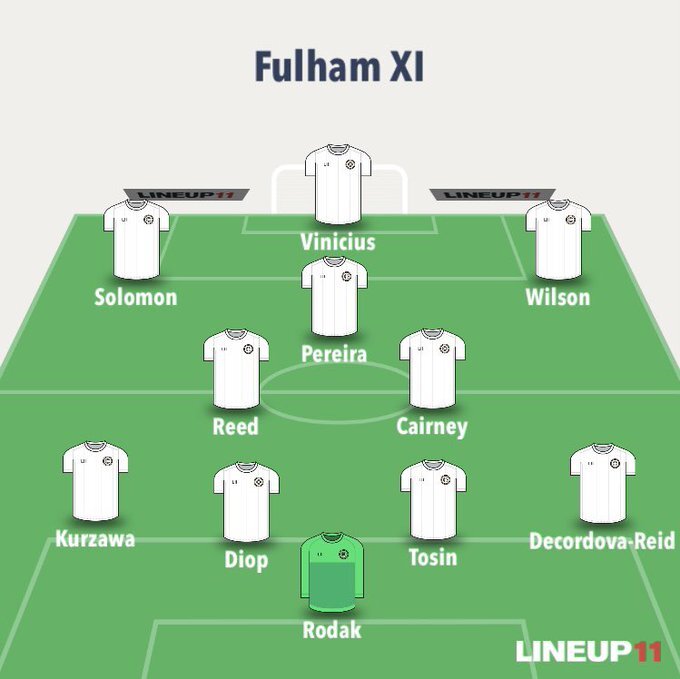 The main player for me is Manor Solomon. Our attack has been quite stale over the past few weeks and with the Israeli finally back from injury, this tie gives him a golden opportunity to get a large chunk of minutes in a Fulham shirt. Harry Wilson has been relatively poor this season and hopefully minutes against a lower league side will help give him confidence.
The other two worth mentioning are Vinicius coming in for Mitrovic, who picked up a slight knock against Spurs, and De Cordova-Reid for Tete feels inevitable to me with the Dutchman being slightly injury-prone – I think giving him a rest is necessary.
The final verdict
Just because Sunderland aren't a Premier League team it doesn't mean that this will be a walk in the park, the way that I thought our third round trip to Hull City would be. Sunderland are a strong side, firing on all cylinders and as mentioned will come into this game with a packed out away end with no fear. I think Fulham win… but only just.