How do Fulham make it three wins from three?
Written by Jack Stroudley on 3rd January 2023
Jack Stroudley looks ahead to our trip to the Midlands on Tuesday as the Whites face Leicester City.
While the performance wasn't one to remember, Joao Palhinha's late header meant that Fulham gained even more ground on the bottom three, and with the help of Nottingham Forest and Arsenal rose to seventh. Some fans are beginning to ironically murmur the phrase 'Europa Conference League' and while I think it's far too soon to even begin to dream of another tour a tricky run of games now should give Fulham a bit of perspective on how they match up with the rest of the pack.
The first of those tricky games come at the King Power Stadium on Tuesday night as we travel to Leicester. It's a game which fans will be excited for given our current form, but how do we keep up our 100% record since the restart?
The opposition
It's been a very up-and-down season for Leicester so far, who started it horrifically – winning just one of their opening ten matches, causing fans to call for Brendan Rodgers to be sacked. But the board stuck with Rodgers, who won four of the final five games before the World Cup break. They have restarted the season poorly though, losing to Newcastle and Liverpool, leaving them in 13th, just three points clear of the relegation zone.
Brendan Rodgers usually rotates between a 4-2-3-1 and a 4-1-4-1 depending on the opposition. In terms of how they play, it seems to change depending on the quality of their opponent. They often sit back and are narrower in games they think they'll struggle (Liverpool, Manchester City, Newcastle, etc) but when playing teams they are confident they can get a result against, Leicester like to play wider but still deploy a slightly more defensive stance, with only four players spending more time in the opposition half than their own in victories against Wolves, Leeds and the example below Everton.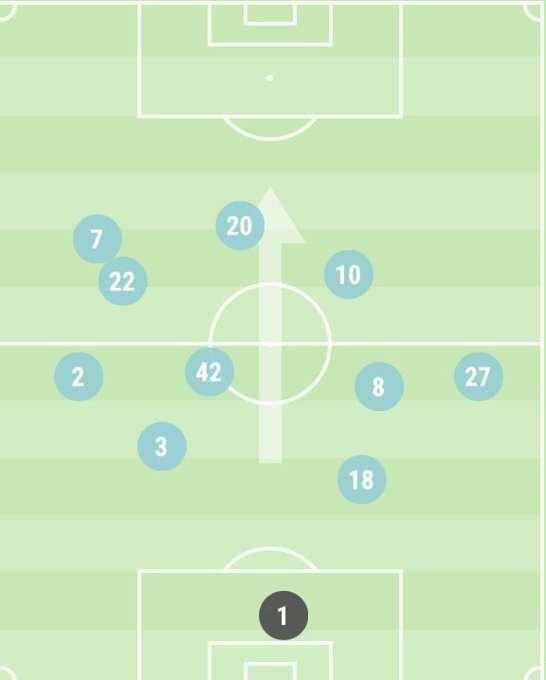 Leicester's goals don't mainly come from the ever reliable Jamie Vardy as they have in prior years, with those sitting behind the striker usually creating more chances and ultimately scoring more goals than their forwards. The prime examples of that come from James Maddison and Harvey Barnes, who combined have 17 goal contributions this season with the most clinical striker for Leicester coming in the form of Patson Daka who has bagged three goals so far this season. Fortunately for Fulham, according to numerous reports, James Maddison will miss the game through injury. Interestingly they get their best results away from home with points being hard to come by at the King Power picking up eight of a possible 24 points.
How do we prepare?
I would expect Leicester (similarly to Southampton) will sit a little bit deeper on Tuesday night, allow us to have most of the ball and look to create chances on the break with the likes of Tielemans and Dewsbury-Hall bringing the ball forward for Barnes, and Daka. Marco Silva's Fulham became used to sides sitting back more in the Championship last season, so it will be interesting to see how we fair against a tougher opposition doing the same thing.
After Crystal Palace I was banging the drum of keeping the side unchanged as I didn't feel we needed to do anything differently, and looking at how Leicester will likely play I wouldn't be against keeping it the same again.
When it was 11 v 11, Crystal Palace sat deeper and struggled to get the ball. We controlled possession, moved it from side to side and eventually found an opening so there is nothing to suggest we couldn't do the same against Leicester. That being said, the three games in eight days may take its toll on this Fulham side and I wouldn't be shocked if Silva did slightly rotate bringing in Wilson for Decordova-Reid who didn't perform excellently against Southampton.
The big team news is that both Layvin Kurzawa and Manor Solomon are fit and ready to be involved in the game on Tuesday night. Solomon's return has been eagerly awaited by Fulham fans and while we all want him to hit the ground running I don't think we'll see more than a cameo off the bench against Leicester with more minutes afforded to the Israeli in the FA Cup against Hull.
The final verdict
I'm excited for the game on Tuesday; it's a chance for us to control a lot of the ball and prove once again that we deserve to be at this level and show another side why we are where we are. While I don't think it will be easy and Leicester's attacking quality is something we need to be very wary about I am quietly confident we will get a result.