In profile: Cedric Soares
Written by Jack Stroudley on 22nd December 2022
Jack Stroudley takes a look at what the press is touting as our first January signing.
It's the most wonderful time of the year! The January transfer window is soon upon us and the rumour mill is flowing. We've been linked with an array of names, which Cam's already covered. Despite all of this, one name that keeps floating around – and is now being reported by credible sources – is Arsenal full-back Cedric Soares. According to TalkSport, a deal for Cedric is imminent. Given all of this, I thought I'd head online to see if the Portuguese right back would be a good fit for Fulham.
The fact file
Soares started his career in Portugal with Sporting Lisbon, and during his time there worked under Marco Silva. The Portuguese international made his Primeira Liga debut in 2011, starting in a 1-0 loss to Vitoria. Cedric was loaned out to fellow Primeira Liga side Academica in the 2011/12 season and featured regularly there. The now 31-year-old clearly impressed during that loan spell and played consistently from 2012 through to 2015, helping Sporting win the Taca de Portugal in 2015.
This caught the attention of then-Southampton manager Ronald Koeman, who signed Cedric that summer for just less than £5 million. Cedric made his full debut in a 3-0 Europa League victory against Vitesse. From 2015 until 2020, Cedric started regularly for Southampton in the Premier League, making 120 appearances and featured in the 2016/17 EFL Cup final. Cedric slowly began to fall out of favour at Southampton and was loaned to both Inter Milan and Arsenal, before joining the latter permanently on a free transfer in 2020.
Cedric hasn't necessarily set the world alight for Arsenal and is very much out of Mikel Arteta's plans – and it looks like he's looking to sell up this January.
A deeper dive
It's difficult to look at Cedric's recent stats as his sample size is too small due to his very limited minutes. Nevertheless, looking at those stats, Cedric completes an average of 2.42 tackles per 90 putting him well above the average for full-backs in Europe. He's also a keen passer of the ball, averaging 73.12 per 90 minutes, putting him in the top 7%.
Looking further back at his stats (I've gone to his last full season, which was 2017/18) his passing stats yet again stand out being above average. The other stat that stands out is crossing, which seems to be a strong point of his game. However, his defensive stats are certainly cause for concern. Being well below average in tackles, interceptions and errors should leave Fulham fans slightly worried.
The arrival of Soares would almost certainly close the door on Kevin Mbabu's Fulham career, with the Swiss international most likely departing in the summer, if not January. Mbabu hasn't been great for Fulham but the grass isn't necessarily always greener. I have attached below a graph of Mbabu's career (in blue) compared to Cedric's (in green).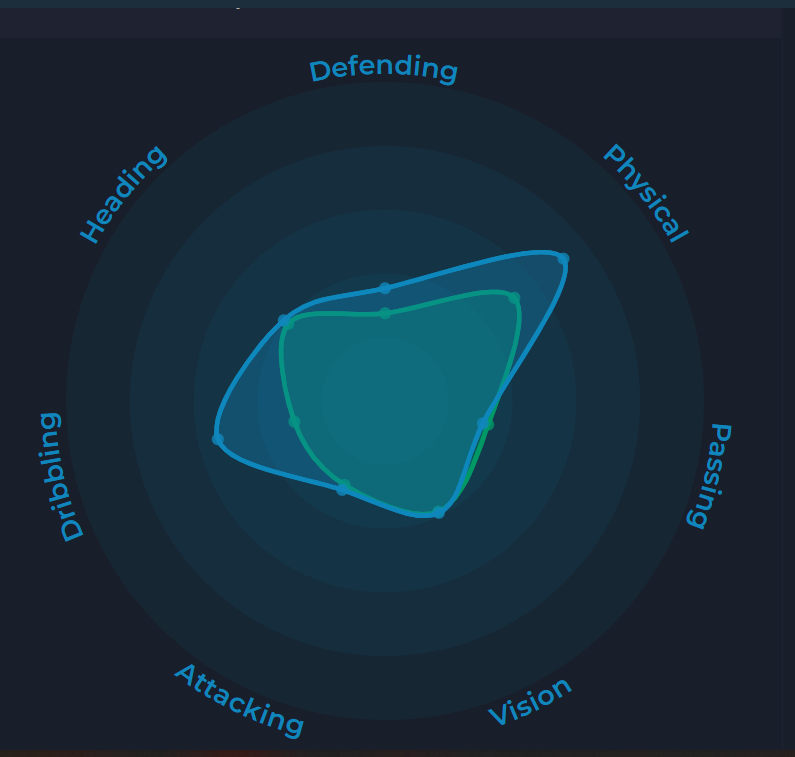 While the graph may need to be taken with a pinch of salt due to Cedric's limited Arsenal minutes and Mbabu's stats mainly being taken from the Swiss Super League and the Bundesliga, it certainly highlights some of Soares's deficiencies.
Yes or no?
Honestly, it's a no from me. Yes, Cedric worked under Marco Silva during the earlier stages of his career and showed some pedigree during his time at Southampton. But that was three years ago during his peak. Is a player who has had limited opportunity in the last few seasons and is past his prime the man you want to be back up for an injury prone Kenny Tete? I'm not convinced.