Things we've done well this season: penalties
Written by Sean Guest on 21st December 2022
Sean Guest analyses how crucial winning and converting penalties have been so far to the Whites.
As those of us who follow England know all too well: penalties can be tricky. The odds may be stacked in the taker's favour, but as Harry Kane proved in the three lions' dramatic quarter final showdown against France, that doesn't always count for much.
According to research compiled by InStat, 75.49% of all penalties end up in the back of the net, while 17.57% are saved by goalkeepers, 4.07% go wide and 2.87% hit the woodwork. And although there isn't a direct correlation between the penalties team score and where they finish in the league, it is worth noting that last season Chelsea, Liverpool and Man City scored the most penalties (eight, seven and seven) while also finishing in the top three. Meanwhile, Burnley, Watford and Norwich were all relegated while also appearing in the bottom five for penalties scored (one, one and three, respectively).
The real problem is that you can't rely on penalties as a source of goals. This was the case during our return to the top-flight in 2018/19. That year, we scored the second fewest goals (33) while winning the fourth fewest total penalties (just three). We did, of course, miss one of those penalties, following Aboubakar Kamara's season-defining antics at home to Huddersfield in late December.
Consistency is key
Even though that miss ultimately didn't matter (Mitro bagged an injury time winner to snare a vital three points), it did highlight the fact that having a regular penalty taker is important. This theory is supported by the data from InStat, which identifies a "tenured penalty taker" as one who takes at least 75% of a team's opportunities from the spot. Players that fit this profile convert on average 77.29% of penalties they take. The findings also reveal that "players who repeatedly score open play goals have an 80% chance" of scoring from the spot.
In the aftermath of the Kamara incident, then-manager Claudio Ranieri said that he "wanted to kill" the French striker, because he, like the Craven Cottage faithful on that cold December night, knew that Mitrović should have taken the pen.
Unfortunately for us, Scott Parker failed to learn that all important lesson. During the 2020/21 season, we scored just 27 goals while racking up six spot kicks. These opportunities should have helped us in our fight for survival. And yet we netted just three in total, as four different players stepped up to the mark over the course of the season.
Mitrović did get a couple of chances from the spot during the early stages, confidently smashing one home against Leeds in game week two before blazing the next over the bar without testing Sheffield United's Aaron Ramsdale in game week five.
That miss cost us two valuable points and may have contributed to Parker's decision to drop Mitro just three games later. Ironically, that game, against West Ham, saw Fulham's next man up, Ademola Lookman, miss an injury time Panenka. After just five appearances in a Fulham shirt, the then 22-year-old's arrogance robbed us of a stoppage time equaliser and another much-needed point.
To make matters worse, our third penalty miss of the season came just a game later, when Ivan Cavaleiro stepped up to the spot at home against Everton. Unlike Mitro and Lookman's misses there were extenuating circumstances this time, as the Portuguese winger slipped on the turf just as he was about to strike the ball. Still, it felt as if we were cursed as our attempts to turn around a torrid start were repeatedly quashed by an inability to convert from 12 yards.
The Devil's in the details
Interestingly, Mitrović's miss in Sheffield prompted The Athletic's Peter Rutzler to take a closer look at the Serbian's penalty record at senior level. The findings revealed that, to that point in his career, for club and country, he had a conversion rate of just 63.2%, way below InStat's projected average for a player of his profile (80%).
Peter attributed this to an inconsistent technique, revealing that Mitro had a tendency to alter the number of steps in his run up and where he placed the ball with regularity. Peter's findings also revealed that Mitro favoured power over placement, reducing the likelihood of finding the corners, which is where he tends to have the most success.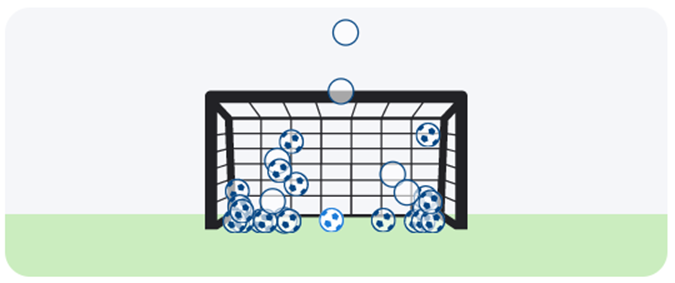 Settling into the groove
Still, the big man found his feet from the spot in the Championship last season, bagging six of the seven penalties he took during that incredible record-breaking campaign. That confidence carried over to this season and Mitrović has already scored three of four attempts from the spot, his only miss coming when Jose Sa saved his lacklustre late effort against Wolves in game week two.
That tally positions him among the league leaders in penalties scored; up there with Erling Haaland, Alexi Mac Allister and Ivan Toney who, like Mitro, all have three apiece. And as this footage of the spot kick he scored against Liverpool shows, he now seems to have a more consistent approach, starting his run up just inside the eighteen yard box before placing (not blasting) the ball low and in the corner. He did deviate from this against Wolves, lifting the ball into an easily reachable area, resulting in the save.
Embed from Getty Images
As stated above, teams cannot rely on penalties as a source of goals. But it's hard to argue that a team's odds of winning games and in turn finishing further up the league table aren't hurt by having a confident penalty taker who finds the back of the net more often than not.
Thus far this season Mitro's fit the bill. Here's hoping he bags a few more in the second half.