Player ratings: August-November 2022
Written by George Rossiter on 22nd November 2022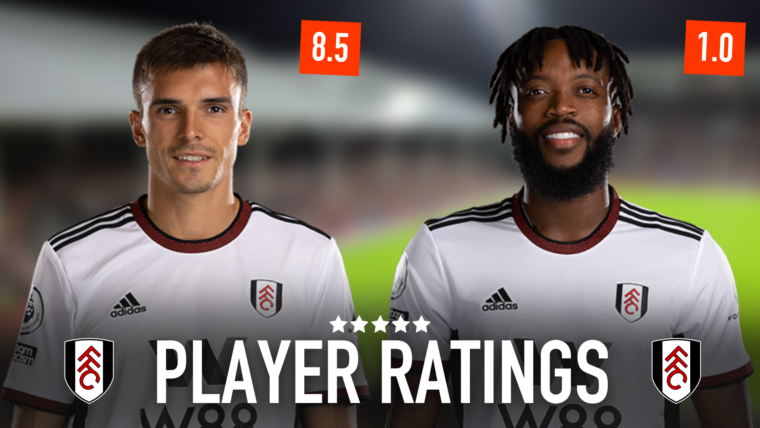 George Rossiter takes a look at how the players have performed so far this season.
So, here we are: 15 games, 19 points, and ninth place. It's undeniably been a great start to the season for Marco Silva's side on their return to the Premier League. Signings have been embedded, players are improving, and we're grappling with the the feeling that we take something from every game. It's a great time to be a Fulham fan. Here's how I feel the boys have done so far.
Goalkeepers
Marek Rodak: 3 appearances (1 in League Cup), 1 clean sheet
Similarly to two years ago, Rodak finds himself in a position of being displaced early on in the year by a more established name despite success in the Championship. What happens next in his career, with Leno in good form and a transfer window coming, up is anyone's guess. 6/10
Bernd Leno: 13 appearances, 2 clean sheets
It didn't take long for Leno to become Silva's number one and he's shown why. A brilliant shot-stopper, especially from close range, the German international has shown his pedigree as one of the most impressive goalkeepers in the league. 7.5/10
Embed from Getty Images
Defenders
Kenny Tete: 9 appearances (1 as sub), 2 clean sheets, 3 assists
The flying Dutchman has continued to show his qualities as a brilliant modern full-back. It is rare that you see one at the top level in the modern game who is capable of both being a fantastic one-on-one defender, but also get to the by-line and put in a meaningful delivery. While his injuries remain an issue, he continues to be a fantastic asset. 7.5/10
Layvin Kurzawa: 1 appearance
I'm not quite sure what I expected when Kurzawa joined the club. A French international with Champions League pedigree was enough for a feeling of moderate excitement. Then again, Kurzawa had scarcely played for two seasons and since joining Fulham has played a total of 47 minutes in the game against Newcastle, and has not been seen since. 3/10
Embed from Getty Images
Tosin: 10 appearances, 1 clean sheet, 1 goal
Tosin started the season well, continuing the successful partnership with Ream that worked so well in the Championship title-winning season. However, frailties on the ball have continued to show and while performances haven't been poor as such, goals have come too often in the Fulham net and of recent Tosin has seen his place in the side come under threat from Issa Diop. 6.5/10
Shane Duffy: 5 appearances (1 in League Cup, 4 as sub).
90 of Duffy's 96 registered minutes this season came in a defeat to Crawley Town, so there's really not a lot to go off here. I think it's safe that many expected Duffy to play a bigger role in the side this season, but that hasn't happened, potentially due to the signing and subsequent performances of Diop. 5.5/10
Tim Ream: 15 appearances, 3 clean sheets
Despite conceding a slightly worrying 26 goals so far, many members of the backline have shown themselves to be impressive individually. Ream epitomises this, proving all doubters wrong about his Premier League credentials, consistently proving to be a phenomenally calm leader at the back who is finding his prime at 35 years of age, and will deservedly fly out to Qatar as a result. 7.5/10
Embed from Getty Images
Kevin Mbabu: 7 appearances (1 in League Cup, 5 as sub), 1 assist
It's been an interesting start to Mbabu's Fulham career, which has seen him play in both full-back positions as well as a stint on the wing at the Etihad. Silva's faith in the Swiss defender seems to have dwindled after early excitement, especially late on against Brentford, but poor showings on the left away to Tottenham and in the defeat to Newcastle left a lot to be desired. 5/10
Issa Diop: 9 appearances (1 in League Cup, 2 as sub), 2 clean sheets, 1 goal
Embed from Getty Images
This is the man who has taken Tosin's place in the side is Issa Diop. The Frenchman was targeted all summer by Fulham, so expectations were high. While we continue to ship a few too many goals than we would've hoped for, Diop provides a more calming presence at the back, both physically and on the ball. 7/10
Antonee Robinson: 13 appearances, 3 clean sheets
Similarly to Ream, Robinson has proved many wrong this season so far. His consistency down the left-hand side has been remarkable. He's continued to show his attacking capabilities, but this campaign is emphasising how good he is as a proactive full-back capable of competing with the best wingers in the league. 7.5/10
Midfielders
Harrison Reed: 14 appearances, 2 goals, 1 assist
So many aspects of Reed's game this season have been pleasing to watch. Seeing him continue to excel in a slightly more advanced position in midfield has been brilliant, and has seen him finally add some Fulham goals to his repertoire. Along with that, his partnership with Palhinha continues to be of huge importance. 8/10
Embed from Getty Images
Tom Cairney: 16 appearances (1 in League Cup, 14 as sub)
Our club captain is the only player to be involved in every game across all competitions so far this season, even if he has only started twice in total. He has embraced his role of impact substitute in different scenarios, whether it be to change the game or see it out, and his recent start against Man United showed he is Premier League quality. 7/10.
Nathaniel Chalobah: 4 appearances (1 in League Cup, 2 as sub)
The less I say here the better. A pitiful performance against Crawley and a 7th minute red card against Newcastle have contributed to a horrific start to the season for Chalobah. A 1/10 almost feels generous, but I guess he came close to equalising at the Emirates? 1/10
Andreas Pereira: 15 appearances, 2 goals, 4 assists
Embed from Getty Images
The Brazilian playmaker continues to prove a point in the Premier League and continues to show what a brilliant piece of recruitment he was as a replacement for the departed Fabio Carvalho. Along with his great pressing ability, he is now adding goal contributions to his game and playing an important part in Marco Silva's side. 7.5/10
Josh Onomah: 2 appearances (2 as sub)
It was a surprise to see Onomah even included in the squad list at the conclusion of the transfer window, so seeing so little minutes isn't a huge shock. While his ability isn't that bad, his inclusion does potentially hint at the need for midfield reinforcements in the January window. 5/10.
Joao Palhinha: 14 appearances, 2 goals
What. A. Signing. Every single week the Fulham faithful sit in awe wondering how Palhinha is a Fulham player on a contract which could extend to an initial six years. The midfield maestro has absolutely mastered the art of the tackle, he's got goals in his game, and he's proven himself as arguably the best ball winner in the league. For me, our player of the season so far. 8.5/10
Embed from Getty Images
Luke Harris: 3 appearances (1 in League Cup, 2 as sub)
Harris's emergence into the first-team fold this season has been another shining light, not only on the success of Marco Silva's side but also the success of the academy system we are so lucky to have at Fulham. The 17 year old never looks out of place on the pitch and will only continue to get better. 6.5/10
Forwards
Neeskens Kebano: 12 appearances (3 as sub), 4 assists
Embed from Getty Images
Neeskens has never looked so good, playing with a remarkable amount of confidence and looking like a player reborn under the management of Marco Silva. All of which makes it so much more hard to take that he probably won't play a part again this season after sustaining a serious injury in training. 7/10
Harry Wilson: 7 appearances (4 as sub)
We are still yet to see the Championship version of Harry Wilson that thrived in Silva's system last season, but we must look at the positives. To see the Welshman starting games before the World Cup is a big bonus after a knee injury stopped him from playing a bigger part so far this season. The best is very much to come from Wilson. 6/10
Aleksandar Mitrovic: 12 appearances, 9 goals.
Mitro's form has shown no sign of slowing down after his record-breaking Championship campaign. The Serb continues to excel under the guidance of Silva and his all-round game has never been so good. One of the Premier League's top scorers with nine so far to his name, the sky is the limit and keeping Mitrovic fit is imperative to Fulham's season. 8.5/10
Embed from Getty Images
Manor Solomon: 1 appearance (as a sub)
With the excitement that came from the signing of Solomon in the summer, it's been gutting to see him make just the solitary substitute appearance before sustaining an injury in a behind closed doors friendly. Thankfully, he looks set to return after the break and will hopefully play a big part in filling the gap left by Kebano in 2023. 6/10.
Bobby De-Cordova Reid: 14 appearances, 3 goals, 1 assist
Bobby continues to be one of the most important contributors to this side, featuring in a number of positions up and down the pitch. He was impressive filling in at right back on numerous occasions and continues to show himself as a capable goal scorer in the Premier League. Having that versatility is a huge attribute to any squad. 7/10.
Willian: 8 appearances (2 as sub), 1 goal, 1 assist
When Willian side, I was praying he would be a Babel rather than a Schurrle. Thankfully, the Brazilian international has shown that the class is still there. His ability to manipulate space in positions where others don't see it is amazing and he'll only show his skill off more in games to come and hopefully earn a contract beyond this season. 7.5/10
Embed from Getty Images
Dan James: 8 appearances (5 as sub), 1 goal
James has shown flashes of brilliance. And by flashes, I mean literally; the pace he possesses is like that of an Olympic sprinter. As has been previously suggested at his other clubs, there just needs to be an extra element of end product for him to succeed, hopefully Marco Silva coaches that into his game. 6/10
 Carlos Vinicius: 9 appearances (6 as sub).
Being a definitive back-up striker is a difficult role to play, and Vinicius is continuing to grow into the role of Mitrovic's deputy. His effort cannot be faulted and the more minutes he plays the more he grows as a player, but we are certainly yet to see his best. 6/10