Positives and Negatives: Fulham 3-0 Aston Villa
Written by Dan Cooke on 21st October 2022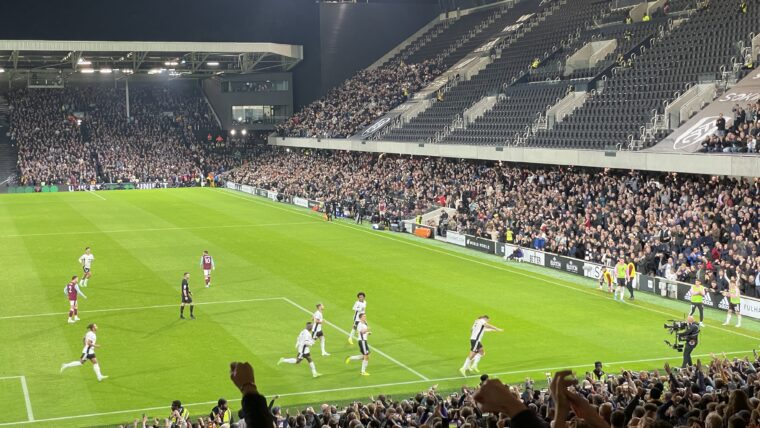 Dan Cooke steps in to review what was a wonderful night at the Cottage as Fulham put the Villains to the sword.
We were yet to taste victory in October, and with the World Cup looming, I think we were all desperate for a win last night. We knew of Villa's struggles, however we were also wary of the quality they possess. Steven Gerrard was scrapping for his life, and I think everyone knew three points for Fulham would mean a P45 for the former Liverpool midfielder.
From the moment the referee blew his whistle, we were imperious. Marco's swashbuckling Whites were back. We controlled the play, we forged chances at will, and regardless of what Dan Bardell thinks, this Fulham side have every right to be better than his team in claret and blue, and we were.
Positives
Liquid football
As we expected, there have been times this season where Fulham have had to move away from the style of play that saw us obliterate the Championship; we've had to be pragmatic. Not last night. Last night was the finest vintage of this Fulham side. We dominated for the full 90 minutes, playing joyous, expressive football. Palhinha orchestrated the play from the middle of the park, our full-backs dominated the flanks, and Willian, a man written off by many, brought the samba flair that is synonymous with those who are capped by the Seleção.
It's nearly impossible to remember the last time we saw a Fulham side go out and play such delightful football in the top flight. It was the first time we'd won by three goals in the Premier League since the 2013/14 season. Granted, Villa were woeful, however, some of our passages of play would have opened up even the most miserly of defences.
Embed from Getty Images
Willian
Certain pundits and journalists used the signing of Willian to write off this Fulham side; they laughed at the prospect of the 34 year old returning to England. I hope they were all watching last night. He may not have the pace he once did, but he has not lost his footballing brain, and a pair of feet that can only be possessed by players who have made 70 appearances for Brazil.
He has this ability to drift into vacant positions, and when he receives the ball, he rarely seems to make the wrong decision. An unselfish winger, who shoots when the opportunity arises, but otherwise takes great pride in playing cute balls to his overlapping full-back, or whipping one in towards the head of our burly Serb.
I had originally thought he was just going to be a stopgap as we awaited the returns of Harry Wilson and Manor Solomon, but performances like that demonstrate that this man is capable of contributing across the full campaign. To have that experience, combined with some samba flair, is going to be invaluable. Should he continue to contribute in this way, I will happily pay whatever extortionate prices he charges at his restaurant, to raise a glass to our number 20.
A clean sheet!
This might be the biggest positive of the night. We've been shipping goals in recent weeks and made Bournemouth look like prime Barcelona at the weekend. We know we have goals in this team, and the missing piece of the puzzle seemed to be keeping them out at the other end. Our still somewhat makeshift back four, left the Villa frontline feeding off scraps. Bobby De Cordova Reid was so fantastically irritating, constantly kicking at the heels of Watkins, never giving him a moments rest. Diop and Ream are starting to develop an understanding as Danny Ings was anonymous for large parts of the game. And Jedi? He's picked up where he left off pre-injury, and was fantastic again.
The biggest praise that I can give is that for the first time in weeks, Bernd Leno was not in the conversation for player of the match. He was there if needed, but our German shot-stopper spent most of the game like the rest of us, at ease, enjoying the visual treat of a free-flowing Fulham.
Ultimately, I think it will be our ability to prevent goals that will determine our successes this season. We know that we will score goals, so if we can retain some of the defensive solidity that we saw last night, then we're in a really great place.
Embed from Getty Images
He's one of our own
17 years and 200 days old. On the day he was born, "Candy Shop" by 50 Cent was top of the US music charts, and a very similar artist topped the UK charts. Yes, that's right, it was Tony Christie and Peter Kay with "(Is This the Way to) Amarillo?". It is absurd that someone who was not born when the 2005 Comic Relief aired has just made his Premier League Debut. At his age, I was busy getting a D in A-level chemistry, yet Luke Harris, six months shy of his 18th birthday, came on to grace the hallowed turf of Craven Cottage.
This is an opportunity that is entirely deserved. Luke Harris's rise through the academy ranks has been exceptional and a month after his first senior Wales call up, he was called upon by Marco to see out the final minutes against Villa. His impact was fantastic. His first involvement in Premier League football will now forever be unnecessarily scything down Tyrone Mings. Something that potentially endeared himself to some Fulham fans more than a goal would have. It wasn't until a minute or two later that Luke got his first touch of the ball, but he looked composed, and like he belonged, completing all four of his attempted passes.
There's plenty more to come from Harris, of that I'm certain. Yesterday has the potential to be a real marker in history. In years to come, it may no longer be the night that Steven Gerrard got the sack, it might be the night that we first saw Luke Harris in the top flight.
Negatives
I didn't really want to write any negatives, but as interim writer I have no intention of going rogue and throwing the tried and tested formula out of the window.
Capitalising while we're on top
This may sound silly after winning 3-0, but I think we could do with being a little bit more cutthroat. That first half was wonderful, and some of the football we played had me salivating. However, there's no way it should have been only 1-0 at the break. Villa were there for the taking in that half, and we didn't fully capitalise. Part of that was due to the brilliance of Emi Martínez, but part of it was due to our profligacy.
This isn't necessarily just restricted to poor finishing, there were several times where the final ball really did let us down. We repeatedly got into threatening areas, but few of these were converted into actual chances. In the Championship this was rarely a problem; you always knew there were chances to be created. In the Premier League it can all change in a second. I was uneasy during the interval, as there was always the chance that Villa would come out rejuvenated, and at 1-0, it just takes one mistake, or moment of brilliance, to change the game.
So, I think there's a lesson for Fulham here. Chief Nemesis, Thomas Frank, spoke about this against Chelsea; the biggest difference between the two leagues is that in the top flight you get punished. You cannot get away with mistakes; sides are ruthless. That's what Fulham need to be. If we find ourselves in that situation again, we need to make sure we're going in after 45 minutes two or three goals up. I think Marco will have said that at half-time, and probably will be repeating it today. It's a minor gripe, but I don't think I'm the only one who was experiencing those emotions at the break.
One final positive
Embed from Getty Images
Little old Fulham are ninth in the table, six points away from Wolves in 18th. We have now got some momentum going into two more big games against Leeds and Everton. I am so proud of this team, and it has led me to say something I never thought I would – I can't wait to get to Elland Road on Sunday.