A north v south Fulham All Stars game (kind of)
Written by George Rossiter on 7th October 2022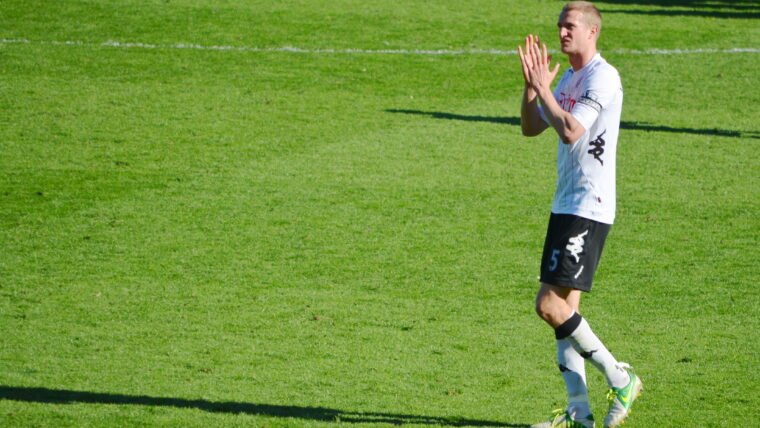 George Rossiter assembles two Fulham All Star squads to do global battle (but creates his own equator).
A few weeks ago, Todd Boehly, owner of that blue lot down the road, suggested a Premier League 'All Star Game', pitting the north of the country against the south. And while people have given their views on the idea and how crazy it may be, it's given me a different idea, so here's the rules:
Two Fulham XIs, made of players who have played for the club in the Premier League. However, instead of the north of England vs the south, it's the north versus the south, but for the whole world. Now, I thought about doing this via hemispheres, but the equator comes so low that it would be a challenge alone to make a southern hemisphere side, so for this article's sake, we'll draw the line at the northern-most point of Africa. Also, I'll pick only one player per country. Here we go…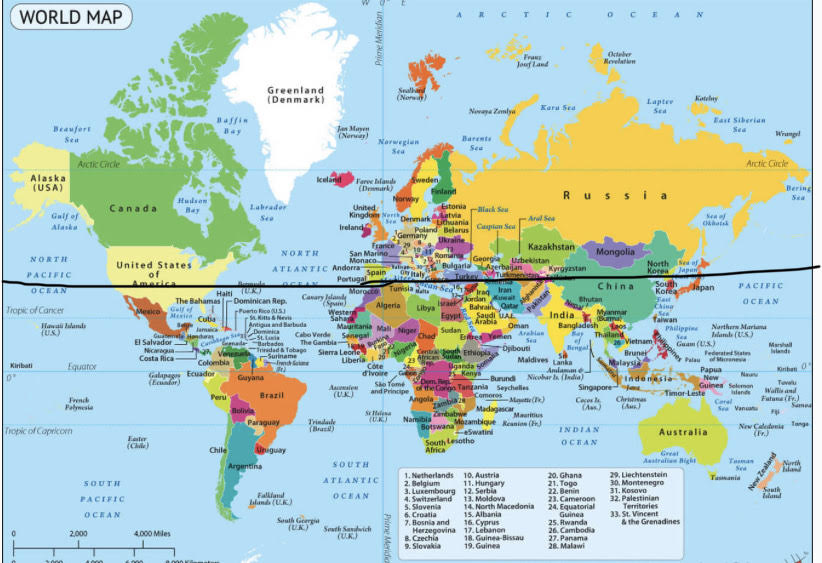 Team South (4-2-3-1)
Goalkeeper: Mark Schwarzer (Australia)
The Aussie 'keeper was a shoo-in for this side, making 220 appearances in all competitions for the club spanning five fantastic seasons which saw him keep a clean sheet in more than a third of the games he played, and played a crucial role in Fulham making the 2010 Europa League final, keeping four clean sheets in 14 games along the way.
Right-back: John Pantsil (Ghana)
Embed from Getty Images
The hugely popular Ghanaian was a hit from the off on the banks of the Thames and became famous for his regular laps of honour around the Cottage turf following some memorable Fulham results. There aren't many players with a cult hero status so high that means they still have their song sung more than a decade later, but we do all dream of a team of John Pantsils.
Centre-back: Carlos Bocanegra (USA)
Bocanegra qualifies for this team as a result of being born in Alta Loma, California, a region in the States southern enough to come below my fictional and more northernly placed equator. The former USA captain, who bagged 110 caps for his country, played 136 times for the club across five seasons, notching up eight goals from the back.
Centre-back: Carlos Salcido (Mexico)
Salcido's versatility is vital to this team, with a huge lack of options in the defensive area. One of the main reasons the Mexican made 120 international caps and had success with both PSV in the Netherlands and Deportivo Guadalajara in his home country was his ability to play across the defence and in a holding midfield spot without a drop in performance.
Left-back: Pierre Wome (Cameroon)
Wome won the Scudetto in 2006 with Inter Milan, the German League Cup in 2007 with Werder Bremen and had multiple and varied success across his 69 caps for Cameroon. In his 19 appearances for Fulham in the 2002/03 season, Wome scored one goal, but boy was it a memorable one from range against West Brom during our time at Loftus Road.
Embed from Getty Images
Holding midfielder: Dickson Etuhu (Nigeria)
If the question was 'Who has scored the most important consolation in a 3-1 Fulham loss?', the answer would be Dickson Etuhu, yeah, niche one I know. That goal in Turin was just a snippet of Etuhu's importance to Hodgson's side in Europe, forming a brilliant partnership in the middle with Danny Murphy.
Embed from Getty Images
Holding midfielder: Papa Bouba Diop (Senegal)
The original midfield destroyer in Fulham's midfield, capable of scoring an absolute screamer in a big game, Papa Bouba Diop was an absolute powerhouse in the middle. 'The Wardrobe' as he was known to the Fulham faithful, sadly passed in November of 2020, he will always be fondly remembered.
Right wing: Bobby De-Cordova Reid (Jamaica)
Bobby is undoubtedly the Swiss Army Knife of this side, having played in every position bar in goal and in the centre of defence for Fulham. Top scorer for Scott Parker's side in the 2020/21 season and with another two already added to his Premier League tally at the time of writing, our Jamaican is a huge asset.
Attacking midfielder: Bryan Ruiz (Costa Rica)
The silky Costa Rican made the game look scarily easy at times, whether it be taking a ball down that had been dropped from the moon or making a mockery of goalkeeper by delicately chipping the ball beyond their grasp, he seemed to have it all in his locker when he showed up to the Cottage turf.
Left wing: Ashkan Dejagah (Iran)
Embed from Getty Images
He's an Iranian in Fulham, or so they said. Dejagah joined from Wolfsburg in 2012, after a five-year spell at the club which saw him contribute to a Bundesliga title. The tricky winger played 43 times in the Premier League for the Whites, picking up five goals and six assists in that time.
Striker: Hugo Rodallega (Colombia)
Rodallega joined Fulham with a decent reputation in the Premier League after a quality stint with Wigan Athletic, the club at which he famously saved from relegation with a final day header away to Stoke. While the majority of the Colombian's goals for the club came in the second tier, he made some handy contributions in his 42 Premier League appearances for the club.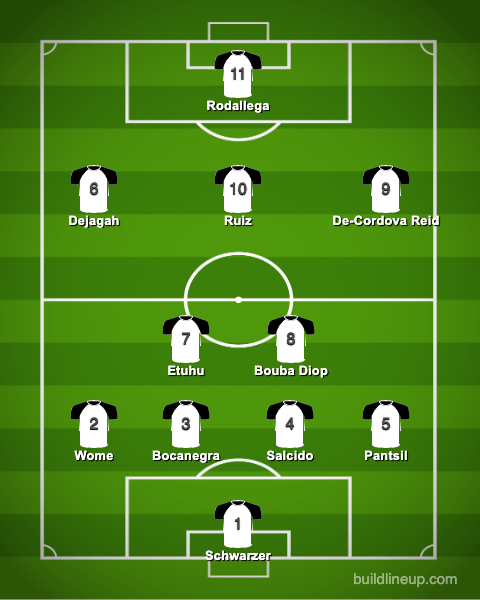 Team North (5-2-1-2)
Goalkeeper: Edwin Van Der Sar (The Netherlands)
The Dutch stopper was a huge signing of intent when he arrived in 2001 from Juventus for a fee close to £10million, joining Jean Tigana's newly promoted side. When you end up being Sir Alex Ferguson's number one at Manchester United for six years until you retire, you know you're a half decent goalkeeper, and he certainly was in his time at Fulham.
Right-back: Steve Finnan (Republic of Ireland)
Embed from Getty Images
The second Champions League winner already in this side, Finnan joined from Notts County and later signed for Liverpool, a fair way of assessing just how much he impressed in his time at the club. Finnan was an essential part of the early Premier League Fulham teams, playing the full 90 minutes in his 70 Premier League appearances for the club, according to Transfermarkt.
Centre-back: Brede Hangeland (Norway)
Without doubt Fulham's greatest central defender of the Premier League era. I don't think many Fulham fans could've imagined just how incredible Brede was going to be when he joined from Copenhagen in January 2008. By the time he'd left for pastures new in 2014 after 272 appearances and 12 goals, we knew.
Centre-back: Aaron Hughes (Northern Ireland)
Hughes was Hangeland's partner in crime to form the famous 'Thames Barrier', in which the pair were a vital part of Fulham's famous run in Europe and most of the success Fulham had between 2008 and 2014, where Hughes made a total of 250 appearances for the club, to add to his previous Premier League experience with Newcastle and Aston Villa as well as his 112 caps for his native Northern Ireland.
Centre-back: Joachim Andersen (Denmark)
It's crazy to find a player who was relegated in his only season in a side full of Fulham icons, but that is just how good Joa was Fulham, and continues to be for Crystal Palace. The Dane's ability to turn defence to attack with one forward pass is spell-binding and his defensive abilities aren't half bad either.
Left-back: Paul Konchesky (England)
Konchesky is an easy choice at left-back. The England international would have surely gained more than his two England caps had he not played in the same era as Ashley Cole and Leighton Baines. Konchesky has something in common with the left-back in the Southern team, in that he is fondly remembered for a wonder strike from left-back, a certain screamer at Upton Park.
Embed from Getty Images
Midfielder: Joao Palhinha (Portugal)
Palhinha looks set to be one of the best players Fulham have had in the Premier League, and that's no recency bias. The Portuguese midfielder is phenomenal, so good that the fans just accept that he might smash the record for yellow cards in a season. Not to mention the tequila chant. Thank the lord that he's signed a long-term contract.
Midfielder: Mousa Dembele (Belgium)
Dembele joined as a forward from AZ Alkmaar in 2010, but by the time he'd left for Tottenham in 2012 he was one of the best ball carrying midfielders in world football, and he only got better. The Belgian international gained 82 caps for his country during their 'Golden Era' and is seen as one of the classiest players to grace the Cottage pitch this century.
Embed from Getty Images
Attacking midfielder: Simon Davies (Wales)
Talking of class, Simon Davies. Potentially one of the most underrated and under-appreciated players for Fulham in the Premier League, Davies' technical ability was near second-to-none when it comes to those that have played in black and white and his goals in the semi finals and final of Fulham's famous Europa League run showed just that.
Striker: Louis Saha (France)
Just like Edwin Van Der Sar, nobody could argue that Saha hadn't earned a move to England's number one side when signing for Manchester United in 2004, turning over around a £13million profit after signing from Metz at the turn of century. Saha scored 73 goals for Fulham, including 26 in 73 games in the Premier League, while also playing a big part in the side that won the Intertoto Cup.
Striker: Brian McBride (United States of America)
McBride played a huge part in building Fulhamerica, something which started before he came and has blossomed since he has left with the likes of Clint Dempsey and Tim Ream. Like Bocanegra but oppositely, McBride qualifies for this side because of birth place being further north in the States. With 40 goals in 154 games for the club, McBride left as a Fulham icon, recognised by a bar being named after him at the club.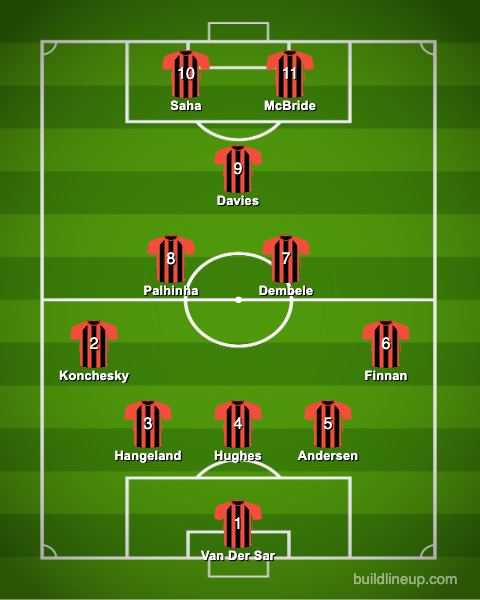 Verdict
Admittedly, the north side here is a borderline all-time Premier League XI, so the obvious result here is a win for them. However, the midfield battle would be extraordinary. In Etuhu, Diop, Dembele and Palhinha, the midfield battle would be ferocious, and on the odd occasion the ball goes towards the final thirds, Bryan Ruiz and Simon Davies are the perfect creators.
The South boast huge versatility with the likes of Salcido and De-Cordova Reid, while the north would have the most outrageous finishing pedigree with McBride and Saha. While the winner here seems obvious, maybe it wouldn't be quite as predictable as on grass.