Jack Stroudley takes a look at our newest potential loan signing.
Embed from Getty Images
As expected, Fulham are being extremely active on deadline day with the latest reported arrival being Dan James from Leeds United, who may arrive on loan until the end of the season. Marco clearly wants attacking depth, having already announced Willian and with Carlos Vinicius reportedly on the way too. I thought I'd crunch some of Dan James' numbers, to see how he would fit into Marco's side.
The fact file
Embed from Getty Images
Dan James started his career with Swansea City and made his first team debut in 2018 during an 8-1 victory over Notts County in the FA Cup. He was then given a chance at regular first team football during the start of the 2018/19 season under Graham Potter. James continued to impress for Swansea and nearly earned a move to Leeds United in January 2019, but the deal fell through at the last minute.
The Welsh international continued to play for the remainder of the season before getting a move to Manchester United in June 2019. James featured regularly during the 2019-20 season as well as the 2020-21 season, making 48 Premier League appearances across the two campaigns. James finally got his move to Leeds United in August 2021 and last season made 32 league appearances and scored 4 goals.
A deeper dive
Embed from Getty Images
I decided to take a look at James' stats last season while playing at Leeds, here's what I found.
A relatively poor passer of the ball
Above average interception stats for a winger
Well above average for pressures, being in the top 2% for pressures in the attacking third
Very poor dribbling stats
Average shooting stats
It is also worth noting that James played a decent number of games as a forward instead of a winger, so these stats may seem slightly harsh. I have attached his heat map for last season below, which shows his tendency to venture to the left. Having said this, James is a winger who is able to operate up and down the pitch when necessary.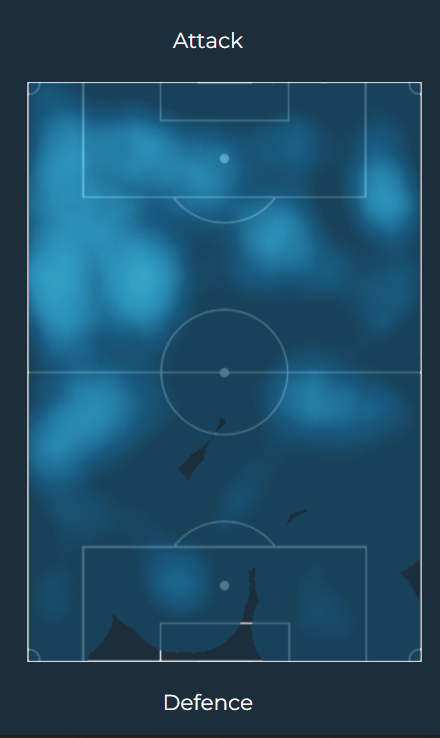 Yes or no?
Embed from Getty Images
To conclude, would I take Dan James? Yes, I think while his stats weren't the most promising last season, a 24-year-old who has played in the Premier League before on a season long loan seems pretty risk-free to me. His pressing abilities will be something Marco Silva will utilise and having a player of Dan James' calibre in the squad will only help to boost our survival chances.