Positives and negatives: Fulham 3-2 Brentford
Written by Drew Heatley on 20th August 2022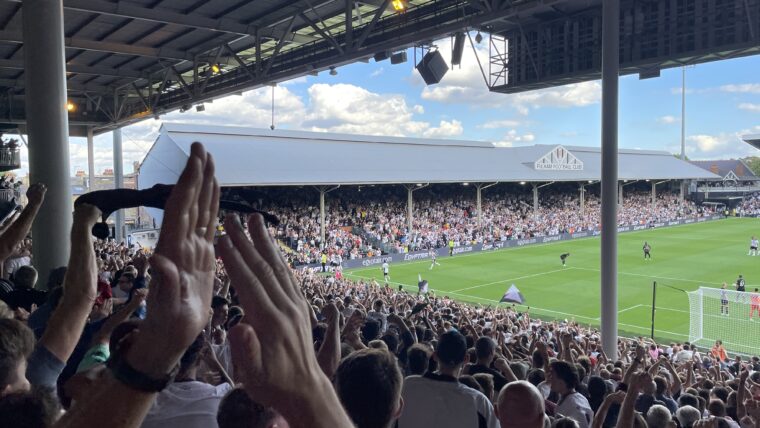 Drew steps into Cam's Crocs (with socks) to give his verdict on Saturday's derby. 
If that's the rollercoaster ride of the Premier League, then I don't want to get off.
Now I know how football journos feel. Subbed in for Cam, I jotted fragments of sentences into the positive and negative columns. Then Mitrovic scored and none of it mattered. But let's have a go anyway. 
Positives 
A blistering start
What away to begin. We caught Brentford sleeping from kick off; it's something we've had done to us before, so it was gratifying to see us utilise it in a big game. The result was Bobby De Cordova-Reid tapping in from close range after less than 45 seconds, after Jay Stansfield hit the crossbar – and the Cottage roof was blown off. 
Joao adds goals 
Palhinha's had us all purring since his debut against Liverpool. But now he's adding goals to his game. A stunner in pre-season whetted the appetite for his first league goal – our second of the afternoon. It was a sumptuous header illustrative of the man's physical and controlling presence – and we all thought it'd be a comfortable afternoon from then on.
Embed from Getty Images
Stansfield derby delight
He might not be "one of our own" in the truest sense, but who gives a sh*t? Jay almost had the fairytale start to his first Premier League start as he rattled the crossbar before our early opener, and he continued to impress from then onwards. What he still lacks in body mass he made up for in industry and guile off the ball, and he more than filled in for a missing Neeskens Kebano. Does he keep this spot for Arsenal? 
Embed from Getty Images
Mmmmm – Baboo 
Anyone else drooling after Kevin's substitute appearance? I for one was bemoaning Silva's reluctance to bring fresh legs on despite us being so under the cosh it physically hurt, but boy, the moves he made worked (shout out to TC here, too).
Mbabu typified the inspired subs. He provided a new impetus down the right, and capped off his exciting cameo with a pinpoint cross for Mitro to head in the winner. Kenny's got a fight on his hands and we're the real winners.
Mitro when it matters
They say the sign of a truly great striker is even if they have a bad game, they can still score (Andrew Cole anyone?). Mitro proved just that against the Bees. He missed some absolute gilt-edged chances, and at times appeared a tad lethargic and frustrated, but when it really mattered he came through, heading in past Raya in an absolutely iconic moment. Bliss.
Embed from Getty Images
Negatives
We made it bloody hard
Going from two up to 2-2 isn't a great look, and against more wily PL side it could and would've got worse. Brentford had the ball in the net four times, and from the end of the first half until the final 10, we were unrecognisable from the side that started the game so brightly. 
We got away with it today. But we can't do that again.
Embed from Getty Images
Palhinha's yellow warning 
Joao's positives are well documented, even at this early stage. But let's address the elephant in the room. Against Liverpool he combined aggression with precision; but in the following two games he's collected yellows like Pokémon cards. If he accumulates five then we're without our Portuguese string-puller. And we don't want that.